City of Annapolis Internship Helps Johnnie Explore Urban Planning
October 21, 2021 | By Les Poling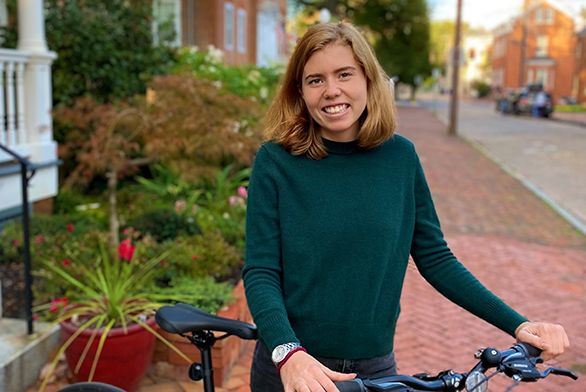 Four years into her college career, Annapolis senior Jessie Tagliani (A22) feels that she's hitting her intellectual stride. After deciding to attend St. John's instead of the Ivy League schools she initially pursued, Tagliani has fully immersed herself in all that the Program has to offer, culminating in her final two semesters.
"[Senior year] has been amazing so far," she exclaims. "Atomic physics, French poetry—it's great."
At the same time, though, "it's also been on my mind: once I leave St. John's, what am I interested in doing professionally?" she says. A potential answer emerged over the past two years, first through a family connection and then through an unpaid internship with the city of Annapolis: urban planning.
It started in March 2020, when St. John's transitioned to remote learning and nearly all students returned to their family homes. Tagliani's parents, both diplomats, live in England, which made any attempt at homecoming infinitely more complicated. So instead, she temporarily moved in with her aunt in Washington state, where her uncle works as an urban planner for BDS Planning and Urban Design. Tagliani's uncle told her he could use some help at work, if she was interested; that, she says, led to her lightbulb moment.
"Urban planning is a fascinating field; in some ways, it perfectly corresponds to the interdisciplinary mentality that we have at St. John's, where we're expected to be able to tackle a range of subjects and become very proficient at thinking in different ways, pulling from different subject areas, and mastering different fields of knowledge," she says. "I think that also applies to urban planning—there are so many places you can take the field."
During summer 2020, Tagliani says, her uncle was specifically focused on integrating social justice and equity into urban planning; in other words, making cities fairer for all.
"I came away from that with this impression that I could apply my skills to this job, this area of knowledge, that also appealed to my sense of public duty," Tagliani recalls.
Fast forward a year: during a spring 2021 meeting, Director of Career Services Jaime Dunn off-handedly told Tagliani that a city of Annapolis employee had approached St. John's to discuss a potential city-wide bike trail that would connect several segments on or near campus. As someone who lives off campus, uses a bike for transportation, and knows first-hand the difficulty of cycling a city without proper bike infrastructure, "this was a huge source of interest for me," she says.
It was too late to apply for a Hodson internship; in fact, when Tagliani contacted Eric Leshinsky, the Annapolis chief of comprehensive planning, he could only offer her an unpaid position. Still, she leapt at the opportunity.
"When I heard that the local government was putting more effort towards making [Annapolis] a safer, friendlier pedestrian and cycling community, I just thought, 'I really want to be part of that,'" Tagliani says. "It seemed like a great way to combine my life as a Johnnie with my life as an Annapolis citizen."
Ironically, the city internship taught Tagliani as much about the bureaucratic tedium of local government as it did bicycle infrastructure, and due to setbacks, the bike trail project was delayed. As a result, Leshinsky brought Tagliani onto the local Maritime Task Force: A government effort to "recalibrate its maritime districts to ensure that Annapolis continues to thrive as a boating center for the Mid Atlantic." What that means in practice, Tagliani explains, is providing greater, higher-quality access to the water for Annapolitans across the city.
"[Annapolis] is this hub on the East Coast for sailing vessels, and it's been 30 years since the legislation regarding how the city manages its maritime industry has been updated," Tagliani says, illustrating the thinking behind the Maritime Task Force. "One part of the plan that was emerging was, how do we promote access to the water for citizens? How do we get people to realize the rich maritime environment around them? And one of the ways they were thinking about that was waterfront parks."
In an effort to expand waterfront access, the city envisioned a future network of high-quality, revamped and renovated maritime parks, connected and accessible for all Annapolitans. The only problem: City officials didn't possess an accurate inventory of existing maritime fronts and their present-day condition.
That's where Tagliani came in. Leshinsky tasked her with visiting parks, recording their condition, and making proposals for potential improvements. And so for the bulk of the summer, Tagliani spent each day biking around the city, visiting waterfront parks, taking pictures, and logging each park's condition. Afterwards, she used her findings to create a Microsoft Excel table with information on each park's specific features. Trash cans, art installations, benches, multiple access points, floating kayak docks, bike racks, bathrooms, picnic tables—all were included in Tagliani's inventory, along with specific recommendations as to how the park system could be improved.
It may not have been the bike trail, but the maritime revitalization project provided Tagliani with invaluable experience in the field—and her work culminated in an important, comprehensive analytic and visual compilation of the city's existing parks. That reporting was eventually included in the index of the Maritime Task Force's July report, titled "Strengthening the Industry." The publicly available report includes Tagliani's entire presentation, complete with photos, slides, spreadsheets, and recommendations.
"It gives you a really great picture of what is currently here—and what needs to be done," she says.
In all, the internship made for a rich summer experience. On a practical level, Tagliani received what she calls a "crash course" in Excel and PowerPoint, platforms she had used sparingly before and now employs with expertise. She was also able to have something that many of her peers missed out on: hands-on work. While many of her classmates conducted their internships from their desks at home, jumping onto online calls and Zoom "lunches" with supervisors, Tagliani spent nearly every day traversing Annapolis, taking pictures, logging data.
"I was just cycling around the city finding all these places," she says. "It was great."
Perhaps as importantly, Tagliani adds, the internship strengthened her bond with the city that she's called home for the last several years; a connection she hopes other Johnnies will foster in the future. As she biked around the city, cataloging parks near and far, she found herself discovering a community—from the physical beauty of the Chesapeake watershed to the devoted citizens who volunteered for the Annapolis Planning Commission—she hadn't fully appreciated before.
It's an experience Tagliani treasured, and that commitment to a broad, inclusive polity is something she intends to carry into the future.