Camden Bowdren (AGI13) Brings Craft Brewing to Eastport, Annapolis
October 18, 2021 | By Les Poling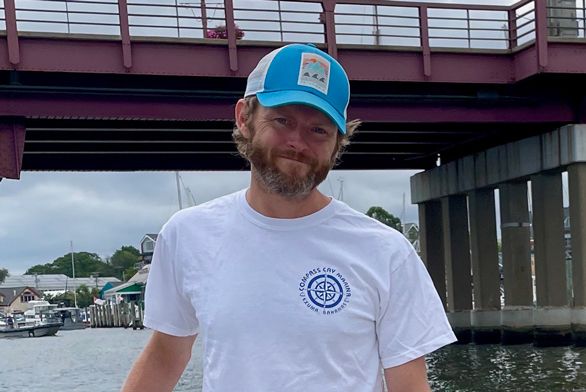 Forward Brewing, an Eastport-based nanobrewery less than 18 months old, opened its doors—or, at the time, its carry-out windows—in May 2020, a few months into the COVID-19 pandemic. It was a remarkably unenviable situation for a business with the specific goal of bringing people together.
"I often get comments like, 'you picked a pretty bad time to open a restaurant,'" says Annapolis Graduate Institute alum Camden Bowdren (AGI13), Forward's founder. "My response is usually that we didn't really have a choice. We had spent two and a half years getting everything going, and we were in motion."
If there's a hint of stoic resignation in that sentiment, there are also clear markers of adaptability—a trait that Bowdren undoubtedly nourished during his time at St. John's. As Forward's creator, he doesn't have one set professional role, instead working tirelessly as a line cook, a chief executive, and nearly everything in between to navigate an unpredictable era and grow the business that he hopes will serve as a hub for community and peerless local beer. Undoubtedly, Johnnies will find commonality between Bowdren's ever-changing work at the brewery and the interdisciplinary nature of the St. John's Program.
"The only job I haven't had to do has been making the beer," he says.
We spoke with Bowdren about Forward's environmental ethos, the brewery as a community gathering space, and the challenges of opening a business during a pandemic. Read our conversation, which has been edited for length and clarity, below.
How did you end up at St. John's? What made you want to attend a liberal arts graduate program with no majors?
For most of my time as an undergrad at Hampden-Sydney College, I had interest in many subjects but never really found passion for any of them. I switched majors several times but was still never really that into school. I actually dropped my first philosophy class. This is all until I had the opportunity to go to Greece during a summer term. Leading up to that term, I was assigned several reading assignments that really did peak my interest in classics, and I think my love of reading came to the surface.
You graduated from St. John's in 2013—what were you up to in the years between then and now?
Since my time at St. John's, I have mostly been teaching and working on getting Forward started. I taught middle school English and history for several years at St. Martin's in the Field in Severna Park, which was a wonderful experience. I would have most likely continued on that course, except that a few changes in Maryland code [made] opening a brewery in my family's old building in Eastport a possibility. I looked into the potential and went to part-time teaching and coaching so I could get started on Forward. A few years down the road, we now have a few of my past students working as bussers before they go off to college.
This is a pretty strange time to be opening a business. When did you first have the idea for Forward Brewing?
The idea of a brewery in Eastport went back probably 10 years before Forward was finally able to open. The process of creating and opening Forward actually began two and half to three years before we opened, which happened to coincide with the early days of the pandemic. People have often asked why we would open during a pandemic. Usually my first answer is: "We just had to." We didn't really have much of a choice.
The first inspiration for a brewery came from visiting other small and locally oriented breweries in other towns. I saw how they were a place for community, and they also offered beer that wasn't what you could find everywhere, making it special. It seemed like this was something missing in Annapolis. My family had an old building in Eastport that for a long time housed the family business—a successful marine electronics shop—but was now often vacant. This seemed like a great location for some version of a brewery, particularly since it was located on the main commercial street inside of the small community of Eastport. With this need and opportunity, we developed the goal of bringing neighbors and visitors together over unique craft beer—and thus Forward's concept was born.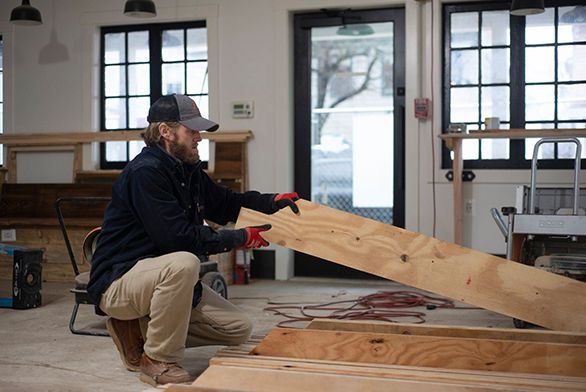 One of Forward's professed values is environmental sustainability. Was that always the case when you were thinking of opening a brewery?
Sustainability has always been a core principle for Forward and something we hope to develop and share as we go along. This has been a personal goal for both my wife, Claire, and me. In fact, much of Claire's professional career has been focused on food sustainability and ethics; she earned a masters from Johns Hopkins School of Public Health and worked for several nonprofit groups before focusing on Forward and our growing family.
We still have a lot to do in this field, but so far, we have been able to start with a good foundation. We have been able to compost all of our taproom waste (which is substantial, with everything currently being disposable). We also are able to donate specifically to plant oysters to try to balance out all of the water that Forward uses to make beer. We send our spent grain to nearby farms for animals, even if we have to drive it out a few times a week. And we are currently working on doing better with the sourcing of all of our ingredients.
In general, Forward is small, but we try to have a large impact in our community and city.
How has business been so far? Have there been any surprises, unexpected successes, or pitfalls?
There have been so many surprises. We still offer the same products—fresh craft beer, sustainable-oriented food, and a walkable gathering space—that we always planned to, but not exactly as planned or on the planned timeline. We started with only carry out and were lucky to already have a crowler machine and a pallet of crowlers; otherwise we wouldn't have been able to sell the product that we really wanted to be known for and that would set us apart. We also had to make everything disposable, which is unfortunate. Only recently have we been able to unpack our glass and plateware. Luckily, we had already begun a partnership with Annapolis Compost, so we were able to have all compostable supplies and establish an outlet for the supplies to be composted. We are one of their few commercial clients.
We also ended up buying a small canning line much earlier than we planned, which has helped us keep production up and actually bring on more staff. We had hoped to do this at some point in the future but not in the first year.
What is your specific "role" at Forward Brewing? What's your day-to-day work life like, and what makes this work meaningful to you?
These are all good questions that I've asked myself. I think overall my role is to keep the brand and business of Forward moving in the direction that I want it to go. As the creator of Forward, it feels like I have had every role at some time (even as a line cook), but overtime I am able to pass on many of the roles to our team. The only job I haven't had to do has been making the beer. We spent a lot of time interviewing and finding a head brewer who could make the styles and quality of beer that we were looking for. In many ways, our head brewer, Warren, has full reign in his department. I just work with him to make sure we have the styles that will fit our customers' needs and try to get labels for him when we need them.
Much of my days are managing overall operations, our sales, our costs, our menu items, and elements of our brand. There is also a lot of filling in the spaces in between. I consider this something of the minutiae of business ownership and operation—I try to just keep all the facets going in the same direction.
Any hopes or dreams for Forward's future?
I feel like we have so many hopes for Forward and what it can do for our community. I think a lot of them are based around the name "Forward." We started Forward because we just wanted better beer in our city. We hope that we have begun to lead the way in this and can establish Forward's brand around having better products that are good for our community.