Barbara Winiarski: Philanthropist, Artist, Pioneering Johnnie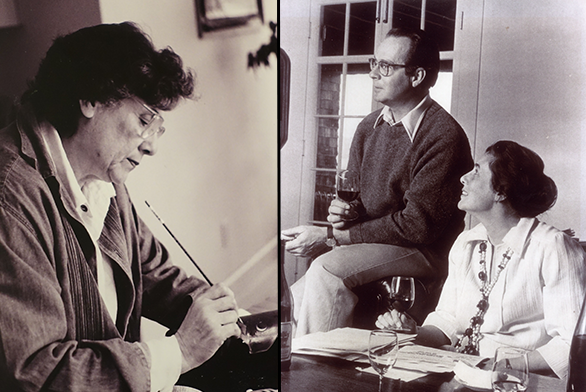 The following memorial letter was sent to the St. John's College staff, faculty, and Board of Visitors and Governors on October 12, 2021, and honors the legacy of St. John's alum and philanthropist Barbara Winiarski (Class of 1955).
Dear St. John's Staff, Faculty, and Board of Visitors and Governors,
It is with great sadness that we share the news of the passing of Barbara Dvorak Winiarski (Class of 1955), a philanthropist, artist, pioneering Johnnie, and steadfast advocate of the St. John's College Program. She leaves behind a legacy of passionate lifelong learning, intellectual curiosity, and an immeasurable spirit of generosity that will benefit the St. John's community for years to come.
"Getting to know Barbara over the years was a privilege," said Steve Feinberg (H96), former chair of the Board of Visitors and Governors and longtime friend of the Winiarskis. "She was warm, smiling, thoughtful, while also being resolute about what mattered to her. I later learned that she was a favorite student of the eminent Annapolis dean Jasha Klein, which did not surprise me. She was a gracious host and a talented painter. I love her paintings, which are a reflection of her. When I think of Barbara it is beautiful, sublime. She was easy to love and will be missed."
Barbara was born in Baltimore, Maryland, and spent summers at a grandmother's small cottage on the shores of the Chesapeake Bay, which, in her words, "nourished my childhood in body and soul." The daughter of Frank Dvorak, a sign painter and master in the craft of lettering, she had an early education in painting and a deep love for fine arts. Her parents intended for her to study painting, but Barbara chose to attend St. John's instead because, in her words, "I came down for one weekend and I thought, of course, this is where I'm going to learn the truth about everything."
Barbara's classmate, Joan Gilbert Martin (Class of 1955), remembers Barbara fondly. "Barbara was a force to be reckoned with! St John's opened doors into a new world for her. She was filled with enthusiasm for the Program and loved learning with a passion. It was a joy to know her."
It was at St. John's in Annapolis that she met her husband, Warren Winiarski (Class of 1952). The two initially met when Warren was serving on the student court that Barbara had been summoned to—"He was on that court because they regarded him as responsible, and I was absent without leave," she told The College magazine in 2008. "Luckily they didn't expel me," she laughed.
After graduation, they married and soon embarked on careers in academia; became parents to Kasia, Stephen, and Julia; and worked together to establish what would soon become the world-renowned Stag's Leap Wine Cellars, which produced the 1973 cabernet sauvignon that went on to win the legendary winetasting competition known as The Judgement of Paris and put American winemaking on the global map.
In Barbara's later years, she and Warren turned their attention to building a legacy of philanthropic giving to causes that, broadly speaking, were focused on preservation: preservation of land and stewardship practices in the Napa Valley region; preservation of the greatest collection of wine-related writings in the world, now housed at the University of California, Davis Library; preservation of culinary culture via the establishment of a curator of food and wine history at the Smithsonian's National Museum of American History; and preservation of the Great Books Program at St. John's College.
It is no understatement to say that their philanthropic partnership has transformed the college on both campuses. "Barbara and Warren cared deeply about both campuses and tried to help ensure that both were being supported as equally as they could help them be," said Chris Nelson (SF70), who served as the Annapolis president from 1991–2017. "Their significant gift of the Winiarski Conversation Room in Annapolis was made during the capital campaign in the early 1990s and was a precursor of the greater gifts to follow." Two of their gifts were especially transformative in nature and arrived at moments of historic importance for the college.
First, in 2008, the Winiarskis helped to close the college's first capital campaign of the new century with a visionary $5 million pledge to build the Winiarski Student Center on the Santa Fe campus. The Winiarskis were inspired by a desire to support the college's community of learning and had a special interest in enhancing the campus that their daughters Kasia (A84) and Julia (SF92) had both attended. Because the Winiarski Student Center would house common rooms, seminar rooms, and faculty offices alongside dorm rooms, the Winiarskis believed it would help to foster learning outside of the classroom.
"The St. John's Program is founded on the idea of community," said Barbara of their gift. "The tutors are in the coffee shop, in the dining hall, interacting with students. That's one of the big differences between St. John's and other colleges." In short, the Winiarski Student Center would help to create, in Warren's words, a more "intimate, cohesive St. John's community." Not only did the new student center succeed in these goals, it also allowed the Santa Fe campus to house an additional 60 students on campus, boosting the college's housing capacity to 80 percent of its undergraduate students in a city with an increasingly tight and expensive housing market.
Second, in 2018, the Winiarski Family Foundation gave $50 million to the college's $300 million Freeing Minds capital campaign. The gift came in the form of a challenge grant, known as the Winiarski Family Foundation Challenge, in which every new cash gift to the college would be matched, up to $50 million, with a contribution to the college's endowment. By far the largest gift in the college's history, the donation was included in the New York Times article "The Most Contrarian College in America" alongside many other major media mentions.
Alumni and friends of the college responded enthusiastically to the Winiarski Family Foundation Challenge, securing the full matching grant in just 30 months and raising $50 million from more than 17,000 individual gifts. Of the nearly 5,000 donors who participated, 85 percent are alumni, and a quarter were inspired by the match to make their first-ever gift to the college.
"The Winiarski Family Foundation Challenge catalyzed an unprecedented level of giving at St. John's," said Kelly Brown, vice president of advancement. "And we are witnessing the impact of that generosity through our rising enrollment, our balanced budget, and a tuition price that is lower today than it was a decade ago." Completion of the Winiarski Family Foundation Challenge ensures that the full $50 million match will be added to the endowment, which produces a permanent stream of annual income that further reduces the college's dependence on tuition.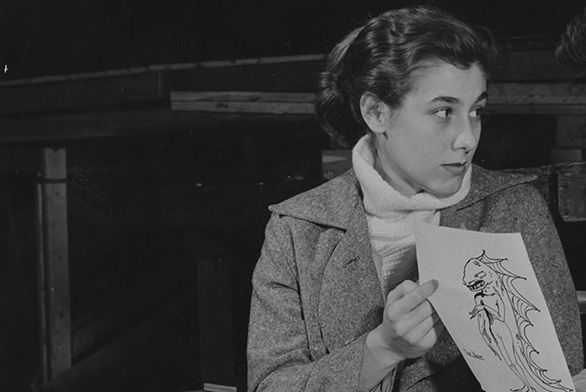 It was also in Barbara's later years that she returned in earnest to fine arts, which became increasingly important to her as health issues began to bring dark days. A talented painter, Barbara's first memories of paintings were of two prints that her grandmother had brought to America from Prague. One in particular, the 1852 painting The Horse Fair by Rosa Bonheur, captivated and influenced her. So too did the fact that the painter was a woman who was considered, after Edwin Landseer, to be the most influential painter of animals in Europe.
These early influences—as well as later ones ranging from Rembrandt, Vermeer, and Michelangelo to Norman Rockwell, teacher Gail Chase Bien, and a collection of family photography spanning six generations—catalyzed a prolific period of painting. In Michaelangelo, she found "portrayals of types of beauty, strength, old age and suffering: archetypal expressions of human life." About Rockwell's paintings, she said, "They weren't all happy." In her family, she found her favorite subjects and, in a Napa Valley Register article, remarked, "In the painting Julia at the Window, I told my daughter to sit in any way she was comfortable for a portrait. She turned to look out the window and her face was reflected. This painting appeals to me."
In 2015, Barbara's work was exhibited at Jessel Gallery in Napa, and 19 of her paintings were published in the 2018 coffee table book Passages, originally published by Val de Grace Books and dedicated to Warren; the book is gifted by the college in appreciation to those who donate $10,000 or more to the Winiarski Challenge.
Barbara's works have been described as "having compelling intimacy. They capture moments in people's daily lives while drawing the viewer into a space of contemplation." Of her work, Warren has said: "Barbara's paintings helped me to see what I had not seen. I think her subjects were more than particulars, when they became paintings, they revealed a universal heartfelt human experience."
When one takes a step back and looks at the major contours of one's life, a theme often emerges. From Barbara's paintings of her family and ancestors, to her role in bringing and stewarding the ancient art of winemaking in a new land, to her philanthropic gifts to the St. John's Program, the Smithsonian, UC Davis, and the Napa Valley Land Trust, it is clear that Barbara Winiarski is a woman who has committed her life, alongside Warren, to preserving the beautiful, the true, and the good. We at St. John's are lucky to have been included in her commitments.
For those in our community who wish to send condolences to the Winiarski family, to make a gift in Barbara's honor, or to learn about memorials, please contact presidents(at)sjc.edu.
With our deepest gratitude,
Mark Roosevelt, President, Santa Fe
Joe Macfarland, Interim President, Annapolis