Profundity in Patient Care: Natalie Bruno (SF00) on Liberal Arts and Anesthesiology
October 11, 2021 | By Les Poling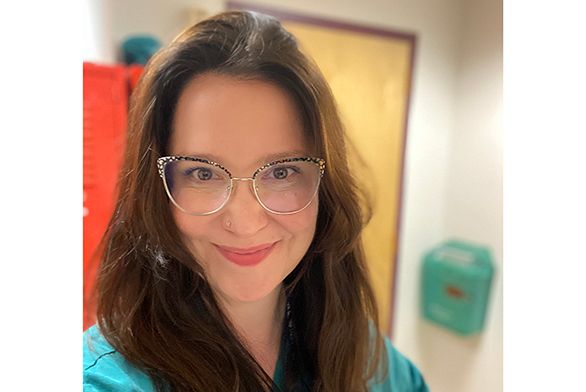 Growing up in El Paso, Texas, the daughter of two parents in medicine, Natalie Bruno (SF00) never intended to be a physician. Quite the opposite: as a child, she remembers waking up to the sound of her surgeon father making his crack-of-dawn coffee, then falling asleep to the sight of his silhouetted shoes in the hallway when he finally returned late at night.
"That was something I never wanted to do," she recalls. "I was way more interested in reading or even psychology, more of the liberal arts."
Bruno also thought, somewhat instinctively, that she would follow the same academic path as the rest of her high school classmates: go to college, somewhere like University of Texas or Texas A&M, and figure it out from there.
In a strange and fulfilling twist of fate, she was wrong on both counts. On the recommendation of a counselor, Bruno visited St. John's in Santa Fe, and upon seeing the small classes and "people walking around barefoot, reading books," she recalls, "I fell in love." Then, a couple years into her St. John's tenure, Bruno found herself yearning to put her liberal arts education to use in a more immediate, hands-on way than entering academia or becoming a teacher. Despite the misgivings of her childhood, she began considering medical school.
"I really started thinking: what can I do with my education?" she says. "I started realizing that I wanted to be more a part of people's lives. I didn't want to be stuck behind the pages of books; I wanted to be actually involved in the human experience and not the humanities as a subject matter to be studied."
She continues: "One of my dad's mentors, Dr. Cooley, was a famous heart surgeon who always spoke so highly of his liberal arts education. Knowing that people in medicine respected the liberal arts further validated my interest in medicine."
Nearly two decades later, Bruno now works as an anesthesiologist at a Veterans Affairs hospital in Augusta, Maine. Her path was anything but straightforward—"I faced some challenges when applying to medical school because I hadn't gone to a 'conventional' college," she acknowledges. Ultimately, though, despite whatever difficulties have arisen throughout her career, Bruno's chosen vocation has been a powerful and profound one.
The challenges are worth noting. When Bruno first decided to pursue med school, she lacked the course credits required to even apply, and the Office of Personal and Professional Development hadn't yet developed the robust support system in place today, making it difficult to find application resources or practice test taking, for example. Plus, she notes, medical school admissions officers who hadn't heard of St. John's struggled to see past some of the more unique characteristics of the college—e.g., no majors, no weighted GPA.
"Med schools are pretty rigorous about looking at what you've done with your time; they want every minute accounted for," she says. "Unless they can actually meet you in person, it's tough when they just see you on paper."
Nonetheless, the liberal arts curriculum that helped cause some of the application annoyances also formed the foundation for Bruno's future success: first while she worked a research job at the Texas Heart Institute and took three years' worth of prerequisite courses, then during her med school studies and in the years since.
"What we studied and how we were taught to study [at St. John's] prepared me to both idealize and deconstruct what is around me," Bruno explains. "Those skills make me a better clinician and, therefore, a better impact on patient care."
Having initially intended to be a psychiatrist, then considering and abandoning the idea of following her father's footsteps into surgery, Bruno landed in anesthesiology. In that position, she occupies a unique space in a patient's medical experience—she's the first person patients talk to in the pre-operative stage, right before they enter surgery.
"Everybody's overwhelmed, everybody's nervous. When you're lying there and you're about to get surgery, you're seeing nurses, you're seeing a surgeon, everyone's asking the same questions, and the lights are bright," Bruno says. "I feel like my role is partly just being able to talk to somebody, relate to them, and create a rapport in a very short amount of time."
"I attribute a lot of that to what I learned at St. John's," she adds. "Interacting with people in a seminar setting; learning how to really listen to people and talk to people and let them speak."
Even if the conversation is less than 10 minutes long, Bruno says, that's an incredibly significant time in terms of patient care: whether major or minor surgery, the people she speaks to frequently feel that they are on the verge of the unknown. In such situations, elements of her St. John's education come into play—particularly the ability to encounter existential-yet-everyday circumstances and maintain a sense of comfort in uncomfortable situations.
"Death and sadness are issues I have had to contend with as a physician," she explains. "The pain can be difficult, but having cultivated a strong foundation in the liberal arts shines through when I have to figure out how to talk to a family member about death or how to relate on that level, even when I cannot truly understand how they are feeling."
In the same vein, Bruno feels she has been able to maintain a deep well of intellectual curiosity despite the burnout that affects her and many of her colleagues, especially in the COVID era. She believes that "ingrained" instinct—to probe deeper, ask more questions, seek out every facet of a given medical mystery—is partially rooted in her St. John's experience.
Beyond the intrinsic value it adds to her professional life, that curiosity lends immeasurable significance to her work with patients. At the veteran hospital, for example, Bruno interacts with patients whose life experience she can't even fathom. But thanks to her capacity to learn, to ask questions and find common ground, she has forged profound connections with an extraordinary range of people, from veterans who rarely leave their homes to the WWII GI who still goes lobstering with his son.
That doesn't mean everything is rosy. The world of health care is notoriously ridden with logistical pitfalls and obstacles for physicians and patients alike, obstructing the primary reason hospitals, doctors, nurses, anesthesiologists, and the like exist: to help people.
"The reality is, medicine is challenging and I face frustrating situations on a daily basis that are not always about direct patient care," Bruno says. "Patient care is what I am here for—and medicine has changed so very much, and I do not think it is for the better."
"However," she declares, "I am not interested in giving up. I am honored to be a physician."