Civility on the World Stage
February 20, 2017 | By Tim Pratt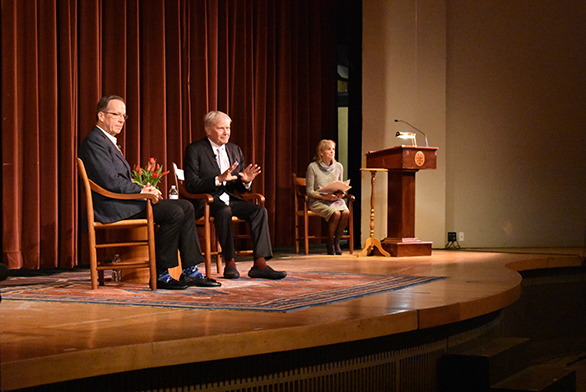 As veteran journalist Tom Brokaw and Adm. Mike Mullen took the stage at St. John's College in Annapolis, students, alumni, staff and community members broke into applause.
Brokaw is a TV icon who spent decades bringing the news of the world to millions. Mullen was a high-ranking military official who served as Chairman of the Joint Chiefs of Staff from 2007 to 2011.
What better pair to discuss the 2016 presidential election and world events than a veteran newsman and high-ranking military official? And what better place to have that discussion than St. John's, with its focus on discussion-based learning and civil debate?
Approximately 600 people attended the February 19 discussion between the men, dubbed "A Conversation With Brokaw And Mullen," in Francis Scott Key Auditorium. Proceeds benefitted the St. John's scholarship fund and EveryoneOn.org, a nonprofit dedicated to closing the digital divide.
Brokaw and Mullen discussed issues ranging from America's relationship with Russia, China and North Korea to ongoing conflicts in the Middle East.
"Having a relationship with Russia is very important," Mullen said. "That doesn't mean we have to be friends."
The pair also spoke about the Trump administration and problems with the ways people get their news. Brokaw urged those in the audience to check the veracity of stories found on the Internet. Social media has led to the easy sharing of fake news stories, knee-jerk reactions and heated, polarizing opinions, he said.
"You have to put as much effort into where you get your news over a long period of time as you do into buying a flat-screen television," Brokaw said. "You just can't take it blindly off the Internet because it's there and it seems to be done in a very sophisticated manner."
And the men spoke about immigration, racism and exposure to different cultures and political beliefs.
"We have to get out of our comfort zones," Mullen said.
Several members of the public asked questions about Trump, immigration and media coverage of Russia's purported role in the presidential election. And when a woman asked if Democratic Sen. Bernie Sanders—who lost the primary to Hillary Clinton—could have won the general election, Mullen leaned back on a lesson he learned early on when dealing with the press: Don't comment on hypotheticals.
It was a strategy that suited him well in his conversations with Brokaw over the years. The pair had a longstanding professional relationship, one that was based largely on trust and respect.
"I trusted him, he trusted me, and we could do real business together," Brokaw said during a gathering before the event. "I needed to know some things and he knew things that he didn't want to tell me, and I respected that. But that's how it's supposed to be."
As Brokaw and Mullen looked back on their careers, they agreed civility played a much larger role in politics in years past.
"I think it's a hugely important part of solving problems," Mullen said. "The best I can tell, civility has left the house."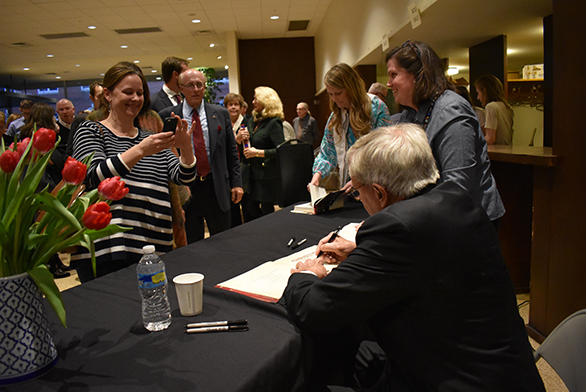 The fact that he and Brokaw were about to speak at St. John's, where civil discussion and debate are a part of life in the classroom, was not lost on Mullen, who attended the neighboring Naval Academy 50 years ago. This was during the Vietnam War, and the relationship between the Naval Academy and St. John's students had room for improvement, he said.
"It's come a long, long way, which is really terrific," Mullen said.
In today's political climate, Mullen and Brokaw agreed the world could use a bit more of that same civility.
"I feel very strongly that we need to get back to a civil discussion," Brokaw said. "There's always going to be robust differences in the political climate in this country. It makes us great. But that doesn't mean we have to divide each other so severely that there's no common ground about anything. That's what worries me most of all. I think the single biggest issue in the country is how we move forward together."