A Thoughtful Approach to Journalism
February 15, 2017 | By Tim Pratt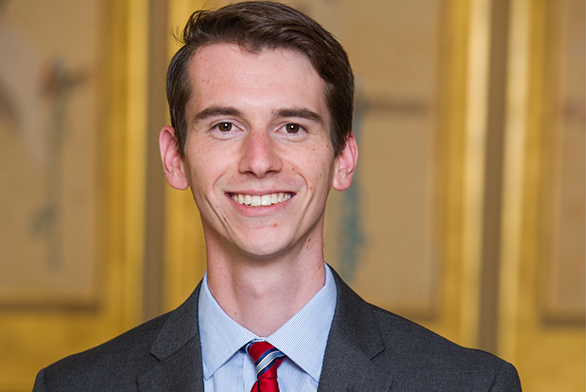 For St. John's College graduate Ian Tuttle, it's an interesting time to be a journalist.
There's a new administration in Washington, D.C., an increasingly polarized public and intense scrutiny on those who work in the Fourth Estate.
But Tuttle, who graduated in 2014 from St. John's in Annapolis, believes he is up to the challenge.
Tuttle is a columnist for the National Review, a journal founded by conservative writer William F. Buckley Jr. in 1955. He began writing for the publication as an intern while he was still a student at St. John's, where he served as co-editor of a couple campus publications, including the student newspaper, The Gadfly.
That internship helped Tuttle land a position at the National Review as a Thomas L. Rhodes Fellow in political journalism shortly after he graduated.
Based in New York, Tuttle has written mostly about domestic issues over the past three years, though he occasionally delves into foreign policy. The Texas native also has an interest in culture, and enjoys assessing cultural changes that have an effect on politics.
Tuttle says his St. John's education, with its discussion-based learning approach, has helped in his chosen career. He says that while at St. John's he learned to disagree respectfully and have constructive conversations; he learned to look at current events in the context of world history; and he learned patience, the ability to take time to research an issue before voicing his opinion.
"That's really needed in journalism," he says. "It's really needed more so than in quite some time for a journalist to say, 'I'm not going to say anything for 24 hours, for 48 hours, until this situation becomes clearer or I have a better grasp of it."
Tuttle typically writes three or four columns a week, mostly for the National Review website, but also for its biweekly magazine. He also occasionally does long-form essays. In addition, Tuttle is a member of the National Review editorial board, where he gets a chance to weigh in on positions the publication takes.
"For me, the idea is looking at what's unfolding and trying to assess what's really happening," he says. "It's more difficult than people often think. The signal-to-noise ratio is often very high."
Journalism as a whole is in a "lousy" state, Tuttle says. The industry reflects the increasing polarization of the country, he says.
"Journalists have not been immune to that (polarization) and I think it requires a lot of patience, sobriety and ability to not jump to conclusions of the best or worst of what the latest news may be, and to sort of slow down and offer a more thoughtful and careful assessment."