Class of 1986 Establishes Collegewide Scholarship Fund
October 7, 2019 | By Anne Kniggendorf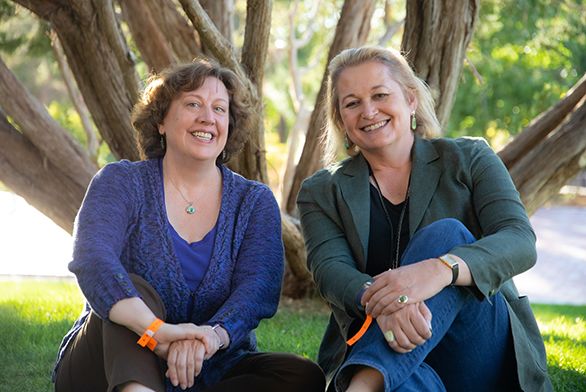 In the summer of 2017, Tia Pausic (A86) and Elisabeth Long (A86) stood together on the roof of the Peterson Student Center on St. John's College's Santa Fe campus, talking and looking out over Santa Fe toward Los Alamos. They were on campus for a meeting of the Alumni Association Board, and someone snapped a photo of them, marking what would come to be an iconic moment: the start of a scholarship fund that would soon touch the lives of generations of Johnnies.
"We were talking to each other about how [to] stretch ourselves," says Long, who heads the IT and digital scholarship division at the University of Chicago Library. "I've given to St. John's ever since I graduated, but not at the level that I'm giving for this. With the launch of the College's capital campaign, I felt it was time to step up."
Together, Long and Pausic established the Class of 1986 Endowed Scholarship, each making a five-year pledge of $25,000. They hoped they would inspire others to think big—and it worked. Their initial goal of $100,000 was raised before they were even ready to publicly launch the campaign.
While the two were the "prime movers" of this fund, as Pausic says, they didn't work alone. Edith Updike (A86), Christopher Reichert (A86), and Amy Bianco (SF86) were crucial during the initial quiet phase of the project—establishing the Scholarship a collegewide rather than campus-specific, with the goal of benefitting students on both campuses.
After seeing their initial success with some targeted classmates, Long and Pausic decided on a new goal of $200,000. In coordination with the college, they put up a crowdfunding page for the month of June when they went public earlier this year. Now, they have $140,000 in pledges and hope to reach their goal by December of 2021, the year of their 35th homecoming.
"We see this as something that we can all add to throughout our whole classes' lifetime," says Long.
As members of the Alumni Association Board, she and Pausic were more familiar with the college's budget and restructuring efforts, which was part of their inspiration in establishing the Scholarship.
"I wanted to support the college because I love the Program, but also to support the efforts of the administration to strengthen the overall structure of the college, so that the program can continue to provide the range that it provided to me to other students," says Pausic, who works as General Counsel of International Medical Corps.
By range, she means the freedom students gain when they are not pushed to specialize in a field, a push that she says can cramp potential. She says she sees the St. John's program as an antidote to the rush to specialize that's common in every other institute of higher learning in the United States.
Long agrees.
"[St. John's] opened my eyes to the importance of being receptive to ideas and subjects that run counter to my inclinations," she says, adding that she has found tremendous value in having studied subjects at St. John's that, given the choice, she might never have pursued.
Long, Pausic, and the Class of 1986 will soon begin handing out their scholarship funds—one scholarship per $50,000 in the endowment at a 5 percent draw, making each scholarship worth $1,250. When they meet their goal of $200,000, they will be able to offer two per school year on each campus.
"The Program really is about preparing you to be introspective and thoughtful about what sort of life you want to live," says Long, who says she learned the value of philanthropy and of giving back from seminars at St. John's. "I learned that when you see something you value in the world, you need to nurture it, not just for yourself, but so others can benefit from it as well. The College changed me, and I want to be sure that many more students can have that same experience, long into the future."