College Announces New Southwest Scholars Partnership
July 29, 2019 | By Kimberly Uslin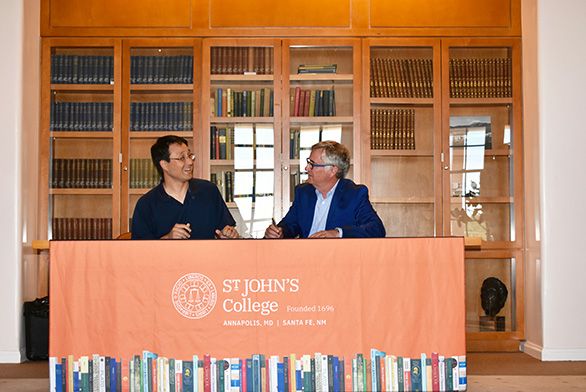 The leadership of St. John's College saw a grand future in New Mexico when they were looking to expand the Great Books Program beyond the east coast to a second campus more than 50 years ago. At the foot of Monte Sol on the eastern edge of Santa Fe, the location offers students many opportunities to combine academia with adventure.
"There aren't that many small liberal arts colleges [in the area], and there's only one of us," says college-wide President Mark Roosevelt. "It's appropriate to seek out and have a deeper relationship with folks in proximity."
This line of thinking is the impetus behind the new Southwest Scholars Partnership, which seeks to make the most of the Santa Fe campus' culturally rich environs. The project, which was spurred by an anonymous donor and is kicking off a five-year-pilot phase, aims to recruit and retain Johnnies from the Southwest states of New Mexico, Texas, Colorado, Arizona, Utah, and Oklahoma.
Through the Partnership, local high schools will gain access to training and scholarship opportunities for students, teachers, and college counselors. Students from participating high schools will receive a $5,000 annual undergraduate scholarship for four years to attend St. John's in Santa Fe, while one high school junior per year will receive a full-tuition scholarship to the college's Summer Academy in Santa Fe. Other perks include travel grants (up to $500) for interested students to visit campus overnight and an annual St. John's College book award for a junior nominated by the high school.
Teachers at participating schools will have the opportunity to participate in discussion-based seminars and teacher trainings led by St. John's faculty members, and one teacher per year will receive a half-tuition scholarship to complete the St. John's College Graduate Institute Master of Liberal Arts degree over four summers. There will also be the option for one teacher per year to spend a week at the Summer Classics program in Santa Fe, while all educators will have optional free use of college seminar and laboratory spaces as available for teaching or faculty meetings. Counselors will have similar offerings, as well as the option for an annual group field trip for students to the Santa Fe campus.
"We're an interesting and complicated school," says Roosevelt. "Students, college counselors, and teachers benefit from knowing more rather than less about us. The hope is to develop deeper relationships with schools, but also to communicate to students and their families that we're affordable, that we've significantly lowered our sticker price and offer generous financial aid based on need."
College representatives ultimately hope to partner with about 25 select schools in the six Southwestern states, and the first—Caprock Academy in Colorado—signed up earlier in the month.
As Roosevelt says, "It's good for the region. It's good for the college."