November 8, 2017 | By Tim Pratt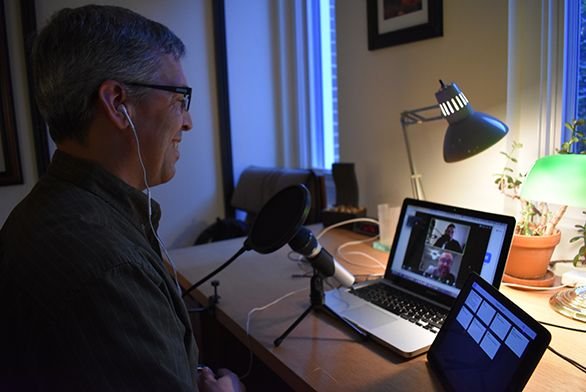 In a small office at St. John's College in Annapolis, tutor Jeff Black leans in close to his microphone and begins a conversation.
"Does Socrates show courage in the face of death?" he asks.
On his computer screen, he sees podcast collaborators—fellow tutor Lise van Boxel in Santa Fe and U.S. Marine Corps veteran Brian Wilson (AGI13) in Texas—ponder the question.
Over the next 40-plus minutes, the trio delves into a variety of questions, much like students do at St. John's, related to Socrates' death in Plato's Phaedo.
The group is recording a new episode of Combat and Classics, a series of podcasts that launched earlier this year. The episodes have been downloaded almost 10,000 times so far.
The project, part of the Partially Examined Life series, looks at historical and fictional leaders from the great books of Western civilization and other works. The readings deal directly or indirectly with military themes.
"We try to just have a genuine conversation about the book and trust the universal questions, the persistent questions, about human life," van Boxel says. "What it means to be a human being in the world has an implicit connection to military life. Given that, we don't need to squeeze the book artificially into the military framework. We simply try to examine these questions, and the military connection is available to be seen, if not directly, then indirectly, as a part of human life."
The idea for the podcast dates back several years, when Wilson, a Naval Academy graduate and former counter-intelligence officer in the Marine Corps, completed his graduate degree at St. John's in Annapolis. He wanted to give something back to the college—and expose others, especially those in the military, to St. John's seminars and other aspects of the curriculum—so he and Black began to talk.
"I thought, 'How can we give an outlet to folks like me who, when they're not deployed, are sitting around base reading The Iliad?'" Wilson says. "That's what I did. I'd sit around my house and read, and I know there are other people out there like me. So I thought 'I wonder if I can give some sort of outlet to folks who are intellectually curious?'"
Conversations between Wilson and Black inspired the pair to launch a series of off-campus seminars for military personnel in northern Virginia, where participants discussed The Iliad and other works. That led to a series of online seminars. Then the idea for the podcast was born.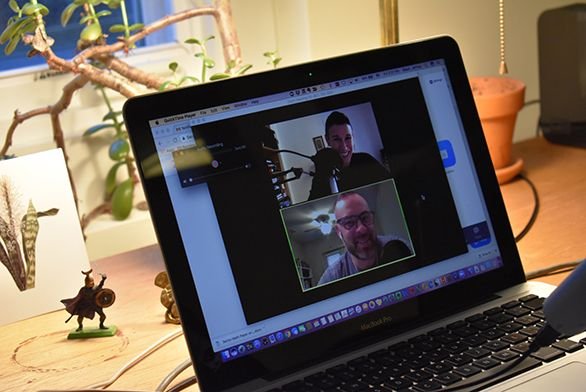 Van Boxel, who has long maintained an interest in the military, heard about the project from Black and decided to join the team. The group purchased microphones and other equipment, and continued making preparations, from figuring out the technical aspects to deciding what works to discuss.
The group recorded the first several podcasts earlier this year, then posted them online over the summer. Since then, they have recorded one podcast a month.
An advantage of a podcast is it allows people to download the discussion and listen at their convenience; a disadvantage is that listeners aren't hearing the conversations in real-time and can't chime in with their thoughts, Black says.
So far, the group has recorded discussions of Plato's Phaedo, Sophocles' Philoctetes, Jean-Jacques Rousseau's Discourse on the Sciences and Arts, and Anton Chekhov's The Student. Other episodes feature discussions on works by Shakespeare, Joseph Conrad and Aristophanes.
Listeners don't necessarily need to have read the works being discussed in each podcast. A synopsis of the reading is given at the start of each episode.
"The podcast should stand on its own and make people want to go read the book, and make it more interesting if you want to go re-read the book," Black says.
On a recent Friday afternoon, as Wilson and van Boxel listened from nearly 2,000 miles away, Black gave a summary of the reading, then asked the opening question. The group typically alternates who asks the opening question for each podcast; the other participants don't know the question beforehand. Then the participants explored the reading at length.
The group occasionally has a guest on for an interview. More interviews are planned for the future.
Sanya Sarich Kerksiek (SF15), one of van Boxel's former students, serves as executive producer and audio engineer for the podcast and provides website support. She is a lawyer by profession, but once worked as a civilian interpreter for the U.S. Army. Her husband is active duty in the Army. When Kerksiek heard about the podcast, she asked how she could help.
That meant teaching herself the technical aspects that come with producing a podcast. She manages the podcast's online presence, including marketing and social media.
"I'm a big believer in lifetime continuous learning," Kerksiek says. "The college is set up around that idea. Even now, I'm re-listening to (the podcasts) and picking up on things I didn't know before."
Kerksiek and other members of the group say one goal is to expose military personnel and civilians to St. John's and its unique style of learning. St. John's is a military friendly school, with veterans on both campuses taking advantage of the GI Bill® and Yellow Ribbon Program to assist them with tuition.
"I see the podcast as a way of bridging the gap between the military and civilian worlds," Kerksiek says. "Such a tiny proportion of our population volunteers and serves, and they do such an important job. I see the podcast as a small way to get the word out about the importance of the liberal arts, the importance of open debate, the importance of dialogue."