November 7, 2017 | By Anne Kniggendorf (SF97)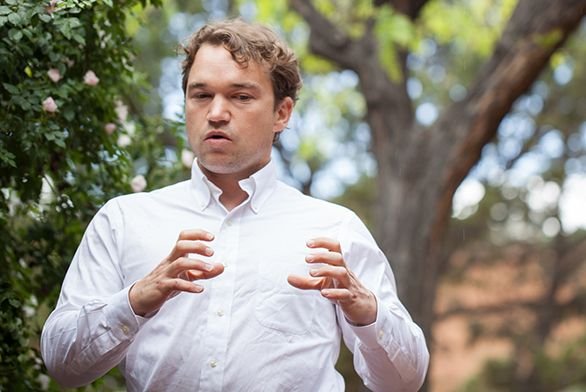 Living a handful of miles from people with a different system of government, set of cultural practices, lifestyle ideals, language, and regulatory systems, can be challenging. In fact, according to Patrick Schaefer (A00), the set-up tends to engender distrust. But he thinks he can help.
Schaefer grew up in Maryland and, until his junior year in Santa Fe, didn't know much about the Southwest. He also hadn't given much thought to the intersection of cultures.
As the executive director of the Hunt Institute for Global Competitiveness at the University of Texas-El Paso, he's building legal and economic bridges between Southern New Mexico, West Texas, and Chihuahua-- the Paso del Norte region.
It was the fortuitous positioning of the St. John's campus in New Mexico, he says, that sparked his interest in the region.
He started with a modest interest in Spanish, checking out a teach-yourself-Spanish text from Meem Library. He explains that he was no savant; he simply felt drawn to the language and wanted to forge a new understanding.
As a junior he only knew "that this was the realm or battlefield I wanted to be on: this international/binational scene."
Following graduation, he says he did a "Jack Kerouac kind of thing," working on a farm in British Columbia, a stint in the Peace Corps, an internship on Capitol Hill. Then, when he was ready, he knew that the kind of law he wanted to explore was best studied in New Mexico.
The real game-changer came on a day in 2013 when he was working for the World Bank in Washington, DC. A friend was late picking him up for lunch and Schaefer, whose mind had never really left Paso del Norte, noticed a post on the University of Texas-El Paso's website about a border economic forum they were hosting.
He attended the forum and hit it off with the dean of the business school. Schaefer told him he'd like to teach NAFTA (North American Free Trade Agreement) law. Instead, the dean asked him to develop a research institute.
They gave him a blank slate and total autonomy to build the institute as he wished. "It's turned into a fascinating, unique program/initiative, not only for the region and the states, but for the two countries," he says.
In order to effectively tackle the task of creating an institute described on its website as "a multidisciplinary research platform working to foster a broad and open discussion on the Paso del Norte region's development, focusing on two principal objectives: data generation and economic analysis," he needed everything he learned at St. John's.
In his estimation, the elements of the Program he leaned on most were: the ability to read — he insists that everyone he works with reads Mortimer Adler's How to Read a Book; how to listen; and how to study language.
The Hunt Institute recently published a transboundary energy report — one he says is the first of its kind as far as any two countries go. Compiling the report required an understanding of the legal structures in Mexico and New Mexico and Texas "with regard to all manner of energy from upstream, midstream, and downstream, in the hydrocarbons, renewables, and even the electricity sectors."
Schaefer presented the report to Hunt Institute stakeholders on both sides of the border: federal, state, county, and city departments, as well as think tanks and universities.
By sharing knowledge, the goal is to "build trust, build bonds, build value propositions that accrue to the benefit of disposable income for families, job opportunities for our citizens, investment opportunities, and also so that it helps U.S.—Mexico relations as a whole."
He says he can't overemphasize the value of studying structures, systems, language and history at St. John's. "Studying all those things allows the students to do anything he/she dreams of."