Finding the Beauty in Medicine
November 6, 2017 | By Tim Pratt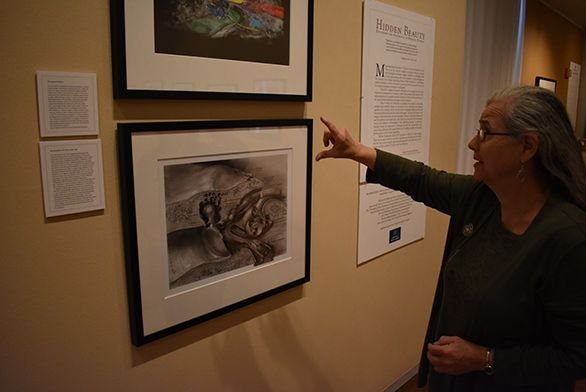 In one image, color-coded DNA molecules move through thin fibers, creating a sequence of bright reds, yellows, blues and greens.
In another, a series of bone scans on a human skeleton reveals spots darkened by cancer.
Yet another image features a look at the human cerebrospinal nervous system, created through the meticulous dissection of a cadaver in 1888.
The images are part of a new exhibit, Hidden Beauty: Exploring the Aesthetics of Medical Science, in the Mitchell Gallery at St. John's College in Annapolis. The exhibit runs through December 10. It is free and open to the public.
Hidden Beauty is a collaborative project between an artist and a scientist from the Johns Hopkins School of Medicine. Norman Barker and Christine Iacobuzio-Donahue gathered images of diseases affecting various parts of the human anatomy from more than 60 other medical professionals.
The pair compiled the images—typically used by medical professionals treating a variety of illnesses—and published them in a book, Hidden Beauty: Exploring the Aesthetics of Medical Science. The exhibit at St. John's features 49 of those images.
The goal of the project was to appreciate the aesthetic beauty in each image, the pair wrote in the book, from the bright colors to the intricate patterns. At the same time, they are careful to note that they aren't making light of often deadly diseases.
The pair hopes to show that "within the most serious, life threatening and deadly diseases are aspects that, when taken out of their context, have inherently aesthetic qualities," Iacobuzio-Donahue wrote. "In no way do we propose that disease itself, or the suffering it creates, is aesthetically pleasing."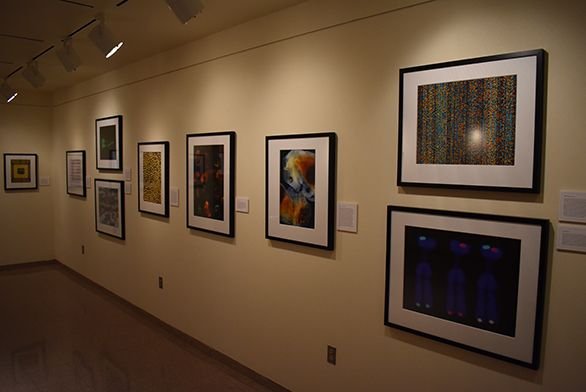 Many of the photos were captured with imaging technology, from spectral karyotyping to scanning electron microscopy. They allow the viewer to see intricacies of human disease, from fungal hyphae invading a blood vessel to metastasizing cancer cells. There's an image of osteoporosis and of tuberculosis, of motor neurons and of a tumor. There's even a photo of a large collection of gall stones.
The exhibit and the book explain each image and the medical condition being treated.
On November 15, Barker will deliver the lecture "Hidden Beauty: The Wonder of the Scientific Image." The event is scheduled for 5:30 p.m. in the Conversation Room and is free and open to the public. A Mitchell Gallery members wine and cheese reception will immediately follow the lecture.
On December 4, tutor Matthew Holtzman will lead a Book Club event and docent tour of the exhibit, followed by a discussion of a related reading in Objectivity by Lorraine Daston and Peter Galison. The event is scheduled from 2:30 to 4:30 p.m. Registration is required. To register, call 410-626-2556.