Daryl Locke (A23) Starts Original Poetry Shop
November 2, 2020 | By Les Poling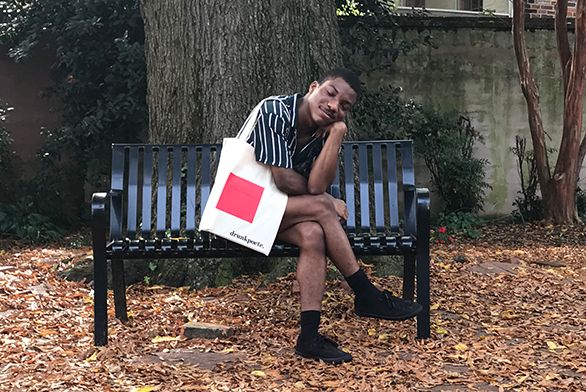 Daryl Locke (A23) says his poems come from dreams. He's not being figurative—oftentimes, he says, they spring to the page (or his iPhone notes app) as he recalls his nighttime reveries. Other times, they leap out while he's walking through downtown Annapolis or sitting in his room watching the sun refract through the window. "I'll just be walking somewhere, and I'll need to pull out my phone and type a poem," he says. A recent work reads:
"Light in the window
Discreetly rising
As if my eyes couldn't see you
Good morning
Old friend and foe."
In a way, his poetry reads as an effort to ground the surreal—from dreams to sunrises—in a kind of physical reality. Recently, he took those efforts to a new level. For years, he's been posting his poetry on Instagram under the handle @drunkpoete. This fall, he created a drunkpoete website, where he's selling self-designed tote bags with poems printed on the back, with the two-fold goal of bringing poetry into physical form and chipping away at his tuition bill.
Locke, who counts Maya Angelou, Langston Hughes, Sylvia Plath, Anne Sexton, and W.H. Auden as influences, developed an interest in poetry long before he conceived of printing his own work on tote bags—he says he started writing seriously in 10th grade. It wasn't until undergrad, though, that he feels his poetry began to transcend the angsty, sometimes superfluous musings of high school. "The things that we read, the things that we study at the college—it's [all] very inspirational," he says.
At St. John's—a school Locke discovered by chance after his mom sent him an advertisement while he was waiting tables during his gap year—his love for poetry grew into something that's come to chart and, in some ways, define his experience of everyday life. For Locke, there's poetry in everything, and it's helped him foster a very real sense of community with fellow writers and artists. That started with his Instagram account, which has more than 1,100 followers, where he posts work for others to like, share, and interact with. Then, at St. John's, he created a poetry group called the Drunk Poet's Society. Every Wednesday, Johnnies would congregate in McDowell Hall, room 33, for poetry, art, music, and more.
"We'd basically just write poetry on the chalkboard; some people would paint, draw—we had one person play guitar," Locke recalls. "It was a gathering of people who were into art and literature, and we'd express how we felt on boards and paper."
Now, he has his website, which he's using to contribute to college costs and physically manifest his writing. On the minimalist drunkpoete website, there are tote bags for sale—made from beige canvas with a printed red square on the front and a poem on the back—as well as photography prints and poetry prints. Locke designs the totes himself before putting in a bulk order on cheaptotes.com, which ships him the finished product. Then, he mails totes to customers outside Annapolis and delivers them by bike to patrons in town.
The sparse, compelling imagery of the totes and prints makes explicit the interplay between Locke's writing and his artistic sensibilities, particularly the relationship between poetry and photography—another one of his passions. He considers the two artistic mediums inseparable, even identical. (Locke is the archon of SJC Darkroom, a club for Johnnies passionate about photography.) "I carry my camera with me everywhere," he says.
Locke finds endless fascination in the way that both photography and poetry confront imagination and reality, the realms of the physical and the metaphysical—the seen and unseen. In both forms, the creator is composing something; gathering substance and inspiration from a thought, a view, an idea, and molding it into a single piece of art. "What originally inspired me to pursue photography was that, with poetry, I was always trying to imagine what I was writing," he remembers. "Of course, imagining something versus it actually being there is not the same thing. So I think of photography as poetry but with physical images."
Is the interweaving of photography and poetry indicative of a shift in perspective, from the dreamlike quality that characterizes his work to something less ephemeral, more immediate? Not necessarily. For Locke, it signifies a recent trend: his dreams have become explicitly grounded in a sometimes frightening world. "I would still say my poems are inspired by my dreams," he says. "But the poem itself, the feeling that actually inspired it—it's a little too close [to reality] for comfort."
The COVID-19 pandemic has almost literally caused the walls to close around everyone, including Locke. In a time of isolation and monotony, the line between reverie and reality has blurred. During his first year at St. John's, he found poetry in nearly every aspect of college life: his classmates, seminar discussions, walking through campus, even specific Program readings. Some of that has been lost online, Locke admits. But he's still found plenty of inspiration in sophomore year. He's fallen in love with Ptolemy's exploration of the skies, and he's constantly in awe of perennial Johnnie minds like Plato and Euclid.
Most importantly, the exchange of ideas at the college continues, even remotely. "That's the most poetic thing we do," Locke declares.