Rebecca and Michael Engstrom Begin St. John's Journey Together
November 5, 2020 | By Les Poling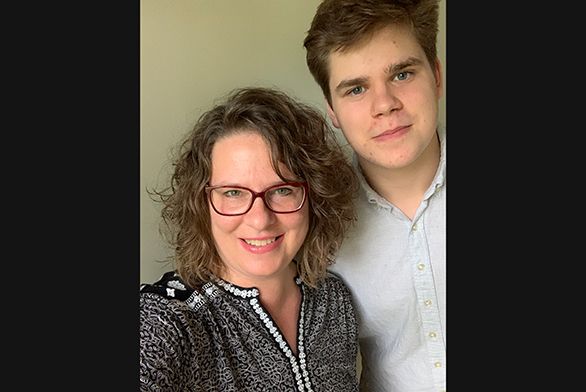 Michael Engstrom (A24) and his mother, Rebecca (AGI22), found out about St. John's College's Fall 2020 transition to online learning at the precise moment that they arrived in Annapolis to start the semester. Mere months earlier, the Engstrom family had decided to move to Annapolis from Kenosha, Wisconsin—a momentous choice made infinitely more complicated by COVID-19. So when the email arrived informing students and families of the decision to move classes online, "it was a big, emotional moment," Michael says.
The next few weeks were a whirlwind. The Engstroms—Michael and his parents—moved from Airbnb to Airbnb, fresh off their cross-country road trip; it wasn't until October that they found a permanent home. Throughout it all, both Michael and Rebecca were beginning their first semesters at St. John's: Michael in the undergraduate Program and Rebecca in the Graduate Institute. A mother and son pair entering St. John's in the same year is unique in any circumstances—even more so during a year defined by uncertainty. "Just the fact that we're here is surreal," Michael admits.
And yet, despite it all, neither Johnnie regrets a thing.
For the Engstroms, the road to St. John's began years ago, when Michael was in 8th grade. While helping Michael's overwhelmed older brother narrow down his list of potential colleges, Rebecca stumbled upon St. John's. "I looked at all these schools, and I thought: that looks interesting," she recalls. "So I put it on the list." St. John's ultimately wasn't the right fit for the elder Engstrom, but the college immediately impacted Michael and Rebecca. "It was such an interesting and fascinating school; it stayed in the back of our minds," he says. "And Michael liked the gym," Rebecca adds.
A few years later, several key experiences turned Michael's interest into a sense of determination—one so strong that he even left high school early. In the summer before his junior year, he attended Summer Academy in Santa Fe. Then, on the advice of his high school counselor—who worked on Colleges that Change Lives—he went to a CTCL fair to see if there were similar schools that piqued his interest. "I remember walking out for lunch and thinking, 'I just want to go to St. John's.'" Around that time Rebecca discovered that the college sometimes admits students (who pass the GED test) before they finish their senior year of high school; something Michael initially wasn't interested in, but soon began to consider. To make sure it was the right choice, Rebecca and Michael visited campus one last time, where they met with tutor Ron Haflidson; by the time they returned to Wisconsin the decision was made. In the next month, Michael wrote his essay, studied for and took the ACT, and applied to St. John's.
Rebecca accompanied Michael for every step of his decision-making journey, and the sense of intrigue she initially felt when she discovered St. John's lingered—to the extent that she began to consider attending the college herself. A professional violinist, Rebecca has a graduate degree in music, but it had been some time since she studied a more academically focused intellectual environment. "One of the parts I enjoyed most about my master's degree was doing lecture recitals," she explains. "So I started to think: What if I could do the Graduate Institute? Maybe this would be a chance for me to do everything I couldn't do because I was practicing so much."
And so, at the same time that Michael began to seriously consider foregoing his senior year of high school, the idea of moving the family to Annapolis began to take shape. When Michael was officially accepted in December, the Engstroms started preparing in earnest. "We're a pretty close family, and we like adventure—we've lived overseas before," says Rebecca. "We've moved around, we've taken risks." After 11 years in Wisconsin, they felt ready to do it again. Michael's father couldn't attend the Graduate Institute due to work (despite an MDiv degree and a knowledge of Ancient Greek). However, his profession gave the family geographical flexibility, and he was excited to live vicariously through his wife and son. Between December and August, the family balanced moving preparations and everyday life in the time of coronavirus with travel plans and, for Michael, the logistics of taking (and passing) the GED test. "It was exciting," he says wryly.
The excitement has continued ever since. Michael and Rebecca spent their first several weeks in Annapolis juggling online seminars, readings, moving from rental to rental, and a mid-pandemic house search. Now, they're in their new home, and they're starting to get used to the remote St. John's experience. Both Johnnies acknowledge the quirks of online learning—muting and unmuting, dealing with internet issues, ever-present distractions—and they both find themselves longing for experiences that online class simply can't replicate: bumping into someone after seminar, following up on a classroom conversation in the quad or the coffee shop, and (for Michael especially) simply getting to know fellow students.
And yet, "I was just so excited to start—it was worth being anywhere, for me," Michael says. After months of anticipation, the reading list and the seminar discussions easily outweigh the non-ideal circumstances. He's especially enjoyed multiple-hour discussions with fellow Johnnies during small study groups. "I feel like I'm learning something that has a point; that has meaning."
For Rebecca, there's been a similar thrill of reacclimating to the classroom, breaking down foundational principles in detail, and discussing big ideas with a variety of people of disparate backgrounds. With Euclid, for example, "it's not just learning propositions. It's your mind being trained in logic, and then being able to verbally teach it to someone else," she explains. "It's really special."
Best of all, despite all the twists and turns, they're still in this journey together—from the first campus tour years ago to drawing Euclidean figures at the dinner table. As Michael says: "It's a family experience."