David Feldstein on the Enduring Allure of Summer Classics and Bookbinding
July 17, 2020 | By Hannah Loomis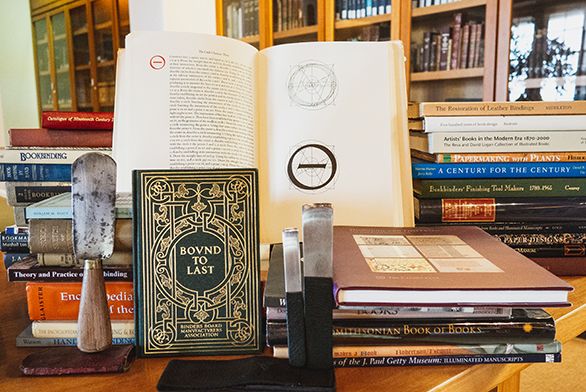 It should come as no surprise that St. John's College attracts book lovers. Bibliophiles of all ages flock to both campuses—and for now, online—from around the world to devour and endlessly discuss the printed word with like-minded classmates.
But for some people that's not enough. Much as a "nose to tail" foodie reveres every inch of an animal, David Feldstein cherishes every bit of a book, from the covers outside to the thoughts inside. He found his way to St. John's through his study of bookbinding.
Feldstein first learned of St. John's from a bookbinding instructor at the Center for Book Arts in New York City, where he took classes for a number of years. When he later moved to Northern California, he began studying at the San Francisco Center for the Book. There he met Tom Conroy (SF76), a well-known bookbinder and toolmaker, and author of Bookbinders' Finishing Tool Makers 1780–1965. Discussions with Conroy about the Program piqued Feldstein's interest in St. John's, and since 2007 he has attended the Summer Classics program in Santa Fe every year but one.
That first summer, he arrived in Santa Fe not knowing what to expect—but feeling ready for anything. "As a former teacher I thought I knew the stuff cold," said Feldstein in a recent call. His class was reading the Qur'an with Santa Fe tutor Kenneth Wolfe (SF94), who was rumored to have read the entire undergraduate curriculum in original languages. The first day Wolfe asked if anyone had questions. As no one did, he posed the opening question: What is faith? "And I just sat there dumbstruck, in awe," continued Feldstein. "Thinking, 'My god, what a brilliant question.' And I fell in love with what we were doing."
Feldstein's goal has always been to read works that he feels he should have read but never did. "And it's been amazing," he said, referring to his St. John's experiences. "Just incredible. I never expected to read Kierkegaard and Nietzsche and Milton, and it's been wonderful." This summer Feldstein is reading Hasidic tales and Moby Dick. But there's a catch: For the first time ever, the Summer Classics program is entirely online.
"I'm scared," Feldstein said simply, when asked how he feels about spending hours on his computer instead of making his usual visit to Santa Fe. The fellowship that grows out of an intense learning experience in a beautiful place is something he'll particularly miss this year. Like many lovers of words, he elaborated by telling a story. In his first year he met another attendee, a doctor named Frank DeRango. They were talking about art one day and Feldstein mentioned his favorite painting—a crucifixion triptych by Grunewald, which is located in a small town in Europe. Feldstein's great ambition was "to go see it before [I die]." DeRango had seen it and was eagerly questioned about it by Feldstein. A few weeks after the session ended, a package arrived for Feldstein from DeRango. He had bought an expensive print edition of the painting and had a special high-quality copy made, including panels that open out like in the original. "And he sent it to me just like that," said Feldstein. "I thought it was the most amazing thing—I knew the guy for a week."
The shared love and appreciation of everything related to books has been a recurring theme throughout his years visiting Santa Fe. Wandering into the Meem Library one day in his early years of Summer Classics, Feldstein happened upon a Haggadah made by David Moss (SF68). It was protected in a glass case, and he studied it for a while. The next day he returned and saw it was open to the same page, so he asked a librarian if she would turn the page. She did and he said he'd be back the next day. "Normally they turned the page once a week. When they saw me coming they started turning it every day," said Feldstein. Once he was allowed to spend a few hours alone with the whole book, a memory he treasures.
Even in this age of online and digital everything—or maybe because of it—the physical book remains captivating; engaging our senses of touch, smell, hearing, and sight. Interest in learning the crafts of bookbinding, bookmaking, and letterpress printing is strong, when once some feared we'd seen the end of the printed word. This is why Feldstein recently donated his collection of approximately 70 bookbinding books (including Conroy's) to the library, along with a few bookbinding tools. He was motivated by his many years of wonderful experiences at Summer Classics. "It's the reason I sent my books to St. John's instead of trying to sell them," he explained. Feldstein wants the books to be discovered and enjoyed by Johnnies for years to come.
As a longtime, enthusiastic participant in the St. John's summer learning community, Feldstein is delighted to give something back to the place he feels has given him so much—a fitting representation of the sense of intellectual togetherness fostered over the years. "People ask me where I went to college," Feldstein says. "And I always want to say St. John's. This place changed my life."