Essays Honor Longtime Tutor
February 19, 2018 | By Tim Pratt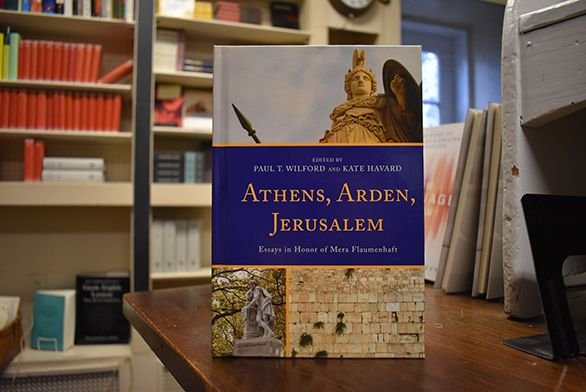 Paul Wilford (A07) and Kate Havard (A12) have fond memories of St. John's College: meaningful discussions, interesting study groups, good friends and great books.
Yet, among their most valuable experiences were lessons learned from tutor Mera Flaumenhaft.
Now, the pair has edited and contributed to a book of essays dedicated to Flaumenhaft—one of the college's longest serving tutors.
Athens, Arden, Jerusalem: Essays in Honor of Mera Flaumenhaft was written by more than a dozen of Flaumenhaft's longtime friends, former students and colleagues. It was published by Lexington Books in October 2017.
The essays explore fundamental questions about God, human nature and political life through readings of Greek poets, Shakespeare and the Hebrew Bible.
Flaumenhaft, a tutor at St. John's since 1977, says she has enjoyed reading the collection of essays on some of her favorite subjects. She only learned of the book after the project was underway.
"It's really the most moving and extraordinary gift I've ever received," Flaumenhaft says.
A few years ago, Havard and Wilford began kicking around the idea of compiling essays, written by others, about subjects of interest to their former tutor. Flaumenhaft had a profound effect on both of them during their time at St. John's and beyond.
On one hand, Flaumenhaft demands a lot from her students. She wants them to think clearly and concisely, and to be able "pin things down," says Wilford, now an assistant professor at Boston College.
"On the other hand, it's a rigor that's combined with tremendous generosity and openness and a speculative quality," he says. "She wants to enter into an inquiry with you. That combination was reflected in the friends that wrote these essays."
In early 2016, Wilford and Havard—a writer, research analyst and theater critic in Washington, D.C.—began reaching out to Flaumenhaft's friends, fellow tutors and others to see if they would contribute to a book in her honor. They agreed enthusiastically.
"People were delighted to get the opportunity to do something in honor of Mrs. Flaumenhaft," Havard says.
After a brief lull, the essays began arriving, with topics ranging from some of Shakespeare's most well-known works—Flaumenhaft is an expert on the bard—to Greek poetry and religion.
"The experience of having all these essays come in was a real confirmation of Mrs. Flaumenhaft and the breadth of her interests," Wilford says.
Leon Kass, a former tutor and well-known figure in the liberal arts world, met Flaumenhaft's husband, Harvey, in the 1960s. Kass and his wife, Amy, quickly became close friends with Harvey and, shortly thereafter, Mera. The group remained close throughout the ensuing decades.
"One gets into a good conversation with the two of them at the drop of a hat," Kass says.
Kass's essay is titled "Professor or Friend: On the Intention and Manner of Aristotle's Nicomachean Ethics." He opens the essay with a brief reflection on the friendship he has maintained with the Flaumenhafts over the last 50-plus years.
"It seemed to me to be a perfect text to present to Mera because she has an extraordinary gift for friendship, a friendship founded precisely on speaking the truth in careful study of books with your friends and students," Kass says. "Like this text, her intention is generous and philanthropic, her manner dialectical. Her goal is to always understand. All this is for the sense of living a more thoughtful and more virtuous life."
Among the 19 essays in the book, longtime tutor Eva Brann wrote a piece titled "Lady MacBeth: The Tyrant's Wife"; tutor Margaret Kirby authored one called "Recognizing Odysseus: The Role of Signs in Odyssey 19-23"; and tutor Louis Petrich penned a piece called "Falstaff Riseth Up."
Havard says reading and editing the essays was an interesting experience.
"The scariest part was editing your former tutors," she says with a laugh.
Havard and Wilford also wrote essays. Havard's essay is titled "Guarding the Salt-Water Girdle: Lovers and Kings in Cymbeline." Wilford's piece is titled "What Makes a Kingdom: Plants, Poetry and Politics in Richard II."
"The book is a reflection (and) small token of appreciation of the immense gratitude I feel," Wilford says.
Havard shares a similar sentiment.
"I'm so happy we get to give this gift to Mrs. Flaumenhaft, who has given us so much as a teacher and a friend," she says. "It's a wonderful feeling and it's a fun book."