Alumni Discuss Careers in Public Policy
February 21, 2018 | By Anthony Muljat (SF17)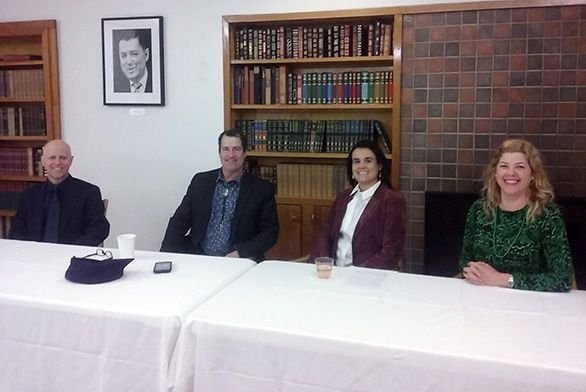 While St. John's College graduates can go on to work in fields as diverse as medicine, academia or fine arts, a natural career path for many Johnnies is in government and public policy.
Authors from all four years of the Program emphasize the need for sound and principled governance, and the critical thinking, speaking, reading, and writing skills cultivated by the Program can help graduates become excellent public policy analysts and advocates. Yet, for anyone entering this sector, it can be difficult to know how to take the first step.
Enter the Office of Personal and Professional Development on the Santa Fe campus, which organized a panel of four professionals in law and government, including three SJC alumni, to discuss possible routes to success in these fields after St. John's. About two dozen students attended the event February 13 in the Junior Common Room.
Nate Downey (SF91) opened the panel by discussing his journey in public policy, leading to his current candidacy for the Santa Fe city council. He first learned about the college from a colleague while working for Gary Hart's 1988 presidential campaign; after attending, he became passionate about water conservation and permaculture landscaping in New Mexico's high desert ecosystems. He found that his experience with reasoned debate and public speaking at the college lent itself well to environmental advocacy, whether door-to-door or in legislative chambers. He now hopes to bring his expertise to public office, and encouraged Johnnies to organize in their communities to effect the change they want to see.
Felicity Strachan (A96) explained that her adventure in law after St. John's has been very fulfilling, if indirect. She traveled the country and worked odd jobs before studying maritime law at Tulane University, graduating in 2008. Practicing in Louisiana, she worked clerical and courtroom positions, including co-authoring a brief for the U.S. Supreme Court in the case of Smith v. Cain. After passing the New York bar in 2016, she moved back to Santa Fe and now works for the Office of the State Engineer of New Mexico, which handles all of the state's water rights. She shared her enthusiasm for being employed in an engaging environment with good benefits and security, and emphasized that "anyone who goes to St. John's can be a lawyer."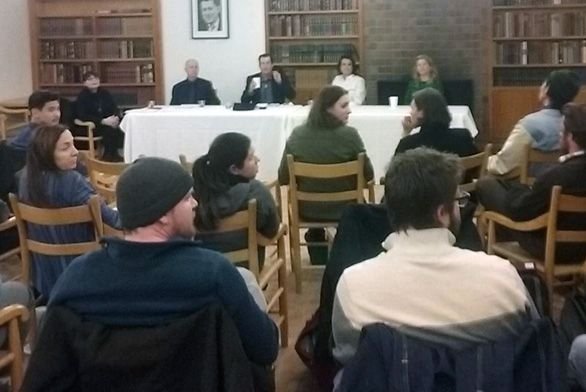 Alumni Giving Coordinator Alethea Scally (A04), who works on the Santa Fe campus, spoke about the many entry-level internship opportunities for Santa Fe Johnnies, including one with the office of U.S. Sen. Tom Udall. The skills Scally cultivated at St. John's were indispensable for her work as a higher education policy analyst, she said, as well as for forging her "set of ideals and principles," an essential part of one's public presence.
Matt Miller, Udall's Santa Fe office scheduler, corroborated the value of working for a U.S. senator's office immediately after college. Interns have the opportunity to learn about almost everything a senator's office does, even on the Senate floor in Washington, DC. Downey remarked that many Johnnies might find Udall's positions in line with their own, and that he was comparable to Cato the Younger in "virtue."
The panelists answered questions regarding possible other entry-level positions in law and government, and offered tips on how to effectively organize. Though the evening's conversation was brief, for many attendees, it was potentially just the beginning of a lifelong dialogue with their own polities.