February 23, 2018 | By Tim Pratt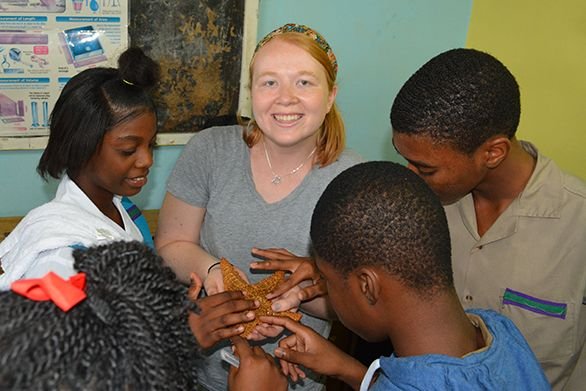 While most St. John's College students spent the end of January bundled up against a mid-winter chill, one Johnnie was working on an outdoor education program with teens in Jamaica.
Maggie Dillon (A18) traveled to the Caribbean island nation January 19 with the Khaled bin Sultan Living Oceans Foundation to work on the Jamaican Awareness of Mangroves in Nature (J.A.M.I.N.) program.
The program—the result of a partnership between the Annapolis-based Living Oceans Foundation and University of the West Indies' Discovery Bay Marine Laboratory—is designed to inspire high school students to learn about, protect and conserve mangroves in Jamaica.
Dillon spent a week in the Caribbean, working with students, helping them as they took samples and performing other tasks to further the program's mission.
"I'm very grateful for the experience," she says. "It was exciting because it was my first time going in the field and interacting with the kids and seeing how the program affects them."
Mangroves are an integral part of the ecosystem in Jamaica. Yet, large areas have been cleared for development of houses, hotels and agriculture. They're often harvested for charcoal production and to make fishing gear, too.
Dillon's introduction to the mangrove program began shortly after she started interning part-time with the foundation in the fall of 2016. Her experience continued during the summer of 2017, when she received a Hodson Internship funded by a grant from alumnus Dr. Stephen Forman (A70). She resumed interning part-time at the foundation in the fall of 2017. Her time has been split between the foundation's education and science departments.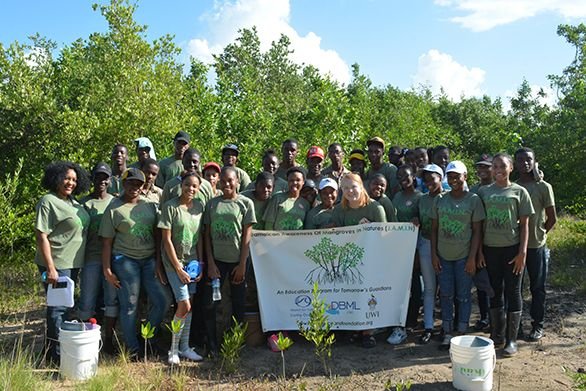 A SCUBA diver since she was 10, Dillon has always loved the water. Her affinity for science began to grow during freshman lab at St. John's.
Over the last year-and-a-half, some of Dillon's duties at the foundation included inputting the names and test scores of Jamaican students participating in the J.A.M.I.N. program. Students were learning about mangrove distribution, types, Jamaican species, structures and adaptations, as well as what threatens the future of mangrove forests in Jamaica and around the world. They also were growing and monitoring red mangrove propagules, a seed-like structure, in the classroom before transplanting them to a restoration site.
Dillon met many of those students during her trip last month.
"It was wonderful," she says. "The students I worked with are brilliant kids."
On the first day of the program, school closed early, but nearly every J.A.M.I.N. student showed up to participate, Dillon says.
The two-year program is designed to fit the students' curriculum—learning about food chains, webs and classifications, for instance—but also allows for a bit of fun. Students are exposed to live animals from local mangroves, including sea cucumbers, star fish and sea urchins. Students also go out into the field to take soil samples, test dissolved oxygen levels and perform other tasks. The foundation provides equipment that allows students to complete labs and practicums, including the study of diseased mangrove leaves.
Dillon worked closely with students and assisted educators throughout her time there. Watching students' enthusiastically participate in the program brought a smile to her face.
"They were really dedicated and super interested in the program," she says. "They loved the science aspect."