Exploring Consciousness With Dr. George Mashour (A91)
April 11, 2023 | By Andrew Wice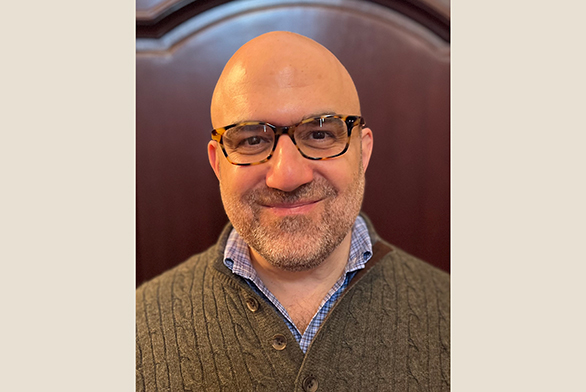 Dr. George Mashour (A91) is a nationally-recognized expert in the field of neuroscience, leading a multi-disciplinary team investigating the nature of human consciousness. Mashour is a distinguished anesthesiologist, medical professor, NIH-funded researcher, and star academician at the University of Michigan Medical School. However, his interest in science, let alone a storied career in it, would never have happened if he had not found his way to St. John's College.
Because he didn't flourish at his traditional high school, Mashour internalized the message that he was a poor student, particularly in math and science. Happily for him, and the countless people who will benefit from his ongoing work, St. John's College changed the way he saw the world, and himself. He writes:
"The intimate environment, core curriculum, discussion-based approach, and broad exposure to the Great Books at St. John's really engaged and attracted me. In retrospect, the choice to attend St. John's College defined my life's trajectory like no other. If I had attended a conventional college, I could have (and no doubt would have) avoided science and math. At St. John's, I had to engage broadly, and through that engagement—with both philosophy and science—I discovered my life's path."
This led to his medical career, which he began at Georgetown University. The field of anesthesiology, with its gift of deliverance from pain, has made surgery a triumph of Western civilization. It has also granted us insight into the nature of human consciousness itself. This is the area where Mashour has made tremendous contributions, by scrutinizing the effects of anesthesia on the brain.
To this end, Mashour founded the Center for Consciousness Science at the University of Michigan. There, a collaborative group of scientists seek to advance research, education and clinical care as it relates to consciousness. It is a new approach to age-old questions about the mind's true nature, an inquiry that began for Mashour when he was introduced to the works of Immanuel Kant:
"I became deeply interested in consciousness while studying Kant's Critique of Pure Reason at St. John's. Kant was remarkably prescient in anticipating and influencing the modern neurobiology of consciousness as well as key tenets in network neuroscience. He identified the tension between the differentiation of the mind's faculties (in modern terms, subspecialized function of different brain areas) and the seamless integration of consciousness. I could trace a fairly direct line from Kant to current theories of how the brain must integrate multimodal sensory information for conscious experience."
Mashour draws on the array of specialties held by his diverse team of researchers. This relies on his ability to integrate and lead—skills that he discovered and developed during his undergraduate education at St. John's College, the all-important first step in his ongoing career. He reflects:
"I had neuroscientists, physicists, psychologists, doctors, engineers, and philosophers all on the same team, sitting at the same table to advance the science of consciousness. St. John's College inspired the interest but also gave me the tools to feel comfortable engaging a breadth of experts in conversation and scientific inquiry…it wasn't until my time serving in high-level institutional roles that I discovered yet another remarkable benefit of the St. John's education: it is exceptional leadership training. In leadership roles, you are not working in isolation to solve prefabricated problems with an answer key—you are part of a team grappling with raw data, complexity, uncertainty, nuance, and assumptions. The unique learning environment of St. John's provided incredible preparation for that activity."