St. John's College Santa Fe Goes 100% Solar
New solar installation to be unveiled on Earth Day, April 22
SANTA FE, NM—St. John's College President Mark Roosevelt will cut the ribbon on a new grid-tied solar installation at noon on Saturday, April 22. The installation will generate 100 percent of the campus's electricity and includes 1,670 solar panels and 20 electric vehicle charging stations for use by the St. John's community.
"At St. John's College, we are proud to be moving forward on multiple fronts. The implementation of these sustainable solutions ensures that our campus facilities and student offerings fit the culture we've built our institution on," said Mark Roosevelt, president of St. John's College Santa Fe. "I'm thrilled that we're incorporating innovative technologies into our campus design and entering into a new era of environmental responsibility."
The installation is grid-tied, which means that the college's solar panels feed excess power to the Public Service Company of New Mexico (PNM) grid. During times of the day that the solar installation produces less than the full college requirements, the grid "repays" the electricity from PNM to the St. John's campus.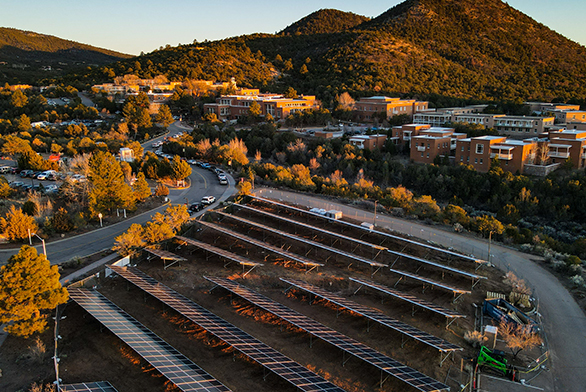 Solar deployment is one part of the college's commitment to investing in a sustainable campus. Recently, St. John's replaced 100 percent of its lighting with light-emitting diode (LED) technology and updated electrical systems in Evans Science Laboratory, Pritzker Student Center, Santa Fe Hall, and the Fine Arts Building (FAB). High-efficiency boilers were installed at FAB, Weigle Hall, and Meem Library. These efforts provide annual electricity savings of more than 358,000 KWh and will save the college more than $100,000 annually.
This project was made possible by two anonymous alumni philanthropists and was catalyzed by the St. John's College Class of 2019's senior class gift, which was an energy audit of the campus.
The ribbon-cutting takes place at noon, on Saturday, April 22, at the solar array, which is at the entrance to the college, at 1160 Camino de Cruz Blanca. The event is part of St. John's public Earth Day celebrations which include music, film, outdoor activities, and presentations. Details at sjc.edu/earthday.
Driving directions: sjc.edu/about/campuses/santa-fe