Exploring Ethics and Empathy in Gaming
April 4, 2018 | By Eve Tolpa
When she was a student at St. John's, Burkey Koontz (SF17) took a particular interest in morality and ethics.
She wrote her senior paper on Huckleberry Finn.
"He makes a one-eighty in terms of morality, him deciding Jim's a human being," she says. "I wrote about what makes people change their moral opinions about the world."
It was that focus that she took with her in summer 2017 when she completed an Ariel Internship with Boss Fight Books, a small Los Angeles-based press with the tagline "Great books on classic video games."
Koontz explains that while most video game journalism consists of reviews that focus on looks and functionality, Boss Fight takes a critical and historical approach, treating the subject in a more philosophical way. Her role as publishing intern, she says, was loosely defined.
"I did a lot of social media and marketing stuff," she says. "I had to come up with my own projects."
While Koontz had mixed feelings about the internship, the experience helped her realize she didn't want to be a games journalist or editor. Instead, she would like to create games herself.
"Making video games requires skills that I don't have at the moment, but I'm not afraid to learn them," she says in her student report. "I credit St. John's for that."
The other thing that became clear to her was the importance of community in the pursuit of any goal.
"If you want to do a weird thing in the world, you really need a lot of people to be on board with you."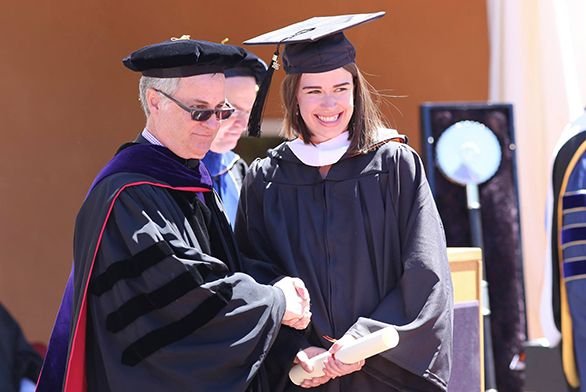 Koontz has been drawn to video games since childhood.
"I don't exactly know why," she says, citing the medium's underdeveloped storylines and general pulpiness. She adds that gaming as an industry has "a reputation of being really bad to women."
At the same time, she continues, "It has so much potential. What can a game do that books can't or a movie can't? It has its own special rules and has something to tell us about the human condition. There's space to innovate."
For her, the most interesting thing about video games is that they represent a designated place to enter and consider questions of morality.
"They are all about choice," she says. "(In) other media you can only watch other people and the consequences of those decisions. Inhabiting virtual spaces and making decisions—I don't know how effective it's going to be to make people more empathetic. It's just something I think should be explored."
Koontz is in the process of considering career paths.
"Do I want a day job, so I can be an independent game developer?" she says. "Or do I want flexibility? I want a job that aligns with my values. And what are my values? It makes it a more complicated equation. Now that I'm out of (St. John's), I miss it a lot. The decisions I'm trying to make now are really informed by what I read and learned there."
She recently applied to a tech apprenticeship program in Oregon. If she gets the position, she'll be on her way to a development and operations job, which will impart some of the skills necessary to pursue making games.
Koontz is an advocate for the college's Ariel Internship and Pathways Fellowship programs.
"I've done both, and both gave me more information," she says. "I realized I don't want to be helping other people refine their work. I'd rather be producing my own work, whatever that work may be."