April 5, 2018 | By Anne Kniggendorf (SF97)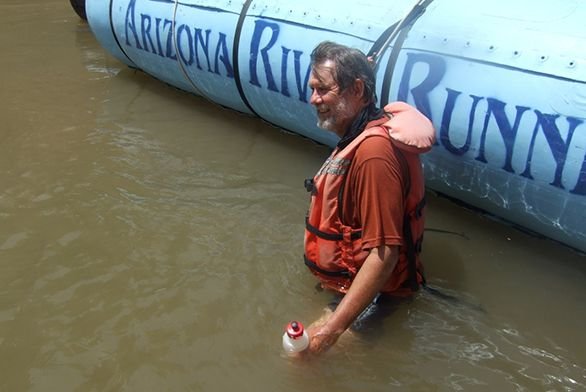 As Don Hitt (AGI06) piloted commercial planes around the nation in the 1970s, '80s and '90s, he thought about what he might like to study after he retired. He had an undergraduate degree in psychology from North Texas State, and while his interest in human behavior endures, he wanted something different.
So, in each town he called home, moving every few years, he sat in on classes at nearby universities. Over time he began to consider pursuing cross-disciplinary studies between architecture and comparative religion to see whether he could determine any consistent structural organizations people used to build their places of worship—east-west orientation, for instance.
However, before he could retire and decide on an appropriate school for that course of study, he learned about St. John's.
"When I saw what was going on at St. John's," Hitt says by phone from his home in Ann Arbor, Michigan, "I was able to convince myself that well, if I'm going to be doing this cross-cultural stuff, I really need to understand where all of my underlying assumptions come from. And, of course, if you're from Western European culture, St. John's is where you start."
From psychology to philosophy to religion, Hitt's interests have always been varied and diverse. He says he thinks of flying as a technical job and one he probably only made a career of because his father and brother already had. Other pilots didn't share his interest in intellectual inquiry and he felt a void.
"St. John's was a life-changing event for me. The approach to a civil inquiry about topics that you aren't going to come to any absolute certainty on the answer… that's fine. It gave me confidence to believe I could wrestle with these questions with other people," Hitt explains. "The people I worked with were interested in automobiles. I mean, nobody read philosophy."
Hitt made his first gift to the college upon graduating in 2006. Since then he's continued to give. In 2016 he decided to start three endowments, taking advantage of the popular IRA Charitable rollover provision for donors in their 70s. He's 72.
His endowments, like all college endowments, are permanent. Hitt's include: a fund to help support St. John's tutors, a curriculum development fund used to enhance the St. John's academic program, and an unrestricted endowment for the general college fund to be used at the president's discretion.
His days now are mostly filled with woodworking, reading, travel, and paleontology—he has access to a quarry. Unlike most graduates, his career days were behind him by the time he finished the Program, so he can't say how St. John's influenced his career moves. However, he knows that the impact on his life has been profound.
"The school gave a real focus to everything," he says, thinking of his many interests. And when he reflects on prior academic experiences that he describes as unsatisfying, he feels even more grateful for the existence of St. John's. "It showed me there was another way."