Filming the Conversation: An Interview with Alum Jeremy Sheeler
March 13, 2023 | By Andrew Wice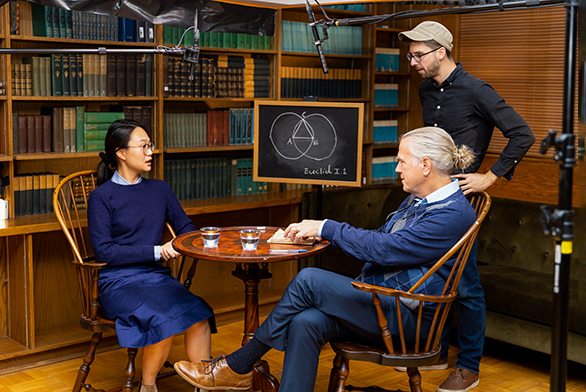 In January, St. John's College launched its new web and podcast series Continuing the Conversation. The series features intimate dialogue on the great books between St. John's tutors, showcasing the college's conversational approach to education while shining the light from one discipline into the mirror maze of another. Alumnus and filmmaker Jeremy Sheeler (AGI18) played an integral role in the project.
Sheeler, a director and producer based in Washington, DC, was an obvious choice for filming the Annapolis episodes after having worked with the college on previous film projects. He first combined his intellectual curiosity, love for the college, and his filmmaking ambitions in a 2018 multi-episode documentary series called Higher Gossip, created with St. John's classmate Max Anthony (AGI15).
Higher Gossip featured five interviews with beloved tutors emeriti, including Eva Brann and the late Elliot Zuckerman. Their reminiscences blended institutional history, personal memoir, and philosophical reflection. Adroitly produced by Sheeler, these pensive portraits provided the college with the assurance that Sheeler could provide the cinematic skills required for leading the Annapolis shoots for Continuing the Conversation. In fact, during a series of collaborative conversations between the various players involved in the production, he suggested the title of the new web series.
"It is such a perfect description of what we do here at St. John's: conversations don't end when the bell rings, but continue into the dining hall, the gymnasium, the quad, at Galway Bay Pub, all through the day and night, and for the rest of our lives," says Sheeler.
His production company, Awarehouse Productions, has successfully integrated his two loves—philosophy and storytelling—within the medium of film. Awarehouse, founded in 2015, has a select and prestigious list of clients including Washington National Cathedral, the Maryland Historical Trust, and St. John's College. In fact, during the COVID shut- down, Awarehouse provided communications support on the Annapolis convocation and commencement addresses. That was the first full partnership between Sheeler and his alma mater, and their mutual admiration made it easy to continue the working relationship.
What originally drew Sheeler to attend St. John's was his desire for direct engagement with the authors of great works. "I have no interest in these books 'academically'… I am interested in these books because I want to cultivate my soul," he remarks. "I want to think deeply and broadly about what it means to be a human being, and what it is we are all doing here."
He discovered that the immersive discussion between students, tutors and texts fostered an educational experience like no other and created what he describes as an "interplay between books and life, ideas and action."
The influence of this education continues to inform his film projects, which are in constant search of truth and beauty, and which incorporate another passion of Jeremy's: sacred and classical music. Currently he is engaged in an ongoing collaboration with the Cathedral Choral Society called I, Too, Sing America, celebrating the history of the African American spiritual and its influence on American culture.
Sheeler will be busy with upcoming projects, including a documentary about overlooked American philosopher Henry Bugbee, in partnership with classmates Kelly Custer (AGI21) and Joseph Keegin (AGI19). This work will have to be balanced against other priorities, as his stated goals for matriculating at St. John's have reached their fulfillment as well.
"I came to St. John's in the hopes of accomplishing two things: first, to write a book; second, to find a life partner," Sheeler shared. "I just finished the first draft of a book, and I am about to have a baby… I would say mission accomplished."
Watch Continuing the Conversation at sjc.edu/watch, where you can also connect to the series via podcast platforms including Spotify and Apple.