St. John's College Celebrates Inauguration of New Annapolis President
Nora Demleitner is the 25th Annapolis president in the college's 325-year history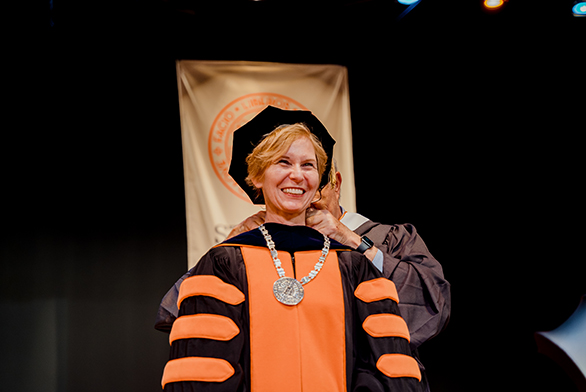 ANNAPOLIS, MD [March 29, 2023] — St. John's College installed its new Annapolis president, Nora Demleitner, in a festive celebration on Saturday, March 25, 2023. Demleitner is the 25th Annapolis president in the college's 325-year history, the ninth since the inception of the current Program of Study in 1937, and the college's first female president. Demleitner, born in Germany, a lawyer by training and a former dean of two preeminent law schools, began her tenure in January 2022.
"It is my vision that St. John's College sustains its unique spirit and continues to set itself apart from other institutions of higher education – and that we keep leaning into our distinctive curriculum while responding to the needs of our time, remaining relevant for the next 100 years and beyond," Demleitner said in her keynote address. "We must champion an atmosphere where students have a strong sense of belonging, and they are set up for success as participants in civic life and the workforce; an environment where we are engendering responsible citizenship and lifelong learning, while responding thoughtfully and ethically to the demands of the marketplace; a wellspring of diversity embraced by and encouraged in our student body, staff, faculty and Program of Study; and a place where affordability for our students is always front of mind."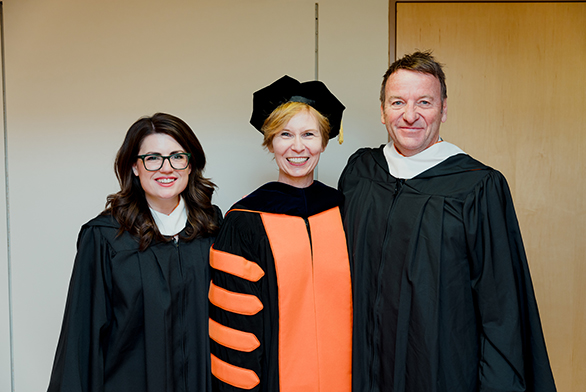 The inauguration ceremony included musical performances and appearances by the United States Naval Academy Color Guard, pianist and alum James Siranovich (A22), mezzo-soprano student Allegra Hall (A23) and The St. John's College Chorus led by faculty member Peter Kalkavage. Friends of St. John's College board member Gary Jobson served as emcee for the event, which featured remarks from special guests including State Senator Sarah Elfreth, Annapolis Mayor Gavin Buckley, St. John's College Santa Fe President Mark Roosevelt, Millersville University President Daniel Wubah, Wake Forest Law Associate Dean Ronald Wright, St. John's College Dean Joe Macfarland (A87), Annapolis Staff Council President Kate Tkacik Sweeney, Alumni Association President Gigi Escalante (A92), and students Lirian Selene Spolaore (A23) and Luis Parrales (AGI23).
St. John's Board of Visitors and Governors Chair Ron Fielding (A70) formally installed Demleitner as President, presenting her with the insignia of the presidency. This distinctive insignia features a chain made up of books and a medallion of the college's seal.
"Having an international background is one of [President Demleitner's] strengths because it gives her a broader perspective in understanding the human condition and deeper appreciation for creating an inclusive community," said Wubah during the ceremony.
An academic procession, led by faculty member Michael Dink (A75), featured more than 100 delegates from higher education, faculty, administration, and board members. Delegates included representatives from 25 colleges across the country, including University of Chicago, Johns Hopkins University, and Goucher College among many other esteemed institutions. More than 300 attendees, including students, members of the Annapolis community, government representatives, and alumni, attended the event, The ceremony was livestreamed and is available for viewing, along with a photo gallery of the event, at sjc.edu/inauguration.
Following the ceremony, the St. John's College Jazz Coalition provided entertainment at a reception, and the Naptown Brass Band headlined the celebratory day's final festivities: a waltz and swing party in true St. John's College style.
About Nora Demleitner
Nora Demleitner became president of St. John's College, Annapolis after serving as the dean of the law schools at Hofstra University and Washington and Lee. An expert on criminal justice issues, she is the lead author of the textbook Sentencing: Law and Policy, serves as an editor of the Federal Sentencing Reporter, and has published extensively including in the Stanford Law Review, The Conversation, and The Washington Post. A German immigrant to the United States, Demleitner received her BA in American Studies at Bates College; her JD from Yale; and her LLM from Georgetown University in international and comparative law.
ABOUT ST. JOHN'S COLLEGE
St. John's College is one of the most distinctive colleges in the country due to its all-required Great Books curriculum. At St. John's, undergraduate and graduate students read more than 200 of the most important books across dozens of subjects and discuss those books with faculty in small, seminar-style classes. Located on two campuses in historic state capitals—Annapolis, Maryland, and Santa Fe, New Mexico—St. John's is the third oldest college in the United States and has been hailed as the "most contrarian college in America" by The New York Times, the "most rigorous college in America" by Forbes, and the "most forward-thinking, future-proof college in America" by Quartz. Learn more at sjc.edu.
# # #
MEDIA CONTACT: Sara Luell, Director of Communications, sara.luell(at)sjc.edu