Filmmaker and MacGyver Creator Reflects on St. John's Education
August 22, 2018 | By Eve Tolpa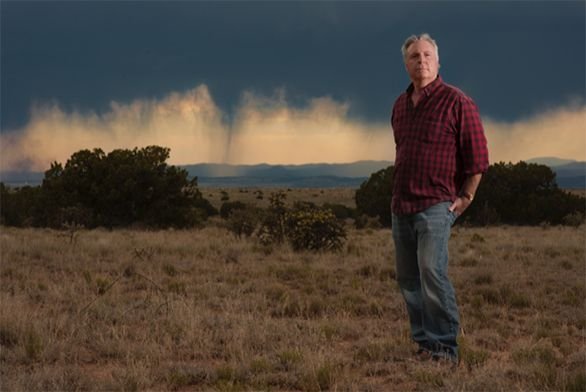 Lee Zlotoff (A74) describes his St. John's education as "outside of marriage and children, easily the most transformative experience of my life."
That's saying something, considering the course his professional life took post-graduation.
The producer, director, and screenwriter is best-known for creating the iconic 1985 television series MacGyver. Zlotoff got his start in entertainment in 1981, writing for Hill Street Blues before becoming a producer on Remington Steele the following year. Later, he would write and direct the 1996 Sundance Audience Award–winning film The Spitfire Grill.
Had he not pursued a St. John's education, however, things may have been different. As a high school student, he excelled at taking tests and earning good grades but sought something deeper.
"I knew how to play the game that was essentially being called 'education,'" he says. "What attracted me to St John's—and was exceedingly fulfilled in my experience there—was that they were not playing that game. I thought if I went there, I might actually learn how to read a book instead of simply skimming through a book to give somebody a report."
He was right.
"I became a professional storyteller," he says, "and having some relatively extensive understanding of the seminal stories upon which most of our culture is based—for a storyteller, that's a very good thing to have."
Zlotoff now lives in Santa Fe, where he is a member of the Santa Fe Film and Digital Media Commission and co-founder of the Santa Fe Network, an online streaming channel that showcases work made both by New Mexico filmmakers and by filmmakers from elsewhere whose work is set in the state.
"Santa Fe is a global brand," he says. "Nobody has ever really tried a place-based network before. The best way to go global is to go local."
Zlotoff sees the network, too, as a public face of a state that can offer a model for peaceful coexistence.
"The much more important story is that we live in a very divided country right now," he says. "Here in New Mexico, we happen to have three distinct cultures that coexist in the same geographical area: Native, Hispanic, and Anglo. That's the DNA of this place. More or less, we have found a way to get along."
His own most recent film project, a 12-part web series created specifically for the Santa Fe Network, was conceived and produced entirely in New Mexico. Called Our Own Devices, it features a dozen episodes (about two minutes apiece) that take place on the kitchen counter of a Santa Fe adobe and examine the relationship between Apple's Siri and Amazon's Alexa.
Our Own Devices starts out by addressing straightforward issues, like what Siri and Alexa think of humans and each other. After several episodes, however, it takes on deeper questions: What is the role of loyalty in relationships? What does it mean to be an individual? Does God exist?
While Zlotoff is the series' producer, he credits co-writer and fellow Santa Fean Danny Rubin (who penned the screenplay for Groundhog Day) for the series' Johnnie-esque questioning.
"Danny really wrote most of these episodes," says Zlotoff. "I have to give him credit for going off in philosophical directions."
Still, though, he says the impact of his education is immeasurable.
"The further I get from my St. John's graduation, the more relevant my education becomes, because I know how to ask questions and I know how to learn anything," he explains. "It not only opened up the world to me, but opened up me to the world."