Mitchell Gallery Celebrates 'Master Printer' Albrecht Dürer
August 22, 2018 | By Kimberly Uslin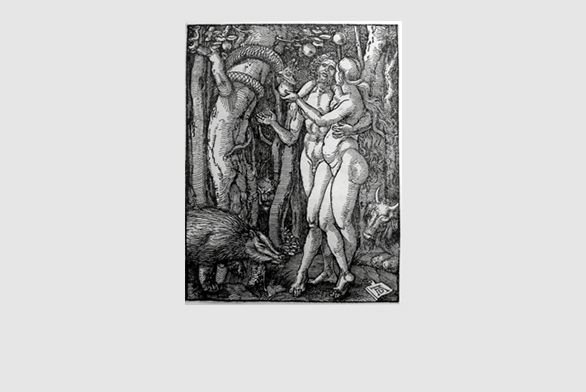 To see Albrecht Dürer's early woodblock prints is to be impressed. The delicate, fine-lined pieces more resemble sketches than imprinted ink; that they were created by hand-carved wood in a pre-lasercut era is hard to imagine. To walk a few feet down the wall toward Dürer's later prints, however, is to be blown away.
There's a reason the Mitchell Gallery's newest exhibition is titled "Albrecht Dürer: Master Prints." Fifteenth-century German Renaissance artist Dürer is credited with completely revolutionizing the art and process of printmaking.
"You really have to see it," says Lucinda Edinberg, art educator at Mitchell Gallery. "His sense of line and shape is really fascinating. What he develops in a sense of tonal quality that can be achieved through line…it's not like painting, when you have color to use to depict dimension and shadow."
Most remarkable are Dürer's engraved-metal prints, which make the early woodcuts look almost elementary. The expert linework creates the illusion of light, shadow, depth, and texture in stunningly elaborate detail.
According to Edinberg, the subtleties of the later prints belie more than evolving talent.
"There are little visual clues," she says. "Things like bugs and animals have symbolism. There's an image of the Last Supper, but with 13 disciples. Who's the thirteenth? There's one that he [Dürer] has tucked himself into. With all these things, you get a little bit of a sense of the artist."
Of particular interest to Johnnies may be Dürer's "Engraved Passion" series, which is on display in its entirety in the exhibition.
"Some of the images within the 'Passion' have other narratives that are not included in the Gospel," says Edinberg. "They're kind of fun in their interpretations."
To further explore Dürer's revolutionary work, the Gallery will host a series of programs during the exhibition's two-month tenure. Students and community members will have a chance to try their hand at carving and printmaking (though on easier-to-handle linoleum), hear from contemporary printmaker Max-Karl Winkler of the Smithsonian, and learn more about Dürer's influence from the National Gallery of Art's Eric Denker, among other associates.
On loan from the Reading Public Museum, the exhibition will run from August 24 – October 14. Gallery hours are 12–5 p.m. Tuesday - Sunday, and from 6:45 to 7:45 p.m. on Friday.
Above all, Edinberg hopes that both students and the public will spend some time with Dürer's trailblazing work.
"He was responsible for setting the course for printmaking as being more than utilitarian," she says. "He made it a fine art."