First Eve(r): Admasu Receives Leadership Award from AAUW Santa Fe
June 10, 2020 | By Abdullah Mirza (SF20)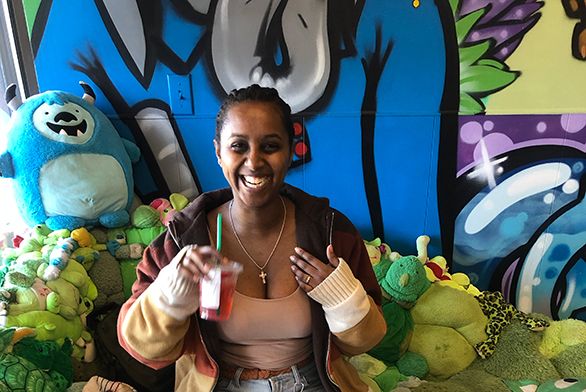 It started out like any other lunch party.
Earlier this semester, Eve Admasu (SF20), who just graduated from St. John's, was out in town with her friends Louise Yakey and Lynn Hefron from the Santa Fe branch of the American Association of University Women (AAUW). Started in 1881 by two female college graduates who aimed to empower women in higher education, the AAUW now has over a thousand branches around the country and advocates for gender equity in addition to promoting research and education on national and local levels.
At one point in the conversation, the two invited Admasu to grab a dessert. When she came back, they had prepared a special surprise: a letter presenting her with AAUW Santa Fe's first ever leadership award. Admasu has represented the college at AAUW board meetings and sponsored events such as the Equal Pay Act luncheon and other events. "I have been involved long enough that they're like a family to me," she says. "The way they presented me with the [award] was so heartwarming."
For Admasu, who hails from Addis Ababa, Ethiopia, her interest in leadership began in elementary school. "Since the third grade, I've loved being in different kinds of leadership positions that make everyone involved successful, and I feel like teamwork, event planning, and project management are some of my strongest skills," she explains.
Admasu brought those skills with her to Santa Fe when she joined the St. John's College Class of 2020 as a member of the January Freshman cohort of 2017. For January Freshmen, the first year presents added challenges to a Program that is already one of the most rigorous in the country.
But that didn't stop Admasu from founding the Women's Empowerment Collective in March of 2018—particularly relevant timing against the backdrop of the Santa Fe Women's March and International Women's Day that spring.
Originally known as the "Women's Club," Admasu envisioned the WEC as a safe space for students to discuss gender issues and societal issues pertaining to women in the world and at St. John's. The work of the organization quickly expanded to event planning and activism, putting on events like Galentines Day ("the perfect antidote to the loved-up frenzy that's Valentine's day") and partnering with St. John's Amnesty International chapter to put on a slam poetry open mic night and bake sale in honor of International Women's Day. The proceeds of the latter event went to the Esperanza Shelter in Santa Fe, which provides free housing services to women and families escaping domestic violence and abuse.
The WEC was formally chartered by the Student Polity as an official school club in September 2018. That semester—as a junior—Admasu also established an official partnership between the WEC and the AAUW. Students from St. John's volunteered for AAUW-sponsored events such as the 2018 Expanding Your Horizons (EYH) conference, which aims to educate young girls about career opportunities in STEM fields. That year, EYH Santa Fe featured then-director of the National Science Foundation France Córdova as its keynote speaker.
On campus, the WEC organized a variety of panels and discussion groups with students and tutors, such as a panel discussion with female tutors about life at and after St. John's. In January of 2019, the club hosted experts from the Sexual Violence Prevention program at UNM Los Alamos as part of a panel discussion co-sponsored by AAUW.
Additionally, the WEC started the "Athena Mentorship Program," which aims to empower female freshmen by pairing them with a staff or faculty member that has offered to be a mentor.
Though Admasu will be gone, the WEC will remain in good hands. Next year, the organization will be run by rising junior Simran Thapa (SF22). "I'm confident she can do so much more than I was able to," says Admasu. "She's creative and committed and someone the club really needs. I think we'll see more of the club's activity in the coming years."
In a letter presenting the AAUW leadership award to Admasu, Yakey and Hefron praised Admasu's "innovative and initiative-driven leadership at St. John's College" which "has impacted not only [her] fellow students, but our Santa Fe community as well."
Admasu says the recognition gave her a confidence boost going forward. "In all, this award meant a lot to me... like a recognition of my abilities. And it made me believe that I actually have it in me to pursue [institutional leadership] as a career as well." After St. John's, she intends to study institutional leadership in graduate school to further develop her skill set. If the past few years are any indication, Admasu is well on her way to achieving her goals.