First-Year Johnnie Co-Founds Literary Journal
October 12, 2020 | By Les Poling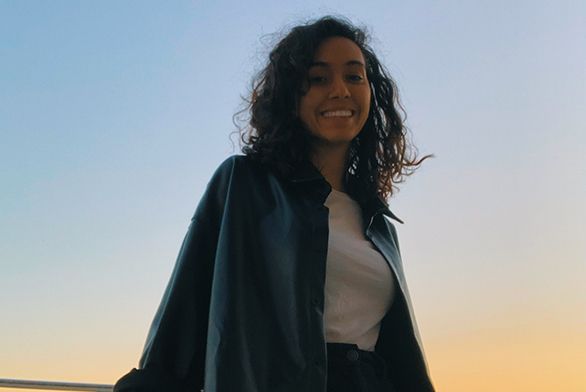 In the span of a single summer, Annapolis freshman Ranna Kisswani (A24) packed up her belongings and moved three times, eventually landing in Arlington, Virginia after leaving Kuwait, where she grew up and attended high school. Around the same time, she started online classes at St. John's—an enormous endeavor complicated by the quirks and challenges of remote learning. And perhaps most mind boggling, she's balancing the rigors of the St. John's reading list with a gargantuan undertaking of her own making: running a literary journal.
In early September, Kisswani and Anthony Salandy, her co-founder and co-editor in chief, published the first-ever issue of Fahmidan, an online journal that "hopes to bring out diverse voices and their cacophonous words." At 63 pages, complete with a website, an active social media presence, and a clear sense of purpose, Fahmidan is a brand-new, fully formed addition to an ever-growing global indie literature scene—an achievement made even more impressive by the fact that its founders are college students.
The specific idea for Fahmidan was born out of conversation. Salandy, a year older than Kisswani, had been writing for various indie publications for some time; both Salandy and Kisswani are of Iranian descent, raised with additional cultural influences spanning, between the two of them, the U.S., the U.K., Jordan, and Kuwait. Kisswani has long had a strong interest in the humanities—it's part of what drew her to St. John's from a STEM-focused high school—and an accompanying passion for amplifying voices that are often muffled. With Fahmidan, she and Salandy wanted to counter the lack of diverse perspectives in global independent literature. Despite indie scene's DIY foundation, Kisswani explains, it's an intellectual environment that still remains largely white and male.
"We were talking about the lack of inclusion in most indie literary journals," she recalls. "How hard it is for writers of color, women, people of different religious backgrounds to get their work published. So we decided: 'Let's make a space that's inclusive of everyone.' We conceptualized the idea and [started working] on the site."
Conceiving of an independent literary journal is ambitious. Creating that platform is an entirely different story, one that involves assembling an editorial team, developing a website, building out some type of publicity mechanism, soliciting submissions, and most importantly, gathering material into a single, cohesive entity. For Kisswani and Salandy, web development presented the largest immediate challenge. "Neither of us are particularly tech-savvy, so we had to learn how to design a website from scratch," she says. "We were spending hours looking up videos, playing with the [development] tools—and having difficulty publishing."
Solicitation was somewhat easier. With a vision and a team of two junior editors and a senior editor, Kisswani and Salandy opened the website to submissions, using social media and leveraging Salandy's writing experience to spread the word. Salandy's work has appeared in The Kuwait Times, Sumou magazine, Twisted Vine Literary Journal, Doghouse Press, and more, and he recently published a chapbook with Lazy Adventurer Publishing. When Fahmidan opened for submissions on Twitter, his connections with other publications proved invaluable. That being said, Kisswani notes, word of mouth seemed to prompt its own wave of submissions. "There was work from a ton of people I'd never heard of."
The inaugural issue of Fahmidan went live on September 8, a little more than two months after its conception. Issue one featured 44 pieces, mostly poetry, from 38 writers spanning ages, races, gender identities, countries of origin, levels of acclaim, and experience. Contributors included Aqueb Safwan Jaser, a Bangladeshi creative writer and film critic; Amee Nassrene Broumand, a three-time Pushkin-nominated Iranian American writer from the Pacific Northwest; Mhoir, a bipolar genderqueer poet based in Pennsylvania; Rebecca Aldam, a teacher in England with named and anonymous work in the Stroud News & Journal, The Guardian, and more; and countless other writers from all over the world, including Ireland, Pakistan, South Africa, India, New Zealand, and Nigeria.
Of the enormous selection, Kisswani says: "With the exception of Anthony, [the Fahmidan staff is] all women of color, so we did look for pieces that specifically highlighted those struggles [of women of color]. But also, if a piece of writing was really good and didn't necessarily relate to us, we let people speak their truths."
So how did the Fahmidan team put together such a vast, varied body of work? By reading every submission. First, the Fahmidan junior and senior editors combed through each piece, passing along recommendations to Kisswani and Salandy. Then, Kisswani and Salandy read every submission themselves, recommended and otherwise, and assembled a final selection, compiling an enormous variety of writing without sacrificing artistic excellence. From that point on, the team focused on curating the first issue and promoting its release on social media.
Notably, neither the editorial team nor the co-editors in chief spent much time on copy editing—which wasn't an oversight. While they double checked with authors to ensure intentionality, "sometimes, writers want to break the rules of grammar, and too much editing can change that; the work loses its meaning," says Kisswani. "So that was another foundational idea: we try not to muddle with people's work."
Publication was a success, and with one issue under their belt, the Fahmidan editors are already thinking about the future. For issue one and the upcoming second issue, Fahmidan won't have a specific theme. That may change sooner rather than later, as the journal seeks to prompt its writers to engage with ideas that hold different meanings for different people. For example, Kisswani says, the third issue might revolve around the infinitely complex theme of Christmas.
And, she says as a reminder, anyone can submit work to Fahmidan—including Johnnies.
"I know we have a lot of writers here [at the college,]" she says. "We're open to all."