Mitchell Gallery Director Retires after 30 Years of Success
October 5, 2020 | By Les Poling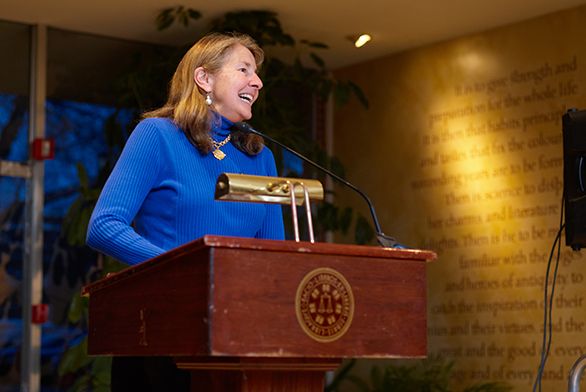 This semester, the Mitchell Gallery took two enormous steps into unfamiliar territory. In early September, the gallery launched its first-ever completely virtual exhibition: "Jacob Lawrence: Three Series of Prints: Genesis | Toussaint L'Ouverture | Hiroshima." Perhaps even more monumental, though, is a change in personnel. For the first time in 30 years, the Mitchell Gallery embarks on a new season of programming without longtime director Hydee Schaller. Schaller retired from her role on August 31, 2020, ending an extraordinary run that saw a tiny college art gallery transform into one of the most renowned museums in the region.
As director since 1991, Schaller was at the helm for 200 of the Mitchell Gallery's 211 exhibitions. Under her guidance, the annual number of gallery visitors grew from 5,000 to 13,000, and she led the gallery through an arduous accreditation process that enabled the Mitchell to partner with powerful and distinguished museums across America—and made the Mitchell Gallery the only accredited college art museum in Maryland. Schaller presided over the gallery for exhibitions that showcased Picasso's ceramics, American Indian art, jade from the Smithsonian, etchings by Rembrandt, Mayan ceramics, ancient bronzes from the Asian grasslands, and much more, as well as juried exhibitions by local artists and an annual student art exhibition. Along the way, she built relationships with students, faculty, staff, and members of the community in Annapolis and beyond.
"Her enthusiasm and leadership created an environment where the Mitchell Gallery and its staff have been able to support an incredible range of programming and exhibits from around the globe," Annapolis President Pano Kanelos wrote in email to the St. John's community announcing Schaller's retirement. "The Mitchell Gallery is a gem for all art lovers in Annapolis and beyond. This reputation has been built by Hydee's tireless work in creating a premiere art experience in Maryland and the entire mid-Atlantic region."
In conversation with St. John's in mid-September, Schaller reflected on her three-decade journey with the gallery, from humble beginnings (her first title was technically "executive secretary") to partnerships with some of the most prestigious collections in the country. This interview has been edited for length and clarity.
I wanted to start by traveling back in time, to when you first started at the Mitchell Gallery. What was your background in the arts? And how did you end up at the Mitchell Gallery?
I studied art history at the University of New Hampshire. And my husband, when he graduated from law school in Vermont, was offered a job in Annapolis, which brought me back to the mid-Atlantic (I grew up in Baltimore). [Finding the Mitchell] was just total good fortune. Previously, I had started work at the Harvard University art museums, and then when I got married, I worked for the Hood Museum at Dartmouth. When I moved to Annapolis, there was an opening for somebody to lead the Mitchell Gallery—which was initially off to a bit of a bumpy start with some staff turnover.
Did you know anything about St. John's? Or was it all brand-new territory?
It was all completely fortuitous. My dad had mentioned what a gem the Mitchell Gallery was, because he had a friend in Annapolis and they would go over to the gallery together. So when I was looking around, I called the Mitchell Gallery because I missed working hands-on with the art, which I had done at the Hood. And the woman who answered the phone was the executive secretary who said, "Well, actually, we don't have any volunteer positions, but they're looking to fill my position." Timing is everything, right?
You went from a couple places that were pretty established to a museum that was barely getting started. What was it like to be working in a place that was just beginning?
In retrospect, it's interesting to think back to the fact that yes, the Mitchell Gallery was really just getting established. I started in January of 1991. It had been open for a year and a half. And there had been some turnover already. Looking back, I think what I appreciate most is two things. The Mitchell Gallery Faculty Advisory Committee and the Board of Advisors were incredibly welcoming to me as a museum professional, and their support meant the world to me. And number two, the St. John's students, who at that time were the Mitchell Gallery guards, were the ones that "trained" me, Bonnie Melton (A93) in particular. I still look back fondly to those students, and working with them over the years has truly been one of the highlights of my career.
When you first arrived, did you have a specific vision for the gallery's future?
I certainly did, working in collaboration with the vice president of advancement, Jeff Bishop. Three years before my arrival, Jeff realized: "We need to have more of a bridge to the community, and I think the way to do that is by building a small college museum." He worked with Elizabeth Myers Mitchell to fund the construction of the Mitchell Gallery; thanks to her generosity, we've had the gallery for all these years.
Jeff was clever. He carefully planned the Gallery's construction, whereby he pulled together a committee that included Eugene Thaw from the Class of 1947; Sherman Lee, the director of the Cleveland Museum of Art; Sydney Freedberg, who was the senior curator at the National Gallery of Art; and Tutor Emeritus Tom May. [May] was also one of the founding chairmen of the Mitchell Gallery Faculty Advisory Committee. He worked with architect Chip Bohl and this illustrious group of art history scholars and curators to oversee the building, to make sure the Mitchell Gallery had the climate control and secure environment that would enable it to show world-class exhibitions. We are so fortunate to have had their oversight. And I'm fortunate to have worked with such a visionary as Jeff Bishop.
From the beginning, the Mitchell Gallery's mission was to complement the academic Program. And that was accomplished through oversight from Eva Brann and the Mitchell Gallery Faculty Advisory Committee, which was comprised of four tutors, an artist, Mitchell Gallery staff, and more recently—I would say in the last 12 or 15 years—students. The second part of our vision was to provide free access to the residents of Annapolis and the community beyond. These two goals have been our primary mission since the beginning. I worked closely with Jeff to set those goals initially, and the Mitchell Gallery Faculty Advisory Committee and the Board of Advisors since then.
During your tenure, the annual number of visitors to the gallery increased from around 5,000 to 13,000. How was the gallery able to achieve that?
I would say the caliber of the exhibitions and the quality of the programs, and the fact that it's free and fairly accessible—although parking's always been a challenge. But just the fact that people can go to the Mitchell Gallery and see an exhibition that they don't have to travel to Washington, Baltimore, Philadelphia for; it's amazing. And that's something our student gallery guards also appreciate. Because even though we have up to 13,000 visitors a year, there are some afternoons when it's quiet, and they can sit in the gallery and have the art to themselves. What an experience for them!
One of the other major hallmarks of the last few decades is that the Mitchell Gallery was accredited, which made it the only accredited art museum on a college campus in Maryland. Can you briefly describe that process, and how and why you wanted that to happen?
We sought accreditation from the American Alliance of Museums to increase our ability to borrow from major museums and collections across the country. Having AAM accreditation assures the lender that the Mitchell Gallery meets professional museum standards in the handling, installing, oversight, protection, and de-installing of each and every exhibition. And therefore, they are more likely to lend to us. Lucinda [Edinberg, art educator,] worked tirelessly for three years accruing all of the [accreditation] information, including a thorough history of the Mitchell Gallery, and she did an extraordinary job. It really is thanks to Lucinda that this strenuous application was seen through; she made sure that all the i's were dotted and t's crossed, and that we succeeded.
Returning to the question of visitors increasing: Lucinda is an amazing and gifted art educator. She is not only a scholar who knows each and every subject she presents inside and out, but she has a wonderful, accessible way with visitors, groups, and schools, and a marvelous sense of humor. Having such a gifted art educator for the Mitchell Gallery has also certainly helped to increase our exposure.
Aside from the visitor growth and accreditation, are there other achievements that you're particularly proud of, either on a personal level or on behalf of the gallery?
On a personal level, I am proud of our community outreach. The work that Lucinda and I have done working with our Board of Advisors, the Faculty Advisory Committee, docents, and volunteers to make the gallery an accessible and meaningful community that a diverse range of people appreciate being a part of means the world to us. For some students, over their four years at St. John's, we've been almost their home away from home, [creating] a warm and welcoming space that offers intellectual stimulus while providing a comfortable place to be—a respite.
Looking back, are there any exhibitions or events that were particularly memorable or favorites of yours?
One of the first memorable exhibitions was "Subjects: Prints and Multiples by Jonathan Borofsky (1982-1991)." Borofsky, a contemporary American artist who produces thought-provoking work, came to campus. At that time he worked with a major printmaking studio in Los Angeles, Gemini G.E.L., so not only did Borofsky come—so did the founders of Gemini G.E.L, which added to the excitement. I didn't realize what an impact it would make, bringing this major 20th-century artist and printmakers to the Mitchell Gallery. I took a black and white 8-by-10-inch photograph of Borofsky, made some copies at the print shop, and put them around campus. And it was standing room only in the Mitchell Gallery [for his visit and gallery talk]. Most of the audience were students; they were just so intrigued. It was an exciting milestone and filled with great energy.
In 1996, I worked with tutor Cordell Yee on his exhibition, "Space and Place: Mapmaking East and West." Cordell is incredibly knowledgeable about cartography, which, I believe, was his background before he came to St. John's. We worked closely with the Library of Congress and borrowed from their cartography division, with many planning trips back and forth to Washington. Two St. John's students were summer research interns, and an important part of researching for the catalog that Cordell wrote. That was an exciting opportunity for them. We worked with a local children's theatre company to produce and present a play that was related to the exhibition and performed in the Mitchell Gallery amidst the maps on view. It was all wonderful.
I'm pleased to think back over the years about the opportunities we have offered to our local arts community, including artists, poets, and actors, from a biannual juried exhibit we established in 2006 to exhibitions in the Lillian Vanous Nutt Room of the Greenfield Library.
And finally, to have the opportunity to present three different exhibitions from Mr. Thaw's collection—"House Proud: Nineteenth Century Watercolors from the Thaw Collection," "The Lure of Nature: Landscape Drawings from the Thaw Collection," and "American Indian Art from the Fenimore Art Museum." It was an honor to share the collections of this major American scholar and collector with our college and Annapolis community. For Lucinda and I to work with Gail Davidson, curator at the Cooper Hewitt, Smithsonian Design Museum; Jennifer Tonkovich, the Thaw curator at the Morgan Library & Museum; and Eva Fognell, the Thaw curator at the Fenimore—and to be supported by Katie Flanagan, the executive director of Mr. Thaw's Charitable Trust—these have all been really wonderful experiences.
Looking back on the three decades at the Mitchell Gallery—what do you think sets it apart from other galleries in Maryland?
I would say that what distinguishes what we do, is that we do it all with such a limited staff and budget. We are generously supported by our local community members, and grants and sponsors. However, we have a modest budget for a college museum that produces as much as we do in terms of exhibitions and programs. It is, I think, extraordinary.
I want to extend my gratitude to the members of the Mitchell Gallery Faculty Advisory Committee and the Board of Advisors. They have been stalwart and positively inspirational through their dedication and support of the Gallery over these three decades. And our docents, also, who have contributed countless hours of research for each and every exhibition. My appreciation to more than 200 student gallery guards, many of whom went above and beyond to be incredibly helpful and valuable to our work. And, of course, our members, who have supported us all these years. I realize fully how important all of these different groups and people are to the advancements of the Mitchell Gallery over the last three decades.
You've made it clear how much of a community there is in the gallery, and how much that contributes to everything that the gallery has achieved—although I'm sure that it had something to do with the leader, too.
Something, but you know, it has truly been teamwork and a terrific group of dedicated individuals. Tom May has been an invaluable mentor who has served on the Faculty Advisory Committee for most of these 30 years. Casey Pingle has been the chairman of our Mitchell Gallery Board, and she did a phenomenal job these last seven years, bringing the Mitchell Gallery into a fundraising era—which has been a huge transition. I think it's really exciting to see the incredible work Lucinda's doing, going virtual with the Jacob Lawrence exhibition and related events. She's putting together fantastic programming for the fall semester. And Casey's successor, Laurie Salladin, the new chairman of the board, is so thoughtful and purposeful in her work and approach. I think this is an exciting time and future for the Mitchell Gallery.