Moira O'Shea's (A06) Love of Russian Literature Leads to Central Asian Fellowships
December 19, 2022 | By Patricia Moore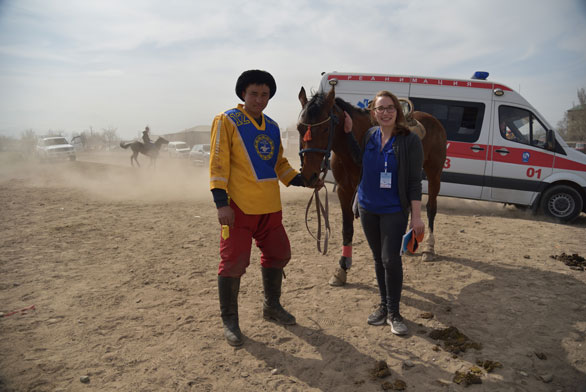 Moira O'Shea (A06) has long been fascinated by the intersection of art, history, memory, and belonging across different cultures; her dual Fulbright awards to study in Central Asia are a natural extension of that passion. While studying The Brothers Karamazov in the St. John's junior preceptorial with tutor Nancy Buchenauer (H16), O'Shea discovered she loved Russian literature and decided to begin learning the language. Although this love did not become the basis of her next steps, learning the language was a critical part of her graduate work. Today, O'Shea teaches sociology full-time at the University of Chicago where she recently completed her PhD—a journey made possible through the Fulbright U.S. Student Program.
O'Shea was no stranger to Central Asia or living abroad before she ventured into her Fulbright applications to conduct research there. She had spent almost three years teaching in Vietnam and in the Russian Federation along with her husband Bill Ladd-Cawthorne (A06), whom she'd met at St. John's. She had also visited Kyrgyzstan twice while serving as international program coordinator at the Institute for International Liberal Education at Bard College, New York. These experiences working abroad helped her develop her PhD dissertation. Combining her love of the Russian language with PhD work in sociology at the University of Chicago led O'Shea to apply for, and receive, two Fulbright awards in Kyrgyzstan.
Journeys to Asia Launched by a Johnnie's Curious Mind
"St. John's taught me to not be afraid to ask questions, and that has served me very well throughout my international work experiences, PhD program, and Fulbright fellowships where I completed my PhD research," says O'Shea. One of the benefits of a Fulbright award is the ability to test one's ability to participate in what O'Shea calls "uncomfortable intellectual spaces," a skill nurtured at St. John's. "That's where I learned to ask questions and to stay with the discomfort that may arise in intellectual spaces," she says.
Languages were central to the success of her experience abroad, though O'Shea points out that one might not need to know the language of a region before applying for a Fulbright there. "I was still studying Russian while in Kyrgyzstan for my first Fulbright. Learning the language gave me the opportunity to make a home for myself there—linguistically, geographically, and culturally. With language, I could get to know the city, make real friendships, and form relationships at the partner university where I was doing research."
The Value of a Fulbright in Studying Other Cultures
"Fulbright gave me the time and financial support to really spend time in another country and to be immersed in another culture. That would not have been possible if I had not spent a year and a half in Kyrgyzstan, or if I were struggling to support myself financially," she says. "The Fulbright experience was a real gift."
O'Shea wrote her dissertation in sociology on cultural nationalism in contemporary Kyrgyzstan. "Central Asia has a rich, full history and culture, but it's often boxed in by stereotypes. I think there is an idea here in the United States that Central Asia is not a cosmopolitan place, and it is."
Following One's Passion—A Resume for Success
O'Shea has always been an educator, no matter where her professional journey has taken her. For the Institute for International Liberal Education, she helped develop institutional relationships and strategic planning for collaborative projects in Berlin, Bishkek, Kyrgyzstan, and St. Petersburg. Russian language expertise, sparked through St. John's and amplified by her international assignments, helped her bring institutions and students together on two continents.
As part of her research, O'Shea applied for and received two Fulbrights, in 2017 and 2019, during which she was affiliated with the American University of Central Asia in Bishkek. This time abroad was not only integral to her dissertation, but also informed sociology courses she has designed, such as "Monuments: Practice & representation in the (post)-Soviet space and the United States" and "Nations and Nationalism."
Fulbright a Path to Experience and Connections
O'Shea advises Johnnies that the Fulbright experience of living and working in another country is just one of the program's benefits, and that the relationships forged in the process are equally valuable. "The institutional support and connections made through Fulbright, along with the strong connections with other Fulbright recipients, can strengthen your career opportunities and even qualify you to apply for certain government jobs," she counsels.
To learn how the college supports Johnnies interested in Fulbright awards and other fellowships and internships, visit
National Scholarships for Santa Fe and National Fellowships and Scholarships for Annapolis.