Formulating Questions for NASA: Austin Dumas (A21)
March 22, 2021 | By Eve Tolpa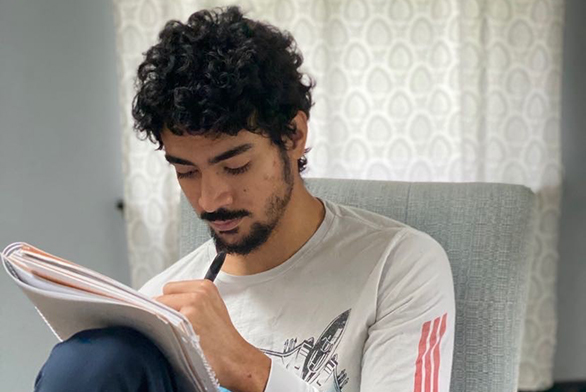 At his summer 2020 Hodson internship with NASA Innovative Advanced Concepts (NIAC), Austin Dumas (A21) frequently employed one of the quintessential skills students practice at St. John's: the ability to formulate questions.
The Hodson Trust internship program gives Annapolis Johnnies the chance to gain professional experience by working directly with experts in their desired career fields. A grant from Dr. Stephen Forman facilitated Dumas's internship with NIAC, a program both visionary and somewhat little-known compared to its parent agency.
The Washington, DC-based organization's role pertaining to NASA is "unique and open-minded," Dumas says. "The NIAC team tries to fund scientists to develop concepts that are of low technological readiness but are groundbreaking with respect to their potential to innovate or change what was thought possible for space exploration."
Although NIAC has a strong reputation for helping jump-start careers, he continues, "Congress must be periodically reconvinced of [its] positive and worthy impact in an economic and scientific way."
To that end, Dumas's primary task as an intern was to interview scientists who had received NIAC funding and record their progress over the past decade. It was in this context that his St. John's education proved especially useful.
"My mentor asked me to create my own questions and set up my own schedule for interviews," Dumas says. "Asking pertinent questions is one of the main practices of St. John's, and that skill shone through in the thoroughness with which I was able to complete my tasks and stay on the same page with my mentors."
He calls the interviews "incredible," noting that "every fellow was creative, kind, and enthusiastic, and their concepts really changed my understanding of how quickly mankind's capacity to investigate space will explode in the coming decades."
Dumas's secondary assignment was to create a method for estimating degrees of radiation exposure that astronauts would encounter over time, factoring in varying shielding thicknesses and intensities of solar particle events (SPEs).
"There is a health policy concerning how much radiation an astronaut is allowed to have under certain periods of time," he explains. "There is a lifetime dose limit, a one-year dose limit, and a 30-day dose limit. So part of my task was to understand the real scope, subtlety, and importance of the problem."
He organized a large data chart containing the radiation doses of astronauts under 10 different SPEs, taking into account several points of radiation exposure under different shielding thicknesses (to cite just a handful of variables).
"Then," he says, "my mentor taught me a new statistical way of comprehending the SPE data that would [allow] us to create a time-evolution model of radiation exposure during a representative event."
Once again, Dumas's experience at St. John's prepared him well. "I had to work out for myself what the definition of a representative SPE could be, and I had to have many Johnnie-like conversations with my mentor in order to understand the complexity behind this new way of understanding a 'representative event.'"
Without the college's math and lab program, Dumas says he "would not have the slightest clue what it means to come up with a definition worthy of mathematical precision, nor would I have been able to speak on these things with a fraction of the care and attention required to complete the task with someone."
Dumas says he felt at home at NIAC within a week. Despite taking place completely online, his internship was "full of warmth and opportunity in the relationships I developed with my mentors, the other members of the NIAC team, and the NIAC fellows."
It also bore fruit for his future. As a direct result of the advice Dumas received from mentors, he found his academic and career goals changing. In the process of interviewing scientists, he learned—among other things—how crucial outside funding is to research. "Some [NIAC] fellows I had interviewed were not able to continue their work for lack of funding," he says.
To avoid finding himself in a similar situation, "I am planning on going into government contracting now and going to the University of Maryland part-time in order to get a second bachelor's in physics," Dumas explains. "The government job will enable financial security, as well as allow me the funding to conduct my own experiments from home."
Above all, he says, the internship with NIAC "made me realize that sometimes scientists need to be self-starters." Science can be a precarious field in which funding and projects aren't always guaranteed. With that in mind, Dumas intends to forge his way forward—and to keep asking questions along the way.