March 15, 2018 | By Eve Tolpa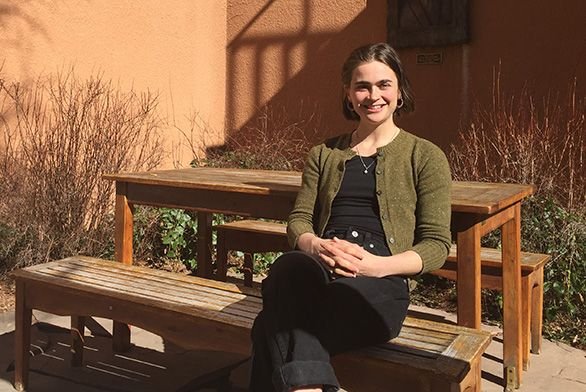 When visual artist Rebecca Sprague (SF19) enrolled at St. John's College, she found that it confirmed some of her preconceptions while defying others.
"I expected to study works of art and literature and make a connection between them," she says. "What I didn't expect was to be able to connect subjects like math and physics to visual art. I never considered math and physics to be creative subjects."
Now, however, she views art history as an ongoing chronicle of artists speaking amongst themselves, similar to the centuries-spanning math and science conversations that are central to the St. John's curriculum.
The college, Sprague continues, "definitely provides a foundation for art, because it provides a context for art." As examples she cites "the borrowing of stories—how Rembrandt illustrated the Bible or how Homer has been a recurring theme in art."
At the same time, it became clear to Sprague that supplementary art education would help propel her towards her eventual goal of earning a master of fine arts degree at the Marchutz School, in Aix en Provence, France.
Marchutz's unconventional visual arts program features seminar-style classes that focus, as Sprague puts it, "on oil painting and art history though a philosophical lens."
The school also has strong ties to St. John's: Its director is an alumnus, and a number of Johnnies study at the school each summer though the Global Pathways Fellowship program.
Sprague used her own Pathways Fellowship to enroll in a six-week program at Rhode Island School of Design (RISD) in summer 2017. The class was taught at the RISD Museum, where students discussed works of art directly in front of them—an approach analogous to Johnnies' engagements with original texts.
In her student report, Sprague wrote, "I had the chance to study a Roman marble Sarcophagus from the 2nd century CE, on which was sculpted a scene from Book 22 of the Iliad."
The RISD class was billed as discussion-based, and though Sprague found that description somewhat inaccurate, she was able to employ skills honed by the Program.
"As a St. John's student, I found it easy to participate vocally, engage with other students, and ask pointed questions." If not for her St. John's education, she says, "I would never have been able to get what I got out of that class."
For Sprague, it's important to have a question to pursue, and the RISD class allowed her to focus on one that's currently at the forefront of her mind.
"I'm interested in what kind of position museums put art into," she says. "It sanctifies art but also creates inaccessibility. If you are going to be a visual artist, you have to question your relationship to museum culture."
She brings that inquisitive approach to the St. John's visual arts study group, which she leads. Weekly meetings alternate between figure drawing and seminars where members take turns choosing a work of art and a text and discussing the relationship between the two.
"It's been great to share my knowledge," she says.
To continue sharing her knowledge, Sprague has applied to participate in the same RISD art history class in summer 2018, but this time as a paid teacher's assistant. At some point in the future, she'd like to work one-on-one as an assistant to an artist. To facilitate that plan, she hopes to participate in another St. John's program: "I really want to take advantage of an Ariel Internship."