March 13, 2018 | By Tim Pratt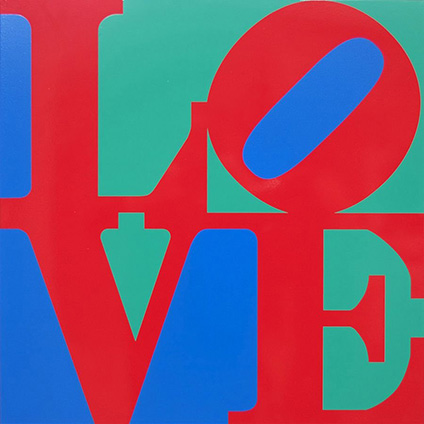 The works of renowned pop artist Robert Indiana are now on display in the Mitchell Gallery at St. John's College in Annapolis.
Robert Indiana: Love and Hope features more than 40 silkscreens and sculptures of Indiana's most famous pieces. The exhibition runs through April 22.
Indiana, 89, gained international prominence in the early 1960s. As the first pop artist whose work was acquired by a major museum, Indiana opened the door for Andy Warhol, Roy Lichtenstein and others to gain international recognition. Warhol was a friend and collaborator.
Indiana draws his inspiration from typography found on signs, factory die-cut stencils, logos and billboards. He is best known for his iconic images "HOPE," "LOVE," and "ART."
His LOVE image, designed as a Christmas card commissioned by The Museum of Modern Art in 1965, drew international attention and was later featured on a United States postage stamp. It's also featured in sculpture form at Love Park in Philadelphia.
Indiana in 2008 created HOPE in support of Barack Obama's presidential campaign. It has since been featured on The Today Show, CNN, CBS, NBC, ABC, MTV, and in more than 300 magazines and newspapers internationally. It can also be found in museums and collections on five continents.
Pieces from Indiana's LOVE and HOPE collections are featured prominently in the Mitchell Gallery exhibition, along with others, including his recent, "Like a Rolling Stone," which incorporates lyrics from musician Bob Dylan.
Several events are scheduled throughout the exhibition, including tours and a workshop. In addition, the Mitchell Gallery is set to present Poetry and Picas on April 21. The event features professional and amateur poets, who will set up in the gallery and seven other locations throughout downtown Annapolis, and compose poems for visitors on-demand.
The exhibition is curated by Michael McKenzie/American Image Art. It is organized by Landau Traveling Exhibitions, Los Angeles, California.