June 30, 2018 | By Anne Kniggendorf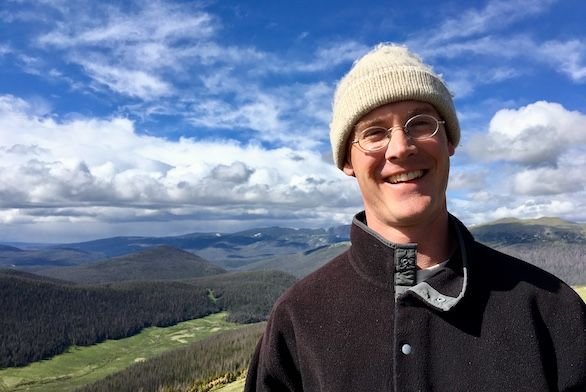 Alexander Kantner (SF04) technically received a monastic ordination, but he hesitates about using the word "monk" to describe himself.
"I wear Buddhist robes and shave my head, but most people I know tend to use the word 'priest' instead of 'monk,' because most ordained Zen Buddhists in the West do not live in monasteries and are not celibate," he explains. "I consider it a gesture of deference to traditional Buddhist monasticism, which I deeply respect and admire."
Kantner, who currently teaches high school, was "pretty sure" he'd be an English teacher as a teenager. He says that his St. John's education "fed and nourished" and laid the stepping stones toward his chosen career. His experiences at St. John's shaped his approach to teaching high school English.
"I hold Socratic seminars, or at least something fairly close to them, with every major work in every class I teach. I do my best to help students find their own path into and out of a text with a minimal amount of assistance from my end. St. John's helped me to understand that listening is perhaps the most important, and least practiced, skill in the classroom and beyond."
In another important aspect of his life, St. John's didn't directly put him on the path to the priesthood—though the college certainly was integral in his decision-making process.
After Kantner graduated from St. John's, he worked in a bookstore in Santa Cruz, California. Like many new graduates, he wasn't sure what to do.
"My head was totally full of Western literature and Western philosophy, and I felt like I had pretty much covered most of the essentials of the Western intellectual tradition."
But, he wondered, what about the other half of the world? What does Eastern tradition say about all the big questions he'd asked and read about at St. John's?
He began independently studying Eastern texts, and when he reached the Buddhacarita, the mythological biography of the Buddha, he says that "a bell rung" in his head: "The way of life and thought presented in that text seemed like a sensible model of conduct."
He says he had not received a model of conduct like that from his undergraduate studies at St. John's. "I received all sorts of other wonderful things, but it was not like reading any of those books left me with the impression 'Yeah, I want to be like Kant. I want to be like Augustine,'" he says, laughing at the idea of wanting to be like either philosopher.
"Maybe Wordsworth," he adds after a moment.
When he moved on to reading more deeply into Buddhist texts, he found Eihei Dogen the founder of the Soto Zen tradition—in which he is now ordained—and another bell went off in his head.
Are people really living like this? he wondered. He found that they were. Until then, all the ideas had been purely intellectual for him.
When he began to actively practice Buddhist meditation and move toward ordination, he resolved not to impose his beliefs on his children; he appreciates that his own parents gave him space to find his way spiritually.
It wasn't only his parents who taught him how to step aside in this manner.
During a sophomore don rag, tutor Jack Steadman thought Kantner was on the wrong track and should not be allowed to continue with the program—Steadman said Kantner was imposing his own views on the texts.
"You are supposed to put your own stuff down and meet the text and find what the text is saying, not what you're saying," Kantner recalls hearing during the don rag.
At the time the criticism was very difficult to digest, but it never left him.
"I think when I started studying Eastern philosophies and their general perspective on the role of the ego as the root of our suffering, something really opened up and bloomed. I realized Mr. Steadman was not an antagonist, he was not an enemy, he was one of the greatest teachers I ever had," Kantner says.
Now living in Arcata, California, with his wife and two sons, he's the Ino—a sort of manager—of morning meditation. He rises early before his family and before he starts his work at the high school. He doesn't get as much sleep as he might like.
"Having that as the anchor and touchstone and beginning point of the day has been a tremendously good thing for me as a human being."
He says that both St. John's and his training as a Buddhist priest has helped him learn to appreciate and cultivate the kind of inner silence needed to hear the voices calling to us "from beyond the cloud of our own opinions and biases."
When he considers similarities between studies at St. John's and the ways of meditation, he notes that "we hope to study truth through the lens of the texts. In meditation we study truth through the mind and body."
He says that what matters is the patient and persistent effort to free ourselves from the bondage of our own limited views, as much as possible. Sort of like the college's motto: "Facio liberos ex liberis libris libraque," which means "I make free adults from children by means of books and a balance."
This post has been updated.