June 22, 2018 | By Eve Tolpa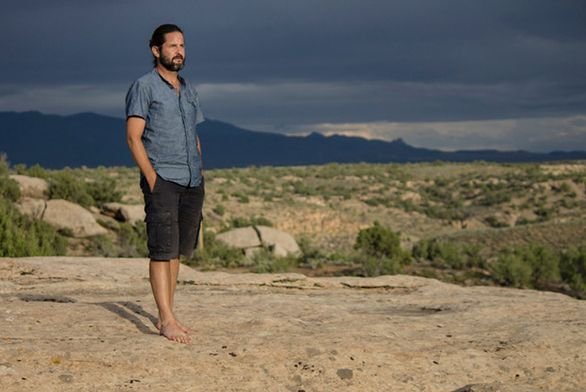 For Jonathan Thompson (SF94), the most interesting part of a story is not necessarily found in its facts.
When asked to describe his job, he often answers that he's an environmental or science journalist. But, Thompson admits, that's not entirely accurate.
"Really, what I consider myself is a context journalist," he says. "I'm not interested in some news event, as just the event itself. I'm interested in all the big picture around it."
He brings that multifaceted approach to his new book, River of Lost Souls: The Science, Politics, and Greed Behind the Gold King Mine Disaster.
Published in March 2018 by Torrey House Press, it outlines the factors that led to the 2015 toxic waste spill in the Animas River, a tributary of the San Juan, which runs through Colorado and New Mexico.
Thompson was ideally situated to cover the event for a number of reasons. In 1876, his family settled along the Animas, and he, too, grew up on its banks, in Durango, Colorado.
He began his career in 1996 as a reporter in Silverton, at the Standard & the Miner newspaper and, later, at the Paonia-based High Country News, spent a decade covering the issues that eventually proved relevant to the mine spill. He also served as High Country News' editor-in-chief from 2007 to 2010.
"When this event happened, I already had a huge amount of that context and that background in my brain, so I didn't have to start from scratch like most people did," Thompson recalls.
Still, there was some unexpected material he uncovered in his research related to the Gold King Mine, which was established in the late 19th century.
"The biggest surprise," he says, "was with the historical stuff, realizing that people were upset about mining-related pollution ever since the beginning and were trying to do something about it. We tend to look back and think, 'Well, those guys, they didn't know any better.'
"The fact is that they did. The miners and the mining company, they knew they were screwing things up, but they didn't care. And the people downstream figured it out and wanted to do something about it, but they always ran up against the same thing, which is profit."
Thompson is reminded of a German text he encountered during the research process, "a book by this guy in the 16th century. It's like the science on mining (with) whole chapters about how mining destroyed the environment. That was kind of cool, reading the science from the 16th century."
This thread of humanity, in all its myriad expressions, provides continuity in Thompson's train of thought—a mode of engagement not uncommon for a Johnnie.
As a student at the college, Thompson found that many authors caught his interest.
"Certainly Homer, the Iliad and the Odyssey were big," he says, adding that "Ptolemy made an impression for sure (and), for some reason, Dedekind and the Theory of Numbers. I found it super interesting."
It turns out that numbers are a big part of Thompson's job, but when he encounters science and data as a journalist, he's far from intimidated—an attitude he attributes directly to St. John's.
"Knowing I have to crunch a bunch of numbers or have to figure out some sort of an equation to figure out how old trees are, I don't have that writer's fear of science or math."
The Program, he continues, "prepared me so well for journalism, without of course intending to do that. The broad base and the critical thinking has been super important."
He now employs those skills as a contributing editor at High Country News, and though he and his family currently live in Bulgaria, southern Colorado remains his journalistic focus.
Says Thompson, "I still write about the American West, even from here."
Read an excerpt from Thompson's latest book published recently by High Country News.