April 14, 2017 | By Tim Pratt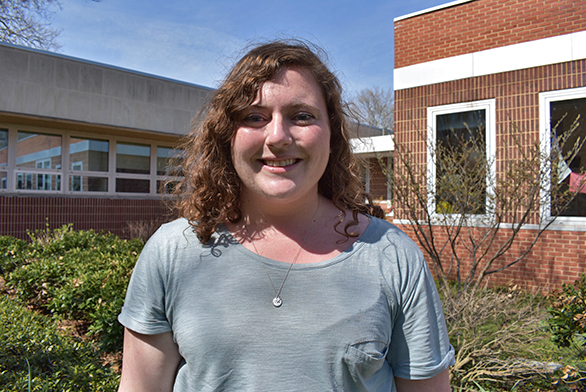 Hayley Dunn still remembers when she decided to attend St. John's College.
The St. Louis, Missouri, native was visiting the college as a prospective student and sat in on a seminar with longtime tutor Eva Brann. Dunn says she "fell in love" with the school, so much so that she recalls the exact time she made her decision.
"I decided that night at 8:05 that I would come here," says Dunn, now a senior. "I just knew it."
With the end of the semester approaching, Dunn is looking back on her time at St. John's with nostalgia as she prepares to graduate and head off to law school. She plans to attend The Columbus School of Law at The Catholic University of America in Washington, DC.
"I'm really excited to apply what I've taken from St. John's," says Dunn, who was accepted to several other law schools as well. "I've had opportunities over four years to engage with people on real and practical subjects. I find those conversations incredibly fulfilling. Because I've been able to communicate with a wide range of people, it will be really fun to continue to do that. I'm excited to be moving on."
Dunn may seem destined for a career in law. In high school, she was president of the speech and debate team. She read Locke, Rousseau and participated in a debate styled after the famed Lincoln-Douglas debates in 1858.
It was then that she began to think she might one day become a lawyer. Her mom is a lawyer, too.
When it came time to look at colleges, her debate coach mentioned St. John's. She visited the Annapolis campus, and the rest is history.
While attending St. John's, Dunn spent her time working a variety of jobs on campus, including a position in the Office of Career Services since her sophomore year. She also completed a Hodson Trust Internship in the summer of 2016 at the Anne Arundel County State's Attorney's Office in Annapolis.
Dunn's time at the State's Attorney's Office helped her focus on what she ultimately wants to do: victim advocacy.
Prior to the internship, Dunn was debating whether to become a trial lawyer. During the internship, she was able to sit in on trials, including homicide and sexual assault cases, as well as drug court and other proceedings.
The experience helped Dunn better understand court procedures and see how prosecutors and defense attorneys operate. Yet, she often was drawn to the victims in those cases. She wanted to know their stories, find out what happened after the court cases were closed and get involved in advocating for victims' rights.
This summer, Dunn will complete an internship at domestic violence victim advocacy organization DC SAFE, where she will help survivors through the civil and criminal justice process, and provide resources and facilitate access to social services. She will undergo 40 hours of training to become a certified advocate.
In the fall, Dunn will head off to law school with an ultimate goal of continuing to work on behalf of victims, whether in the courtroom or the legislative side.
She studied Supreme Court opinions and speeches by Abraham Lincoln this semester at St. John's. She believes those analyses will help her in law school. She's also banking on the critical thinking and communication skills she picked up at St. John's to help her along the way.
"We talk a lot about conversation," she says. "Part of having a conversation is listening. That is probably the greatest skill I've cultivated. I'm not listening for the sake of tearing down my classmates' arguments. I'm listening to enhance or clarify my own understanding."
Dunn says those skills will be "critical" not only in law school, but in the victim advocacy work she wants to do.
"I want to be a person that can listen to those who need it most," she says.