April 14, 2017 | By Tim Pratt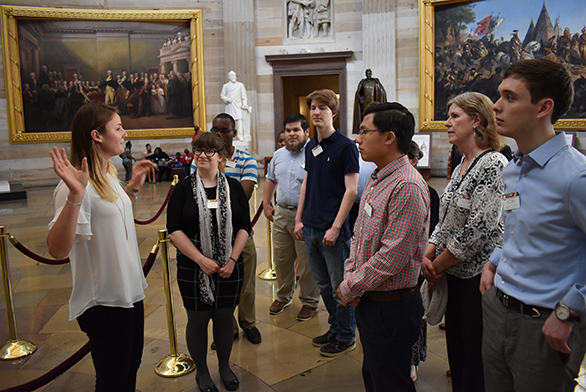 As the group of St. John's College students stood in the Capitol Rotunda in Washington, DC, they looked around in awe.
The history of the United States was on display all around them.
Paintings, sculptures, even the architecture, provided a detailed look at the nation's past.
Yet, the 10 St. John's students and handful of staff members weren't in the nation's capital for a history lesson. They were there to have a discussion with St. John's graduate Brian McGuire (A96), chief-of-staff for U.S. Sen. Mitch McConnell.
The college's offices of Development and Alumni Relations, and Career Services organized the trip to give students interested in politics and law a chance to hear firsthand from an alumnus who has reached the upper echelon of DC politics. Similar trips in recent years have included stops at the Supreme Court, Smithsonian National Museum of American History and Washington Free Beacon.
"I love taking students off campus and exposing them to the different paths alumni have taken," says Director of Career Services Jaime Dunn.
For McGuire, the students' visit to "the Hill" was a chance to share tips on how to land a job after graduating from St. John's, and how to advance their careers.
Complete internships; show initiative and curiosity; communicate goals and areas of interest.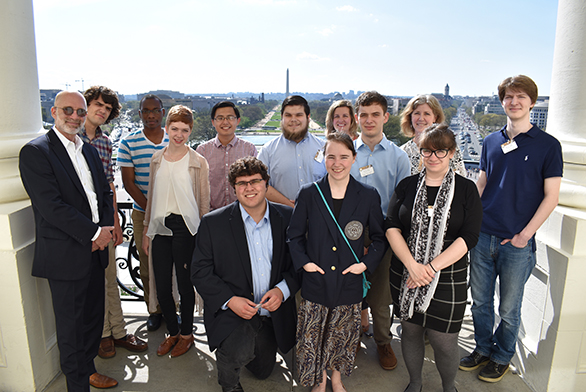 "Some people spend their 20s letting the game come to them," McGuire says. "I don't think that's a great recipe. Thinking ahead, I think, is underrated."
McGuire also advised students to follow up on conversations; be punctual and pleasant; and don't shy away from tasks they don't want to do.
Those tips helped McGuire advance in his career—from journalist to speechwriter to chief-of-staff—and are things he looks for as he manages personnel in the Russell Senate Office Building.
"Doors open all the time," he says. "You just have to be ready to walk through them."
Throughout the conversation, McGuire talked extensively about life on "the Hill," from the high-speed work environment to interacting with people from all 50 states.
Junior Kevin Lam says he enjoyed the conversation and appreciated McGuire's perspective.
"I learned a lot," Lam says. "It was really nice that he gave the layout of the land."
When McGuire spoke of his time at St. John's, he looked back fondly. He recalled meeting with tutor Eva Brann to discuss his senior essay, and changing the topic from Hegel to Dante; he talked about how his love of ideas and literature was solidified; and he spoke about how the discussions he had in the classroom made him comfortable meeting with people and sharing ideas—skills he uses to this day.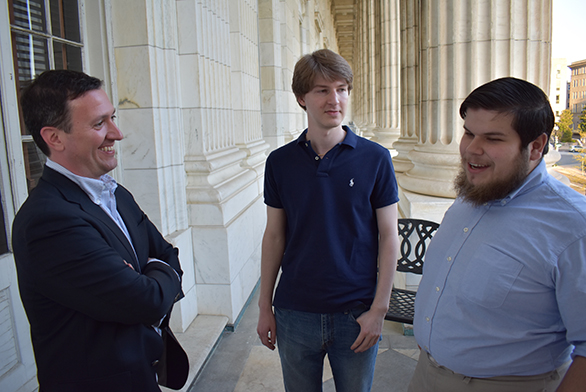 Leo Pickens, the college's director of leadership annual gifts, says he was thrilled to connect St. John's students with McGuire, who is leaving his job at the end of April for the private sector after more than a decade in the Senate.
"I'm really happy to keep alumni connected to the current crop of St. John's students," Pickens says.
Senior Marybeth Beydler says she "loves" the trips to see alumni and the places they work. She has attended nearly all of the trips since they began a few years ago.
"These are can't-miss events," she says.