'It's All About Education'
April 12, 2017 | By Tim Pratt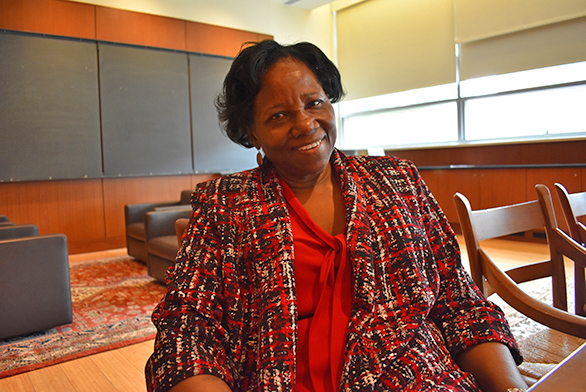 Growing up in northwest Louisiana, Ann Bigham spent her early years attending classes in a one-room schoolhouse.
After the Brown v. Board of Education decision in 1954, in which the Supreme Court ruled segregated schools were unconstitutional, those schoolhouses were consolidated into larger institutions. Yet, through it all, the learning never stopped.
"We had some of the best educated and nurturing teachers on the face of the earth," Bigham says. "Learning, learning, learning, in a pleasant way, is what we had."
The effects of those early years set Bigham on a path to become a teacher herself. Now, the St. John's College Graduate Institute alumna is helping set up other teachers for future success.
The Ann Bigham Annual Scholarship was established recently at St. John's to provide support for high school teachers or administrators to pursue a master's degree at the Graduate Institute. The first award will go to a student this summer.
"In the end, it's all about education," says Bigham, who spent 47 years in the New York City public school system before retiring in 2015.
Bigham's journey toward a career in the classroom began soon after she graduated high school, when she went to Southern University in Baton Rouge, Louisiana. She majored in French and Spanish, with a minor in education. She then worked for a semester as a teacher in her home state before heading to New York City.
During her early years in New York, Bigham taught French, Spanish, English and literature. Beginning in 1982, she started working mainly with high-risk students. At Clara Barton High School in Brooklyn, she developed a human services program that included everything from law and psychology to sociology and anthropology. Several students went on to become paralegals and at least one became a lawyer, she says.
Bigham also led an inter-generational work-study program, in which the school partnered with the New York City Department of Aging to link students with nursing homes, senior centers and rehabilitation centers. Many of those students went into nursing or elderly care careers, she says.
Bigham also ran an African dance and percussion group that played all over New York, from performances at colleges and universities to the capitol building in Albany.
In addition, Bigham led a mentoring program for young women at her school. The state provided funding for women in government who wanted to mentor those students.
While Bigham led those programs, she also did research and curriculum writing. She spent time making contacts, and securing books and materials for those programs, too.
"I think one of the reasons my programs succeeded is because I never used threats," she says. "I never said 'You're going to get kicked out if you don't do that.' You're going to stay in this program as long as you have ideas you need to move forward on."
The St. John's Connection
St. John's played a major part in Bigham's approach to education. She says she heard about St. John's in the 1970s, when friends began attending the college's Santa Fe campus. She would visit those friends for a week at a time during her summer vacations.
Finally, in the mid-1980s, she decided she had spent enough summers traveling—she had visited other places throughout the United States, too, as well as Canada and Mexico—and decided to enroll in the Graduate Institute in Annapolis.
"It was one of the best decisions I've ever made," she says.
Bigham recalls reading books in high school, which told students what the authors of history's greatest works were trying to portray. Yet, when she read those works herself, she was able to come up with her own questions and her own insights. She was able to relate things that were written centuries ago—or longer—to the present and future.
"The humanities give you that," she says. "It gives you the ability to make your own connections."
As Bigham spent her summers at the Graduate Institute during the mid- to late-1980s, she developed close friendships with her fellow GIs. They had a commonality that came from growing up in the 1950s, she says, from shared music interests to cultural experiences.
Memories of those summers bring a smile to Bigham's face. She remembers cars full of students making "runs" to the former Caper's restaurant outside of Annapolis to pick up desserts; splitting dishes from Harry Browne's restaurant on State Circle downtown; and sitting on the wall by Paca Carroll House in the evenings.
"There was a lot of talent (among those students)," she says. "In the seminars, you're with these people, and then you go out on the quad and find out all this interesting stuff they do."
Many of her colleagues worked with members of the Annapolis community outside of class.
"St. John's sort of gives us that impetus," she says. "You want other people to be part of that whole experience. I think that is one of the special things about St. John's."
Bigham instituted much of the St. John's way of learning in her classroom in New York. She taught a great books class in a seminar format; she removed desks and had students sit around a table, just as students do at St. John's; she had lengthy discussions over books with students on their lunch break.
Through it all, her love for teaching never diminished.
"I never worked a day in the classroom when I wasn't thrilled to be there," she says. "When I was away, I wanted to get back in a hurry."
With the new GI scholarship, Bigham hopes more teachers attend St. John's and become inspired. She wants them to learn to develop their own questions and self-evaluate; she wants them to take what they have learned, those listening and communication skills, and use it in the classroom.
"Teachers are learners and learners are teachers," she says. "You don't have to walk in the classroom knowing all the answers, knowing everything and giving it to the kids. Give them time and let them come up with it. They will grasp it. They will own it. It will take them much farther."