General Pathways Fellowships Prepare Johnnies for Graduate School and Careers
June 11, 2019 | By Eve Tolpa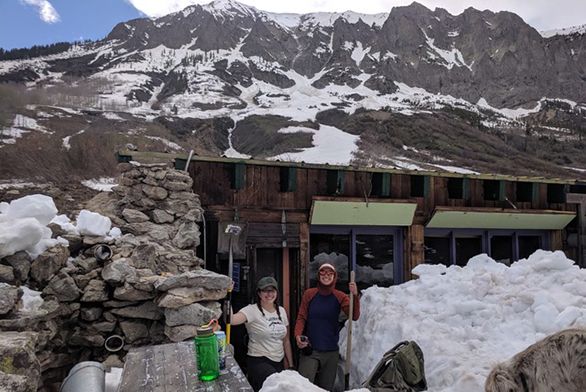 From late June onward, Kemo Alvarez (SF20) will be attending UCLA's Creative Production Program, taking industry-related classes and completing an internship at Semi-Formal Productions.
It's a chance, he says, to "apply the versatile knowledge and critical thinking [he has] received from St. John's College to the film and television industry."
Alvarez is one of 27 Johnnies in Santa Fe and Annapolis this year who received a General Pathways Fellowship—and with it the chance to supplement their liberal arts education with classes and professional conferences that provide springboards to graduate study and careers.
A self-described "film and television buff," Alvarez has a fascination with narrative structure, a subject he's tracked through St. John's Program texts including The Odyssey, The Canterbury Tales, Don Quixote, and The Adventures of Huckleberry Finn.
"It has been very insightful watching narrative evolve over time and across different Western culture," he says. "Pride and Prejudice has also been very important to me. Jane Austen had a strong grasp on character development, and she was able to turn the traditional love and marriage story on its head."
Alvarez's internship will entail reading and writing coverage for scripts, a process that helps production companies determine script viability. Through his participation in Pathways, Alvarez hopes "to accomplish some networking and to gain insight into the contemporary industry."
Anupam Bhattarai (SF21), whose fellowship started June 10, is studying mathematics at New Mexico Institute of Mining and Technology in Socorro.
When he arrived at St. John's, Bhattarai was already drawn to math, and his time at the college only deepened that inclination.
"Many questions are unanswerable, and whatever discussions we have can never reach the complexities of the topics we tackle," he says of his experience of the Program.
"In math, however, we are able to say what ideas are important to discover this truth, and we know with high certainty whether any idea is true and false. For me, this is absolutely amazing," Bhattarai continues, adding that "Descartes' Discourse on Method was particularly amazing."
After finishing his St. John's education, Bhattarai plans to attend graduate school and continue the study of mathematics.
"I feel this summer's experience will be vital towards that journey," he says.
Emily Wieser (SF20) has been funded to spend June, July, and August at the Rocky Mountain Biological Laboratory, in Gothic, Colorado, where she is developing a research project on white-crowned sparrows while attending a class in wildlife biology.
"Field biology interests me because it combines my interest in ecology and my passion for the outdoors," Wieser says. "I will be able to participate in and experience how the power of field science can inform and further develop our understanding of the natural world."
At St. John's, her interest in the liberal arts is far-ranging, and she is inspired by texts and authors from Beethoven and Wordsworth to Descartes and Hume.
"Math and lab are interesting because they always challenge me to ask more questions, clarify, and integrate difficult concepts into a broader understanding of reality," she says. "Language provokes me to seek insights into the nuances of thought. Seminar provides the philosophical climate."
At the Rocky Mountain Biological Laboratory, Wieser expects to gain not only hands-on experience of wildlife biology and scientific writing techniques, but "hopefully some incredible adventures," too.
Her Pathways fellowship began on June 3, and she is "already knee-deep in snow, avalanche debris, research training, and birds! There's a lot to learn and do."
"All I can say," she says, "is that I am incredibly grateful and eager to see what this summer will bring."
Congratulations to all the General Pathways recipients!
Kemo Alvarez (SF20)
Creative Production Program
UCLA, Los Angeles, CA
Sam Aston (A19)
Psychology
University of Maryland, College Park, MD
Athena Berreles-Luna (A20)
EMT Training
Austin Community College, Kyle, TX
Anupam Bhattarai (SF21)
Mathematics
New Mexico Tech, Socorro, NM
Juan Cassanello (A21)
Math
Anne Arundel Community College, Arnold, MD
Mackenzie Daffner (A20)
Art World Marketing
Sotheby's Institute of Art, New York, NY
Dorothy Diaz-Sullivan (A20)
Psychology
University of Massachusetts Boston, Boston, MA
Kalysta Fern (SF19)
French
Middlebury Language Schools, Middlebury, VT
Anne Freeman (A20)
Architecture
Columbia University, New York, NY
Sebastian Huerta (SF20)
French
Middlebury Language Schools, Middlebury, VT
Grace Phan Jones (A21)
Greek Intensive
The University of Chicago Summer Language Institute, Chicago, IL
Beimnet Kebede (A20)
Math
Rice University, Houston, TX
Bao Phan Quoc Le (A21)
Biology
University of California, Berkeley, Berkeley, CA
Qingqing Lei (A21)
Math
Prince George's Community College, Largo, MD
Yixing Li (A20)
Neuroscience
City University of New York (CUNY), York College, Jamaica, NY
Xiaoxin Liu (SF20)
Computer Science
UC Berkeley, Berkeley, CA
Olivia McHugh (SF19)
French
Middlebury Language Schools, Middlebury, VT
Joy Nwodo (SF19)
Nursing
Santa Fe Community College, Santa Fe, NM
Reyna Perez-Gonzalez (SF21)
Nursing
Houston Community College, Houston, TX
Jesse Reeves (SF20)
Queer Studies
Oregon State University, Corvallis, OR
Gabriela Sanchez (A20)
User Experience Design
General Assembly, New York, NY
Emma Stewart (A20)
Poetry
Harvard University, Cambridge, MA
John Stuart (SF20)
Greek
UC Berkeley, Berkeley, CA
Luke Tyson (SF21)
Psychology
Santa Fe Community College, Santa Fe, NM
Katharine Wall (A20)
Editing
University of Chicago Graham School, Chicago, IL
Emily Wieser (SF20)
Research Training in Wildlife Biology
Rocky Mountain Biological Laboratory, CO
Aidan Williams (SF20)
French
Middlebury Language Schools, Middlebury, VT