Capt. George Dolan (SF92) Takes a Johnnie's Curiosity A World Away with Fulbright
September 21, 2022 | By Patricia Moore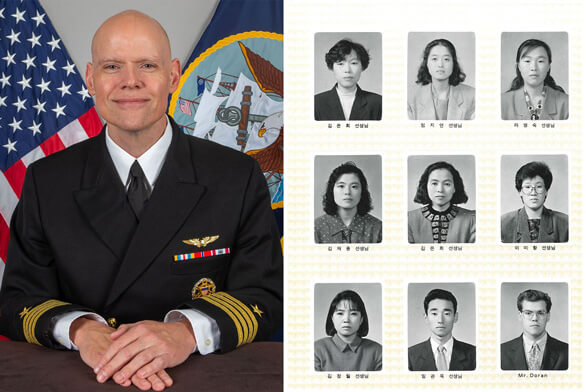 "It's a ready-made program to get you to the other side of the world," says Capt. George Dolan (SF92), U.S. Navy, describing his Fulbright English Teaching Assistant (ETA) experience in South Korea, 1993-1995. Fulbright ETA was a life-changing excursion for a young man from New Jersey who had hardly been away from home except for attending St. John's College. The college was a very different world from the one in which he grew up, one that helped to lay the foundation for his work abroad. "[St. John's] was a deeply intellectual environment," says Capt. Dolan, "and we were reading the most difficult books I had encountered. I also met a lot of people from different backgrounds. All those experiences helped prepare me for the culture shock I would have in South Korea." St. John's also helped him to "acquire interpersonal skills and time management skills" that served him well during his two Fulbright ETA years and even his military career.
The Benefits of a Culture Shock
Immediately before his scheduled departure for South Korea in the summer of 1993, "tensions with North Korea really came to a head" around North Korea threatening to withdraw from the Nuclear Non-Proliferation Treaty. Capt. Dolan remembers his mother "almost had a heart attack" about her son's travel plans, and he felt "it was exciting to be moving to a part of the world that was so very much in the headlines."
His first assignment was teaching Jeju Central Middle School students on the Island of Jeju, South Korea, where he lived with a host family for a year. "Fulbright really helped me understand the outsized influence the United States enjoys in the world. The United States is on the news in South Korea every night, but I knew little about South Korea before I arrived there," says Capt. Dolan.
He found teaching English on a sparsely populated island and the next year in Seoul—one of the world's most populated cities—to be "a really eye-opening and hugely positive experience." The 12- and 13-year-old boys who were his initial students were eager to learn and "more curious than many pre-teen boys in the U.S." While absorbing a new culture, he also became aware of the advantages of growing up in America that one might not recognize until traveling and living elsewhere.
Where a Fulbright Experience Can Lead
"Fulbright changed the course of my life," says Capt. Dolan. "I became interested in Asia in a pretty intense way." After joining the Navy and completing several deployments as an aviation navigator, he served as a Foreign Area Officer (FAO) specializing in the Indo-Pacific region. "Fulbright laid the foundation for me becoming an FAO," he explains. Capt. Dolan went on to serve in Australia, Bangladesh, Papua New Guinea, South Korea, Vietnam and other countries around the globe. He was the U.S. naval attaché to South Korea from 2019 to 2022, and he recently moved to a new position at the Pentagon in the Navy Staff's Plans and Strategy section. Capt. Dolan has received the Bronze Star Medal and a host of other military service awards.
A Change of Place Can Do a World of Good
"I'd strongly encourage any St. John's graduate to investigate the ETA program. It's Fulbright's best kept secret," notes Capt. Dolan. The Fulbright ETA program may be "less prestigious" than the "traditional Fulbright Scholars program;" however, he "is certain that ETA is more fun and more impactful. ETAs will have countless contact hours with hundreds of students for whom the ETA is the 'face' of the United States." He likely was the first American many of his students had ever met in person.
For Johnnies who are unsure of their next steps after graduation, Capt. Dolan recommends ETA. "Teaching is a very good job," he asserts. "I can't think of anyone who would not benefit. Getting up in front of kids who are not attentive requires you to hone some leadership skills," he explains. For those who "know in your heart you want to go to law school, medical school, or start your own business, experiencing other cultures through a Fulbright ETA will turn your world upside down in so many positive ways," Capt. Dolan concludes.
Johnnies interested in applying for a Fulbright award are encouraged to contact the Office of Personal and Professional Development in Santa Fe and the Office of Career Development in Annapolis. The deadline to apply is Tuesday October 11, 2022, at 5 p.m. Eastern Time.