Graduate Institute Alum Sought a Colonial Education
February 19, 2019 | By Kimberly Uslin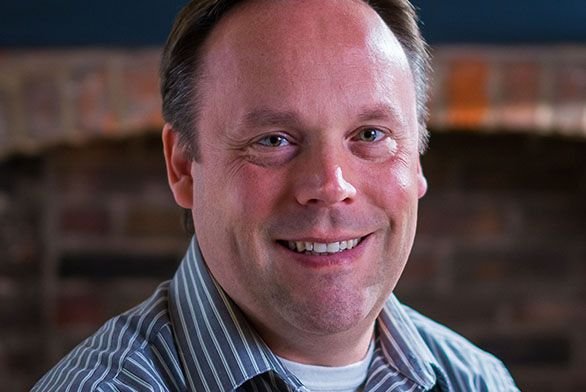 Rod Cofield (AGI08) is happy to live in the past. As the executive director of Historic London Town in Edgewater, Maryland (just minutes from St. John's Annapolis campus), he spends his days managing a colonial village first established in 1683.
"History, government, and political science were always of interest to me," Cofield says.
He completed his undergraduate degree at St. Mary's College, during which time he started working in Historic St. Mary's City.
"I dressed in the funny clothes," he says, "and worked my way up from there" to become the site's education coordinator.
St. Mary's City was the first capital of Maryland, predating London Town by a few years, but both historical sites encapsulate the colonial experience. The more invested Cofield became in the lives of those early settlers, the more he wanted to learn—and the St. John's Graduate Institute seemed to him to be the place to do it.
"I thought the Great Books [program] would work really well with where I was in my career at the time," he recalls. "The program that St. John's has is the same concept that the educated folks in the English-speaking world had in the 18th century. They'd read philosophy in the morning, have debates at lunch, do random dissections of animals and things in the afternoon to understand how the natural world works … It gave me insight into how the folks I was researching and talking about in my museum career thought and believed the world operated."
Cofield was particularly interested in the Enlightenment period and enjoyed reading the same books those in the Enlightenment would have been reading "in real time"—meaning in the same order that Colonial period contemporaries likely would have.
"Locke, Hume, texts about mid-1600s dog blood transfusion … it was happening all across the world [at that time]. It was really fun to read those things," he says.
Of course, the St. John's program moves past the colonial era, and Cofield also enjoyed preceptorials on Einstein's theory of relativity and the Mahabharata. Studying the Great Books, he found, both increased his understanding of historical peoples and advanced his own career.
"I think the focus the GI has on the breadth of study and the deep dives you have to take into the texts results in good critical thinking abilities that are highly necessary," he says. "Going through the GI, you learn to balance multiple themes and studies. At London Town, we have these fantastic gardens, too, that aren't meant to be historical. It's a multiple-personality site and an interesting challenge. My activities [at work] run from high-level strategic planning and fundraising to the small-level tasks."
While Cofield reflects daily on the realities of colonial life, however, noting his "appreciation of how much control we have today over our personal environment," he finds himself most interested in the future.
"I study the past, but I want to see what the next few decades lead to, what the technological advancements are," he says. "I have a son that's under 2, and we always joke that he's going to go to Mars."