Graduate Institute Alumna Swaps Academia for Auto Repair—and Teaches the Next Generation of Johnnies
April 4, 2019 | By Kimberly Uslin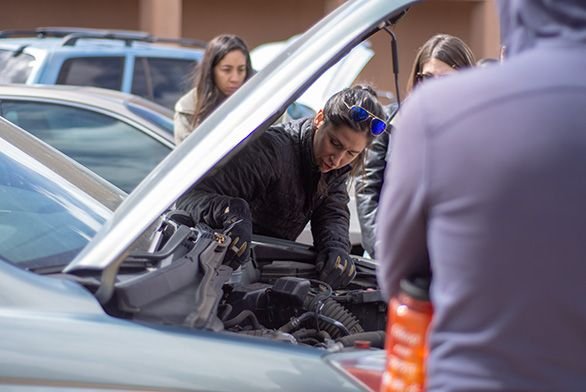 After years spent working in academia and as a scientist, Melissa Carl (SFGI07) realized she was lacking in "real-world practical experience." She couldn't fix a blown fuse, she admits, much less figure out what to do when her car wouldn't start.
"It was a ridiculous way to live in the world," she says with a laugh. "I'm quite well-educated."
Carl considered a few ways to establish a more pragmatic skillset before deciding she'd take a class on car mechanics at Santa Fe Community College.
"When I first decided to do this, I knew nothing at all. I couldn't identify an oil dipstick in the engine. I didn't know how to fill the windshield wiper fluid reservoir," she says. "What started as a lark, a recognition of one's own deficiency, turned into a hobby, which turned into a passion, and well, now it's turned into a profession."
Carl, who worked as a teacher at a local prep school, took a few mechanics classes over the summer and continued into the school year. She had long been frustrated by the "subjectivity" of the educational system, and after a year, she knew she was ready to make a change.
"At the end of the day, there was nothing that I could point to and say 'I did that,'" she explains. "When you're an educator, the fruits of your labors become proxied. Anything you did well ultimately stood at a distance. You teach an excellent lesson and then the students take the exam. If the students do well, the success is the students.' Whereas if the students do poorly, that failure becomes the teacher's responsibility. It was an economy I found increasingly frustrating, and I realized it was not a battle I was going to win.
"If a car comes into a garage with squealing brakes, the mechanics replace the brakes, and the squeal is gone. The mechanic can say, without any sort of debate, 'I did that right.' Responsibility, as well as success, cannot be negotiated away. At one point, I just decided it was time to take the plunge, time to try something utterly and wholly new and leave the world of academia and science and exchange it for a whole new kind of rigor and intensity."
A little over a year after she had taken her first class at the Community College, Carl was hired as a mechanic at Amigo Tire & Auto. Many in her field have grown up working on cars, but qualification actually comes down to a standardized test from the Automotive Service Excellence (ASE) certification group, which she passed. At Amigo, she does tire, suspension, brake, and other "under-the-vehicle" work, as well as alignments and the occasional under-hood project.
The work, Carl says, is "the most physically demanding" of any she has done, but she appreciates its honesty (and her "patient, helpful, supportive" coworkers).
"If you've done something wrong, you have to own it. If you turned a bolt too tight and snapped it, you can't mediate that responsibility. There's a great deal of transparency and honesty that comes with that," she says. "It brings you back down to earth every day. It doesn't matter if you've been doing it for 40 years. If you get a new vehicle coming in and it presents with a problem you've never seen before, you're right back there at the beginning, scratching your head and going through the process of diagnosing it and sorting out how to fix it."
Now that she has become more seasoned, Carl has begun to share her skills with others who may be lacking pragmatic know-how. She started the once-a-month Ladies' Car Clinic, which helps to "ameliorate discomfort" by arming women with the necessary vocabulary and basic knowledge they need to avoid being overwhelmed or taken advantage of when experiencing car problems. (Though it does not, she notes, teach them how to work on their cars themselves—only to "ask informed questions and make informed decisions.")
She recently held a similar workshop for Johnnies on the Santa Fe campus, electing to bring a Program-focused approach.
"You can think of a car as a Euclidean proof," she explains. "You have to establish these definitions and axioms, and then you can carry out the proofs, but you can't do a proof until you've established the language and the irrefutable facts and so forth."
"Euclid is shared knowledge, and everybody understands the importance of starting with the definitions and making sure everyone defines the terms the same way," she adds. "Everyone thinks the engines are the sexy part, and they want to turn cars into hot rods and so forth, and all of that is fantastic and lovely and super fun. But before you could possibly do that, you've got to start with the basics."
Over the course of the workshop, Carl covered how to look at tires and determine their proper inflation, how to safely lift a car using a floor jack, and how to use a cross to remove lug nuts.
"When we had a tire off, we looked a bit at disc brakes and the components that comprise the system," she recalls, "and we talked about Pascal, as it is his principle that governs how power brakes work."
The clinic was a success; many students attended, and one student even secured an internship with Carl at Amigo Tire & Auto. It's not surprising, though, that Johnnies took to the work—after all, it was the Johnnie mode of thinking that spurred Carl to switch careers in the first place.
"It never occurred to me when I enrolled at the college originally that it would become the most valuable experience I had in becoming a car mechanic," she says. "It's not overstating to say that I had the courage and felt I had the capacity to learn something like this from scratch because I went to the college."
"The most important thing that the college taught me was intellectual courage," she adds. "Anything that can be learned by anyone can be learned by everyone through the proper approach and sincerity of effort. The college's philosophy and pedagogy can be applied to something as wildly different as auto repair. It's the same thing: You put good people in a room who are sincere, who are interested, who are honest, and who want to solve the problem. It works through conversation, the willingness to hear and be heard, and to admit you're wrong. I have extraordinary insight into the skills that the college allows you to annex and refine and apply. They become a part of you, and then you can do anything. You can rebuild an engine."
12 photos
Melissa Carl (SFGI07) Leads Car Basics Workshop
Melissa Carl (SFGI07) recently led a clinic on car basics for Johnnies on the Santa Fe campus. Photos by Keith Greenfield.