LGBTQ Scholarship Planned in Honor of Alum
April 7, 2019 | By Kimberly Uslin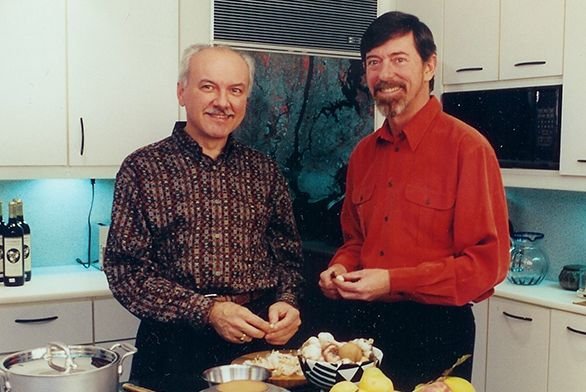 When Thomas von Foerster and John MacDonald (A70) met in New York in 1982, there was no doubt in von Foerster's mind that the two were meant to be.
"We spent much of the night talking about all sorts of things: Chladni plates, reverse Polish notation, Young's double slit, mediaeval mnemonics for Aristotelian syllogisms, and, in passing, a little bit about ourselves," he recalls in a memorial reflection written for family and friends. "By the next morning, I was pretty sure that I wanted to spend the rest of my life near him."
He was right. MacDonald and von Foerster would spend nearly 25 years together until MacDonald's passing in 2006. And through it all—world travels, endless dance performances and museum visits, and a once-in-a-lifetime experience of the total solar eclipse—their great conversations continued.
Though von Foerster was not himself a Johnnie, he had long been involved in academia. But when MacDonald brought von Foerster with him to several of his milestone reunions at St. John's, he became enamored with the college.
"After a day at the first one of these in 1995, I felt as if I had found an academic home," von Foerster recalls. "The school had even arranged for John's class to have a seminar as if they were students. Spouses were invited, and I had one of the most intellectually stimulating experiences of many years discussing Plato's Symposium."
Later that evening, the couple attended a dinner at which Rogers Albritton (A45), a renowned philosopher, was given an award.
"He talked about how the spirit of intellectual inquiry at St. John's made it possible for him to come out as gay," says von Foerster. "This was in the 1940s—way back when. I thought that was a wonderful thing to say about St. John's."
When MacDonald passed in 2006, von Foerster continued his partner's tradition of donating to St. John's. MacDonald had received a scholarship himself to attend the school and felt compelled to give back, so when Leo Pickens (A78) suggested to von Foerster that he establish a scholarship in MacDonald's honor, he was taken with the idea—but wanted to take it a step further.
As part of his estate, von Foerster will establish the John P. MacDonald Memorial Scholarship Endowment, a scholarship for LGBTQ+ students and allies. The funds are intended to go to full-time undergraduate students with demonstrated financial need and a demonstrated interest in LGBTQ+ activities or organizations on campus.
"The scholarship goes with the spirit of St. John's, which is an environment where people can easily find themselves and come out and be whatever it is that they want to be," he says."My hope is that it supports students who need the money to pursue studies at St. John's and that they will do with their knowledge whatever it is that can usefully do, because that's the wonderful thing about St. John's: You have no idea what uses the knowledge you gained can be put to."