Guerilla Seminars Augment the St. John's Program
December 18, 2019 | By Hannah Loomis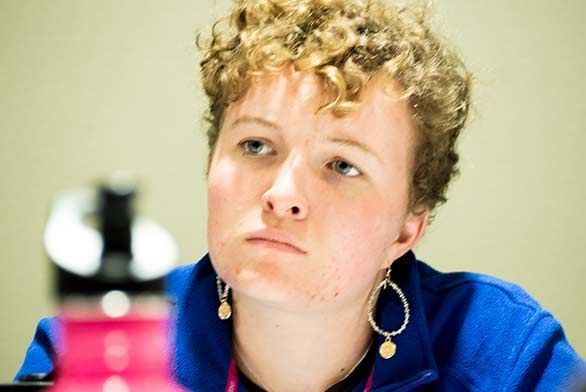 It's a usual seminar night scene in Santa Fe, only it's not. It's Tuesday, and tonight's reading—Henry David Thoreau's enigmatic essay, "Civil Disobedience"—isn't even on the Program list. The undergrads who are around the table already attend twenty hours of class per week and read hundreds of pages in preparation for their regular classes. Are they really voluntarily spending additional time reading and discussing?
Yes, because they're Johnnies and this is what they love to do.
Welcome to "guerilla seminars." A long-standing tradition on both campuses, guerilla seminars are typically organized by students or tutors to tackle readings not covered within the Program, and are supported by the dean's office. Recent topics have included works by African American poets and feminists; by Shakespeare, Flannery O'Connor, and Jacob Klein and Leo Strauss; and on topics such as Roe v. Wade, climate change, and liberal education.
This particular seminar, which is being led by tutors Martha and Grant Franks, was initiated by Onysha Boak (SF22) with the SJC Amnesty International club. Boak and the Club were looking for ways to increase event attendance and appeal to Johnnies in particular, especially in relation to human rights and political engagement. Boak was motivated to read Thoreau's essay partly in response to the months-long, primarily nonviolent Hong Kong demonstrations taking place against the Chinese government. The turnout and lively discussion exceeded Boak's expectations, and she already has plans for future seminars that "can inform our activism, and our understanding and awareness of human rights."
Thoreau is likely best known for his quiet reflections on nature in Walden—and for living in near-solitude for almost two years in his self-built cabin by the side of Walden Pond in Concord, Massachusetts. So it is perhaps surprising that in "Civil Disobedience" he provides excellent fodder for wading into potentially divisive issues such as political action. Throughout the essay, a cri de coeur against the Mexican War and American slavery, run the conflicting sentiments of a man struggling with his own divided conscience: whether to be left alone in peace and simply not engage with what he believes to be wrong, or to exhort his neighbors to join him in speaking out against governmental wrongdoing—or even withdrawing from the State. Thoreau writes: "I came into this world, not chiefly to make this a good place to live in, but to live in it, be it good or bad."
How do the tutors prepare to lead a discussion that may get heated? Just as they would for a Program seminar: reading the selection at least twice and identifying their own questions. "Oftentimes I think to myself . . . what would I ask the author?" Grant Franks says.
Martha Franks wonders whether, through education, people can really hash out these kinds of difficult topics. She considers the question a sort of Plato's "Meno" with an American twist. Rather than asking whether virtue can be taught, the question here is whether honest discourse and engagement can be taught. Franks thinks that part of the experiment of America is to make conversation as honest as possible, in hopes that the person shaped by it will do the right thing. She feels it's an experiment that is closely related to the St. John's experiment.
"Sometimes a person can mistake, in my view, the St. John's Program for worshiping the past," Martha Franks continues. "I think it's the opposite. I think we're studying the moments of spectacular bursts of creativity that create new futures."
Student and participant Cameron Hines (SF21) also wrote about the Civil Disobedience guerrilla seminar in The Johnnie Chair, the Student Blog of St. John's College.