HuffPost Editor-in-Chief to Address Santa Fe Graduates
April 12, 2018 | By Kelly Koepke (SF90)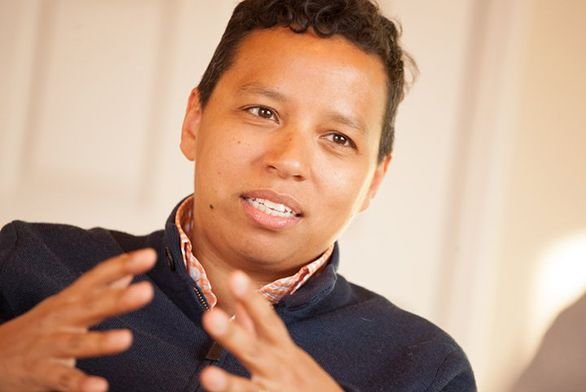 Lydia Polgreen's first trip to Santa Fe in February did not give her the opportunity to answer the perennial New Mexico question: red or green. She said that more research was necessary, as she'd only tasted the red. A bowl of green chile stew is something she's looking forward to on her return visit in May, when she will deliver the commencement address on the St. John's College Santa Fe campus.
Polgreen, a 1997 Annapolis alumna and the editor-in-chief of HuffPost, delivered the Steiner Lecture on the Annapolis campus last year. But she has given only one other commencement address, which was at CUNY Graduate School of Journalism last fall. And delivering such an address at St. John's is different.
"A commencement speech is a high-pressure undertaking, especially here," she said. "Not only do I need to inspire the students who have put four years of effort into their studies, I also need to inspire their parents. I'm going to try to deliver."
Polgreen, who recently joined the college's Board of Visitors and Governors, plans to focus her address on the importance of liberalism in our lives. Not liberal politics, but rather the way St. John's students understand the word—being concerned with seeking general knowledge and broad experience, and unwedded to a particular bias or slant.
"St. John's graduates carry a special praxis into the world around the word liberal. We understand that it means to be truly free and comes with much effort. Because it feels like the world is lapsing into tribalism, where it is easier to find like-minded people than ever before, but also much harder to have conversations," she says. "But that effort is exactly what the St. John's education teaches."
Polgreen took this spirit of inquiry with her after she left St. John's. She earned a master's degree from Columbia University Graduate School of Journalism, then landed jobs at The New York Times and The Washington Monthly.
"I realized I wanted to look at and question the world just like I did at St. John's. And to continue my inquiry because the world is open to interpretation. I had to go places and see things for myself."
Unsurprisingly, Polgreen is an avid reader whose tastes are expansive. A fan of biography, she has just finished Grant by Ron Chernow, about Ulysses S. Grant, and explains that growing up in Africa left her with an insufficient knowledge of U.S. history. She continues to revisit Program books and finds the latest Odyssey translation to be beautiful. Every few years, she re-reads beloved books like Middlemarch and Anna Karenina.
A follower of popular culture, too, Polgreen enjoys more than just the high-brow, and tends to favor realism when it comes to screen time. Her television favorites include RuPaul's Drag Race, Project Runway and Real Housewives of Beverly Hills. She's also a fan of Netflix and Amazon documentaries. "I love them—they tell true stories."
To learn more about commencement events at St. John's College, visit our Santa Fe and Annapolis commencement pages.