April 3, 2017 | By Tim Pratt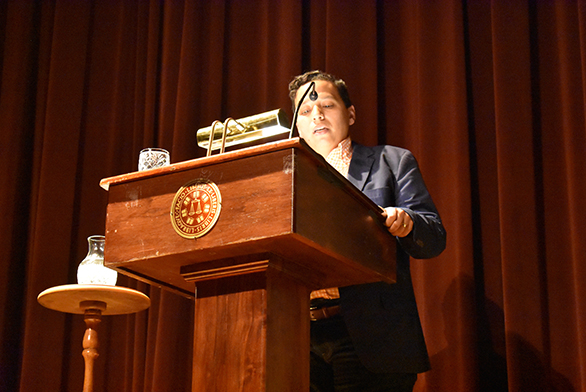 Solidarity.
It's a concept in which Lydia Polgreen believes, from its role in the founding of the United States to the critical need for it now in a highly polarized political climate.
"We all need to wake up and realize this is our country," she said. "We the people."
Polgreen (A97) made the remarks March 31 during the Steiner Lecture at St. John's College in Annapolis. Now editor-in-chief of The Huffington Post, Polgreen returned to her alma mater to deliver a lecture titled "American Identity in the Age of Trump."
For Polgreen, the lecture was a chance to share her views on journalism, politics, inequality and culture, but also to return to the place where she arrived as a self-described "uneasy and unruly" 17-year-old in the early 1990s.
Journalism wasn't a big part of Polgreen's life at St. John's, she said, but books certainly were. She recalled reading original sources to form her opinions, discussing proofs with her tutors and, on a personal level, meeting her partner of 23 years.
That propensity toward finding original sources helped her in her career as a journalist, she said. Prior to becoming editor-in-chief of The Huffington Post last fall, she was the editorial director of NYT Global at the New York Times and the West Africa bureau chief, based in Dakar, Senegal. She won several awards over the years, including the George Polk award in foreign reporting for her coverage of ethnic violence in Sudan's Darfur region and the Livingston award for international reporting. She has reported from India as well as Johannesburg, South Africa, where she was the New York Times Johannesburg bureau chief.
While she was overseas, first as a child, then as a journalist, she often was living in dangerous, politically-unstable locations. She experienced coups, war, poverty and inequality.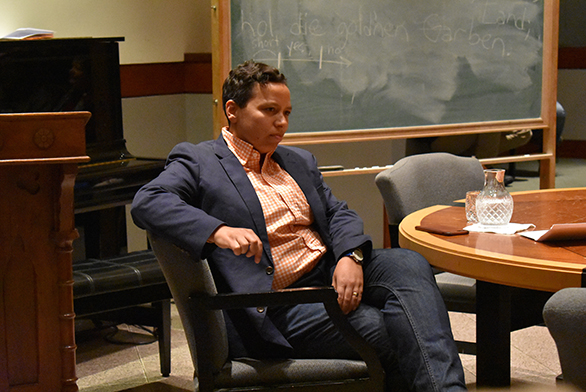 When Polgreen returned to the United States during the Obama Administration, she continued her commitment to telling the stories of the people who feel "disempowered and neglected," she said. Journalists as a whole seemed to be disconnected to those people, she said. That disconnection, she said, led to a lack of empathy.
A question Polgreens likes to ask journalists is "Who are we for?" The answer, she said, is the people who are powerless. They're affected by the stratified economic and political situation in the country. They could be workers in areas with few employment opportunities, or people who experience prejudice based on their race, gender, religion, sexual orientation or other factors.
"Inequality feels baked into our society in a way that seems like it can't be undone," she said.
Yet, Polgreen thinks it can be undone. She cited demonstrations that occurred in the weeks after the inauguration of President Donald Trump—for women's issues, immigrants, education and healthcare. She called solidarity "a great strength" of this country.
"Solidarity: It will be work, it will be hard, it will be worth it," she said. "We will do it together."
Following the lecture, a question period occurred in the Conversation Room. Students and members of the public asked about media and technology, the effects of the Trump presidency and the role of empathy in journalism.
"I think empathy is a real crucial component of getting at the truth of a story," she said.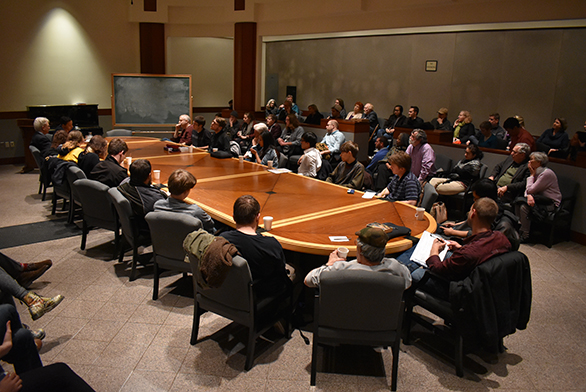 There were questions about how journalists missed Trump's support in middle America, about "fake news"—which Polgreen called "manipulative and dangerous"—and about fact-checking the president.
There was even a question about The Huffington Post putting Trump news on its entertainment page during the campaign, before Polgreen became editor-in-chief. Polgreen stated emphatically she wouldn't have done that.
Polgreen was asked about the change from working at the New York Times to The Huffington Post, to which she replied: "The fundamentals (of journalism) don't change, but the audience does."
An audio recording of Polgreen's lecture is available in the SJC Digital Archives.
The Steiner Lecture Series is made possible by a gift from the Steiner family in memory of Andrew Steiner, an alumnus of the college from 1963. The lecture series was established to bring notable speakers to campus from a variety of disciplines and endeavors, in recognition of Steiner's intellectual versatility, and for the sake of continued learning.