April 4, 2017 | By Tim Pratt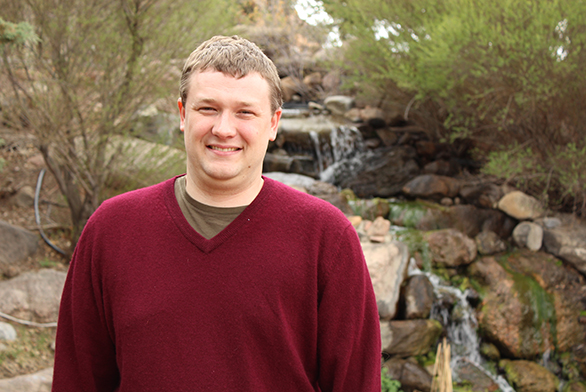 For Tai Ragan, the idea of working in the space industry at one time seemed like a fairy tale.
The St. John's College graduate has a shelf full of science fiction books, and for years he's had an interest in outer space.
Yet, for more than a year-and-a-half, Ragan (SF15) worked as a contractor at the U.S. Naval Observatory in Washington, DC.
Soon, he will begin working for NASA. The new job, which will involve working with satellites, is a dream come true, Ragan says.
"I jumped up and down on my bed in delight when I found out I was going to work for NASA," he says. "I was like a big kid, a smile on my face. I can't believe this is happening."
Ragan moved around a lot when he was growing up, living in Washington, DC, Nepal and Kenya, among other places. His interest in space was apparent when he was applying to St. John's and wrote an application essay on Prelude to Foundation by Isaac Asimov, a science fiction novel set in outer space.
When he arrived at St. John's, he says he enjoyed learning about math and science, specifically astronomy. He even worked as a laboratory assistant.
His senior year, he received an Ariel Internship at the Naval Observatory. He completed the internship the summer after he graduated, which led to a job in September of 2015.
During Ragan's time at the Naval Observatory—his contract ended March 31—Ragan focused on telescope automation. Much of the work was electrical: testing cables, setting up relay systems and adjusting power. The last few months, Ragan has been examining images cameras have taken off the telescopes to analyze where they're pointing, their movement and to determine if any corrections need to be made.
The work was important, Ragan says, as it assists the Navy with navigation.
Ragan's new job with NASA will involve image analysis with weather satellites. He will be looking at cameras and images to make sure they are calibrated, positioned and functioning properly.
Ragan says he is excited, but a bit nervous about his new venture. Yet, journeys into the unknown aren't new for Ragan.
When he came to St. John's, he had an idea of what to expect because both of his parents attended the college. His presumption that he would be doing nothing but reading, however, turned out to be incorrect.
"I was expecting something that was primarily intellectual," he says. "There definitely was a lot of reading and thinking, but I was really impressed with how I connected to the people in my classes. We developed a really strong bond, and I think that was as important as the work we did."
It was that work, coupled with his Ariel Internship, that set him on his current path. He says he is able to read and understand complicated manuals to help him in his work; he works well with little supervision, being able to structure his time to figure out problems and solutions; and he's able to tackle problems and handle things he doesn't know much about.
"I think my St. John's education gave me a handle on solving and handling problems I never thought about before," he says.