Working for the Environment
April 5, 2017 | By Tim Pratt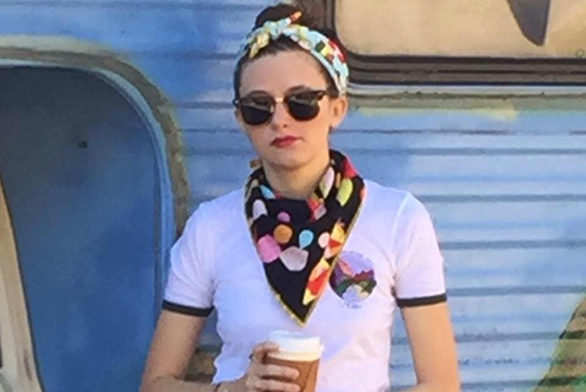 On any given day over the last two years, Sophie Stauffer could be found collecting soil samples from floodplains in Colorado.
The St. John's College graduate also might have been conducting research or performing analysis at Los Alamos National Laboratory in New Mexico. Or she could have been attending lectures, collaborating with other scientists or working hard on research she hopes to one day get published.
Stauffer (SF12) spent the last two years completing post-master's work as part of an earth and environmental sciences research group at Los Alamos.
In a few weeks, however, Stauffer will begin a new job with the New Mexico Environment Department. Her job as an environmental scientist in the Surface Water Quality Bureau will include sampling and testing the rivers of northern New Mexico, as well as reviewing sampling practices to make sure they are meeting Environmental Protection Agency standards.
"It's really exciting because I feel like I'm going to be involved in the total aspect of water quality," she says.
Stauffer, who hails from Huntsville, Alabama, traces her interest in biology and environmental science back to high school. She also had a love for reading, literature and poetry.
With those interests, Stauffer wasn't sure what she would major in when she attended college. She liked the idea of St. John's, where she could "learn how to think" while studying the great books in a small class setting.
In 2008, Stauffer headed off to St. John's in Santa Fe. She spent her time there active in student government, first as a class representative, then as tribune, and finally vice-chair of the student polity. She also worked in the Office of Admissions, was loosely involved with the theater group, and was an assistant in freshman music classes.
The readings, discussions and essays that came with her class work, meanwhile, helped form her learning habits.
"I think I gained a lot of confidence and definitely feel like I became a better listener," she says. "I learned how to ask important questions and have a dialogue, and how to approach texts in a much more meaningful and thoughtful way."
After graduating, Stauffer headed off to the University of New Mexico to pursue her master's degree in water resources. That work—studying everything from water policy, management and the effects of human activity to water cycles, climate, ecology and biology—provided much of the knowledge she needed for her job at Los Alamos. She received her master's in December of 2014 and began working at Los Alamos in March of 2015.
Stauffer says she enjoyed her time "tremendously" at Los Alamos. She spent a lot of time out in the field, collecting carbon samples from riverbanks and floodplains in Colorado, mapping waterways and studying aerial imagery, among other tasks.
One of the things that stood out about Los Alamos was the culture, she says. There were a lot of young scientists, opportunities to collaborate, lectures and talks.
Stauffer says she enjoyed attending those lectures and meeting with scientists to discuss their work. She also had a mentor who gave her the freedom to decide what she wanted to learn about.
"It was almost like being in a university in some ways," she says. "Just learning so much and collaborating, and going to lectures and talks. It was a lot of fun and I feel like I learned so much from a lot of interesting professionals and scientists."
Stauffer's work at Los Alamos ended March 30. Her new position with the state Environment Department begins in mid-April and is based out of Santa Fe.
Along with the water sampling and studying of procedures, she's looking to publish research she has done on river cutoffs, a geomorphology feature in which rivers abandon their original channel in favor of a more direct downhill route.
Stauffer says the work she completed at St. John's helped set her up for her scientific endeavors. It also helped her figure what she really enjoys in life—living and working in New Mexico, where forest fires, desert climate, mining activities, oil and gas exploration, agriculture, recreation, endangered species, municipalities and tribal lands add to what she calls the "beautiful complexity" of water management.
"I think that as a scientist, in water resources in particular, it's so interdisciplinary," she says. "A degree from St. John's really is well suited to … what I'm doing now. I feel like St. John's prepared me very well in terms of the way I approach these scientific questions and in my curiosity, just wanting to take on new challenges."