Following Your Moral Compass
April 10, 2017 | By Tim Pratt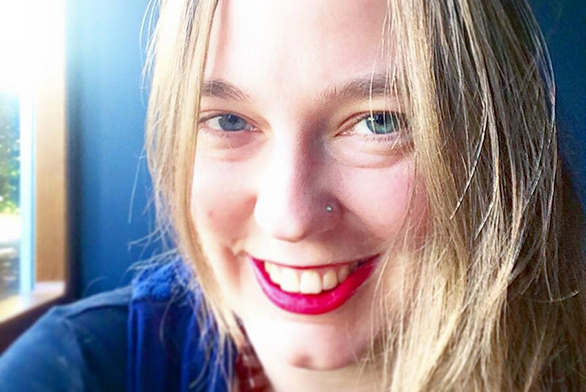 When Esme Gaisford was attending St. John's College in Santa Fe, she grew accustomed to reading texts that formed the foundation of Western thought.
She asked questions. She sought answers. She read primary sources.
Now, Gaisford (SF10) is using that experience to help launch a mobile app that will assist consumers as they decide what companies to support.
Gaisford is the primary researcher for the app Nudge for Change. The app, set to launch in mid-April, contains information on more than 250 companies, from their records on environmentalism and workers' rights to women's equality, racial equality and LGBT equality.
Gaisford is using public records and other sources to populate the app with information on the histories of those companies. Each of the companies—big box and grocery stores, clothing and electronics retailers, pharmacies and restaurants—receive a score based on their history.
The app uses mapping technology, too. If a user doesn't want to spend money at a business with a poor record of workers' rights, for example, mapping will show other companies nearby that better align with the user's beliefs.
"The project is really interesting," Gaisford says. "It's an application of information that helps you follow your own moral compass."
Gaisford's journey from St. John's to Nudge for Change followed a circuitous route. It took her from Santa Fe to Europe to the East Coast to the San Francisco Bay area, where she now lives.
After graduating from St. John's in 2010, Gaisford took a half-year to backpack through Europe with her partner. The couple is now married.
Growing up on the West Coast, Gaisford always had an interest in science and writing. So, following her backpacking trip, she began taking post-baccalaureate biology classes at Portland State University in Oregon. Ariel Internships she completed while a student at St. John's—as a research assistant at City of Hope Research Center in California and the University of Chicago—helped prepare her for those classes.
In 2012, Gaisford headed off to the Temple University School of Medicine in Philadelphia, where she obtained a master's degree in biomedical research. Then it was off to New York, where her wife, whom she met at St. John's, was obtaining her master's degree in urban planning from Columbia University.
The couple moved to San Francisco a short time later, and Gaisford began doing freelance work.
Gaisford spent more than a year doing science writing for BioCentury Publications. In December, she started doing freelance work for ZSpace, Inc., a company that produces hardware and software systems illustrating biology in three dimensions for students in kindergarten through 12th grade. She's using the Socratic method to write lesson plans for students.
Gaisford's work with Nudge for Change began in February. She started as a contractor to help with research. Her role quickly grew, and she is now the primary researcher.
She consults sources like the Equal Employment Opportunity Commission, Forbes and GlassDoor to determine each company's score on workers' rights; the EPA, Energy Star and Corporate Social Responsibility Hub for assessing environmental sustainability scores; and the Human Rights Campaign, GLAAD and Equality Forum to assess LGBT equality scores. She also uses information from court records and settlements.
"If you walk into a store and … it has a bad rap based on the last 10 years of its actions, we let you know," she says. "We tell you: 'This doesn't line up with what you're interested in. Click here to find the full reason. This other option is nearby.'"
The app has more than 250 businesses listed already, including Fortune 500 companies, and the database is expanding. Plans are in the works to include hotel and motel chains next, she says.
"It's been an interesting thing to do because it's an application of the skills I learned at St. John's," she says. "What can I ask right now? What am I looking for? What is meaningful? What sources can I use? That's a big part of what St. John's teaches you."
The app is available free of charge in the Apple App Store. Gaisford hopes the app will be available for Android devices in the near future.