September 27, 2017 | By Tim Pratt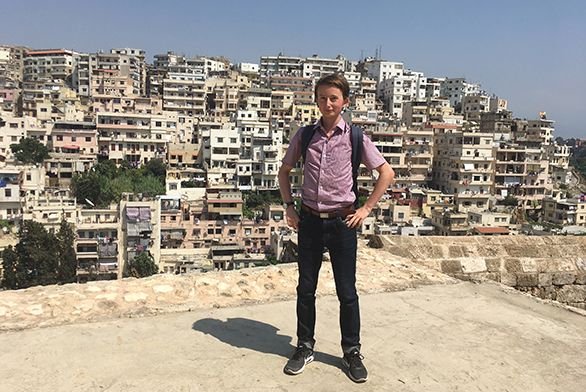 For St. John's College senior Gene Jerskey, spending the summer in Lebanon provided a firsthand look at a long and complex history.
War. Peace. Colonization. Political turmoil. Independence.
Evidence of the people who have called Lebanon "home" over the years is still visible today.
"You can see the remains, sometimes literally one level on top of the other, of all these different civilizations who have lived there at one time or another," Jerskey says.
The New York native viewed that history this summer as he studied Arabic in Beirut through a St. John's Pathways Fellowship.
The seven-week program at American University of Beirut gave Jerskey a chance to study Arabic five hours a day and immerse himself in Middle Eastern culture.
"I've never been anywhere like it," Jerskey says. "It's just spectacular. It has much more than its fair share of history and culture and nature, and you really feel that."
While Jerskey spent plenty of time in the classroom—conversing, practicing grammar and concepts, and improving his language skills as a whole—he also used the opportunity to explore.
The intensive organized a variety of weekend trips for students, and as Jerskey became more familiar with the area and made friends with classmates, he began taking additional trips, too.
Jerskey flew to Kurdistan, a weekend visit that included a nerve-wracking flight over war-torn Syria. He also visited museums in Lebanon, religious institutions, a castle and other sites. He often saw architecture from one era built on top of others.
"I went there for Arabic and I got Arabic," he says. "In a way, that's the most important thing I got out of it. But in another way, what may have been much more valuable was this sense that I can go out into the world by myself and meet people and listen to them and travel with them and make connections."
Jerskey's interest in the Middle East dates back to his childhood in New York. He recalls reading a book about Jordan and being intrigued by its history and politics.
"It made for a very good story, a very complex story, and I think that intrigued me," he says.
In the years since then, Jerskey has traveled to the Middle East a handful of times, including two trips to Morocco. His love of Arabic developed during those trips.
"Everyone spoke Arabic, and I thought it was a beautiful language," he says. "That's only grown as I've started to study it."
Jerskey has studied Arabic all three summers since he began attending St. John's, first at New York University, then at Middlebury College's Arabic School in Oakland, California, and most recently in Lebanon.
Jerskey says he isn't quite fluent in Arabic, but he can read—the language is written right to left—and hold a basic conversation. He was in an intermediate class this summer.
"I don't think I could talk about philosophy, the type of thing I love to talk about in English, but this summer I felt a wide range of conversation open up to me," he says. "I went from theoretically being able to talk to someone to being able to do it."
One of the highlights of the trip was the food. He had popular Arabic dishes, as well as items that were full of Greek and Mediterranean influences. He enjoyed mutton, stuffed grape leaves, dandelion greens and grilled fish, among other dishes.
"The food in Lebanon is one of the best parts of going there," Jerskey says.
Now back at St. John's, Jerskey is looking forward to life after graduation. He wants to work in the Middle East, preferably in conflict resolution or mediation. He is applying for a Fulbright Scholarship that would allow him to serve as an English teaching assistant on the West Bank.
His trip this summer gave him the confidence to pursue the Fulbright and plan for future endeavors overseas.
"The world will meet you halfway," he says. "It's a pretty wonderful experience if you just venture out. All you have to do is be open and curious."