Immigration Attorney Gabriela Quercia Kahrl (A02) on the Power of Persistence in the Courtroom
October 10, 2023 | By Jennifer Levin
Gabriela Quercia Kahrl (A02) is the associate director of the University of Maryland Francis King Carey School of Law's Chacón Center for Immigrant Justice. But despite her obvious commitment to her work, Kahrl never intended to become an immigration attorney. She never meant to become a lawyer at all: after graduating from St. John's College in Annapolis, she initially pursued a master's of theological studies at Harvard University, with plans to earn a doctorate and "live a life of the mind." She changed course after her physician father was convicted in federal court in 2004 for excessively prescribing opioid pain medication.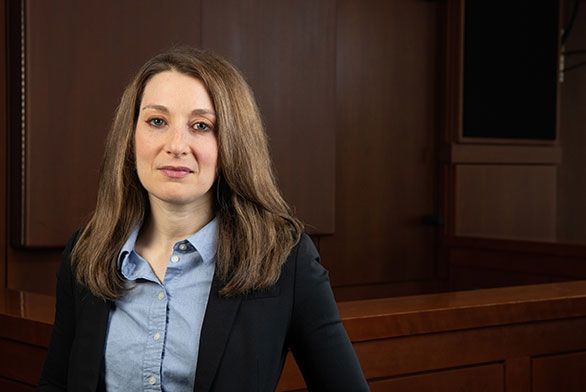 "Some of his patients were reselling the narcotics without his knowledge, but the federal government pinned it on him and said he was a drug kingpin," Kahrl says. "But there was no big pot of money. He was a devoted doctor. We had four telephone lines in our house because he was available to his patients around the clock."
Three years later, the charges were reduced and some convictions overturned, thanks to new legal representation and wide, forceful support from the medical community. His sentence was reduced from 25 years to less than five—a celebration for his family and a crucial lesson in strategy for his daughter, by now a fledgling lawyer.
"I went to law school [at the University of Maryland] to try and help my family. In doing so, I thought I had lost the chance to live a life of the mind," Kahrl reflects. "To my great joy, I learned that I didn't have to be an academic to live a life of the mind. As an attorney, I deal with philosophical and ethical questions all the time because the law is about people, about human nature and the kind of society we want to live in. Do I wish I had gone to law school under different circumstances? Yes, I do. But the law has always been personal to me, and I feel I've always understood my clients and their families well for that reason."
Kahrl pursued law due to her father, but she ended up doing the legal work she does today at the Chacón Center for Immigrant Justice thanks in part to her mother, a Latina immigrant who raised her speaking Spanish at home in the Washington, D.C. area. She began working in 2011 at the Maryland Office of the Public Defender, where, as the only Spanish-speaking attorney in her office, she quickly became responsible for any case requiring one. Many of her clients also had immigration issues stemming from their criminal convictions.
"Contrary to what many people initially think, most of my clients had legal immigration status," Kahrl says. "They were Green Card holders, many of whom had no memory of another country before the U.S. And they made one mistake—often a relatively minor, non-violent one— and they'd find that, in addition to criminal penalties, they were then facing deportation. In some of those cases, deportation was tantamount to a death sentence.
"Imagine facing the death sentence because you decided to hop a fence and take a swim in a pool with your friends to celebrate high school graduation," Kahrl elaborates. "Or because you decided to take some day-old food home from your job at a convenience store that would have gotten tossed in the trash anyway. I would try to find a constitutional reason for vacating the criminal conviction so they wouldn't be deported for often extremely minor offenses. Most of my cases were death penalty cases because they involved deportation to countries dangerous to my clients."
Unlike defendants in criminal court, defendants in immigration court aren't provided pro bono lawyers if they can't afford one. So, Kahrl would show up in immigration court as a "friend of the court" to provide proof to the immigration judge that she had successfully vacated her client's conviction or reduced their sentence; that way their immigration status was no longer in question, and the case was moot. She later learned that former clients wrote her contact information on detention centers walls so others could call upon her for help. "The joke became that immigration court was the place where everyone knew my name—and everyone wanted me to just [expletive] leave," she says.
Kahrl's work also eventually caught the attention of professor Maureen Sweeney, director of the immigration clinic at the University of Maryland's Francis King Carey School of Law. She offered Kahrl a job in 2017, and while Kahrl was happy as a public defender, she couldn't resist the opportunity to join Sweeney, a nationally recognized leader in the intersection of criminal and immigration law.
Kahrl's position was only funded for a couple of years, so she and Sweeney pitched their idea for a center for immigrant justice Dr. Marco Chacón, a biopharmaceutical executive and University of Maryland alumnus. In 2021, he gave a $5 million gift to the law school to launch the Chacón Center for Immigrant Justice. Today Kahrl serves as co-director of the center and as a faculty advisor for the Latinx Law Students Association.
Only five percent of the legal profession is Latinx, and only two percent are women. Kahrl is proud to count herself among them and to have the opportunity to mentor Latinx students. "The great joy of coming to the law school is discovering how much I love to teach," she says. "Teaching gives you the rare opportunity to think deeply about the different levels that you're operating on when you litigate a case in the courtroom: the legal, substantive level; the psychological level; the human, emotion level."
Her advocacy work, however, includes clients from around the world. One notable case she helmed in recent years involved a Black physician from Africa. As Kahrl wrote in a 2020 op-ed for the Baltimore Sun, he treated a protester injured at an anti-government protest, and the government categorized him as an insurgent. He was arrested, jailed, and tortured for months. Knowing they would never be safe in their home country, the doctor, his wife, and their four children fled and applied for asylum as soon as they arrived in the United States. Despite following all the protocols and their case being exactly the kind that the U.S. asylum statute was designed to recognize, their case was ultimately denied by the asylum office after lingering for years. Kahrl and her students litigated the case and won asylum for the family before the immigration court in 2021, ending a multi-year battle.
"The problem is," Kahrl acknowledges, "you get a lot of 'no's' doing this work. But you have to believe that if you keep listening, talking, and insisting, you'll eventually get a 'yes.' And you do. You have to also understand that staying with someone through all the 'no's' is important work too. It's as important as winning, sometimes, to know that someone isn't going to give up on you."
In addition to representing clients from immigration court to the federal Fourth Circuit Court of Appeals, Kahrl also lobbies at the Maryland General Assembly. She was the lead advocate in a bill that amends Maryland's Probation Before Judgment statute so that it no longer triggers deportation consequences. After five years of advocacy, it will become law this October.
Even though Kahrl didn't entirely fathom the skills she was gathering at the time, she credits St. John's with preparing her for her legal career. "Over the course of seminars at St. John's, you find ways to talk to people, even people you violently disagree with and to truly consider, take seriously, and try to understand views that are reprehensible to you," she says. "As a lawyer, you must get to know people who might make you deeply uncomfortable, with ideas that make you uncomfortable, and you must encounter them with openness and curiosity. Seminar taught me how to do that. It also taught me to be quick on my feet—to be able to deal with surprising topics, like unexpected questions from judges and arguments from opposing counsel."
This fall, Kahrl will teach a St. John's-style seminar in jurisprudence at Maryland Carey Law with readings by figures like Plato as well as women and people of color including Nigerian novelist Chinua Achebe and the Pulitzer Prize-winning journalist Nikole Hannah-Jones. It's formatted so that students can learn to listen and become dexterous conversationalists while developing generosity, patience, and curiosity. "They'll talk about the texts with one another, listening to the book and to one another, and in doing so, will think deeply about what the law is, and what it means to become officers of the court—a position that comes with a lot of privilege, power, and trust that should not be taken on lightly," Kahrl says.
On a personal level, Kahrl often turns to the books she read in the St. John's Program when she's struggling with the emotional weight of her work and the moral and ethical questions it raises. "They're a resource to think deeply about what I'm encountering," she concludes, "so that I can see past my own woes and towards the community I am a part of when I do, or try to do, the work of justice, the work of mercy."